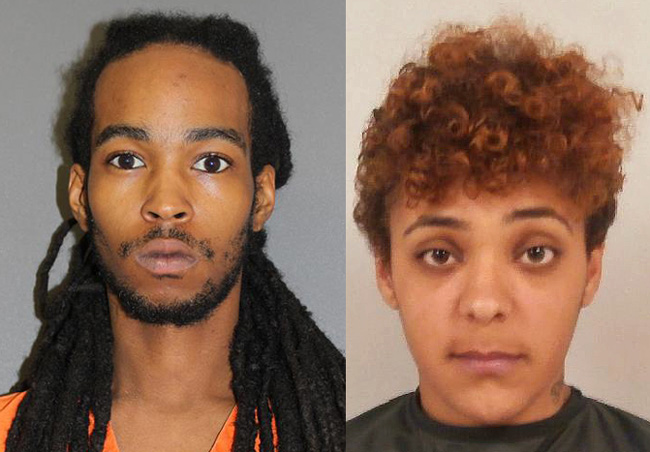 It was Sunday, late evening (Aug. 3). Pamela Berdebes, 67, was at home on Bradmore Lane in Palm Coast. There was a knock at the door. Berdebes heard a man's voice: "Pam, it is Marquis, let me in." Berdebes recognized the name, which was connected to an ex-roommate of hers, Carisa Hall: Marquis had been Hall's boyfriend.
Berdebes opened the door slightly to see who it was.
As soon as she did so, the man shoved the door open, causing it to hit Berdebes on the head. She fell to the floor. The man then told her not to look at him or she'd be killed, according to a Flagler County Sheriff's report. Berdebes could see the man's shoes: black with a white stripe.
The man then proceeded to rob the house. But he did so while on a cell phone, speaking to someone. He seemed to know where to go in the house, or at least was getting directions on where to go. He told Berdebes that whoever he was speaking to "said you have pills," a reference to prescription drugs that are the target of many thieves. The suspect didn't hide the fact that the person he was talking to on the phone was a woman. He then took Berdebes's purse, some money, and fled the scene. Berdebes called the cops, but the man could not be located that night.
Not long after the robbery–at precisely 10:09 p.m.; Berdebes was robbed at around 9:30 p.m.–one of Berdebes's credit cards was used at a gas station on Granada Boulevard in Ormond Beach: $58.13 for gas. That gave detectives a chance to study the store video coinciding with that time. Detectives saw a Ford Freestyle being fueled, with an unidentifiable person at the pump. But the car was recognizable: it was Carisa Hall's, Berdebes's former roommate. Berdebes told cops that Hall drives her mother's dark-blue SUV, which has a missing front bumper. A database search brought up the dark blue 2006 Ford Freestyle and its tag number.
Twenty minutes latter, the credit card was used again at an ATM outside Wells Fargo on West International Speedway Boulevard in Daytona Beach. Detectives reviewed that video surveillance footage, which revealed a black man wearing a red shirt, purple bracelet on the right arm and a black hoodie style sweatshirt. The whole time the man was trying to withdraw money–he wanted $500, plus the $3 transaction fee–he was on a cell phone. The ATM declined the transaction: improper PIN.
By the time the card was used a third time, 15 minutes later, at a Kangaroo station on Beville Road in South Daytona, the man walks into the store and unwittingly reveals himself in full to surveillance video, clearly enough that detectives could identify the man as Daniel Evans III, according to his arrest report. He was accompanied by an underage girl. The pair got back into the car, then Evans got back out. This time another woman accompanied him: surveillance video revealed it was Hall. She and Evans talk about the credit card, try five times to get money out, fail five times. They left.
During the investigation, detectives located the SUV at 1671 Eastern Road in South Daytona, two-tenths of a mile from the Kangaroo station. The detectives concluded the address was that of the suspects. But it was Hall's mother that detectives contacted, according to the two suspects' arrest reports, and the mother who provided Hall's phone number.
The two suspects were arrested Thursday. Their arrest reports does not explain how they were arrested or where.
Evans, 25, and Hall, 21, were booked at the Volusia County jail and charged with home invasion robbery.
Hall has four previous jail bookings in Flagler, going back to 2010, including an arrest for holding an open house party, and a burglary and grand theft arrest in 2010.