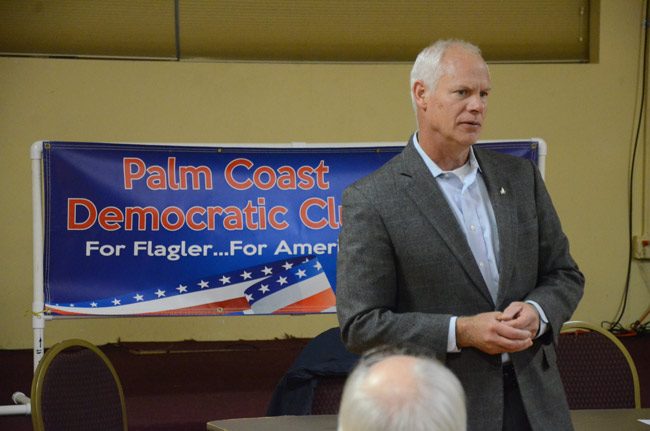 Bob Coffman, the American Airlines pilot and one of four Democratic candidates for the 6th Congressional District seat held by Republican Ron DeSantis, has bowed out of the race, citing lack of financial momentum. Coffman was the only Flagler County-based candidate in the race.
"I was a little surprised with how little interest I gained out of my network in terms of financial support, which is really critical in terms of getting the ball rolling," Coffman said in a brief interview this evening. He acknowledged that money is the measuring stick of political success these days, but nevertheless remains dismayed by the fact. "It is the way the game is played right now," he said, calling it "A little bit of an affront to my intellectual integrity."
That leaves Nancy Soderberg, Stephen Sevigny and John Upchurch in the race on the Democratic side, with Soderberg so far the clear front-runner among Democrats: she's raised $544,000. The two remaining candidates have not raised much of note.
DeSantis is not running for the seat again, having opted to run for governor. The open seat has attracted four Republican candidates, but only one with financial clout so far—John Ward, a Ponte Vedra businessman who's raised $755,000 as of the end of December. The seat was not considered competitive in the 2018 congressional races until DeSantis announced he would not run.
Coffman spoke more enthusiastically of Upchurch and Sevigny than he did of Soderberg, whom he described as "parachuting" into the district like DeSantis rather than representing it more organically, as do several of the remaining candidates. "That doesn't mean I'm antagonistic, but I sure hate to see her run unopposed," he said.
Upchurch is a no-longer-practicing lawyer who runs Odyssey Travel, a travel agency in Ormond Beach and Jacksonville. Sevigny is a physician at Radiology Associates in Ormond Beach. But Coffman pledged to support whichever Democratic candidate emerges the winner of the primary.
"After discussions with my family and my campaign team, I have decided that the Democratic Party and the country will be best served by my returning to a supporting role in the periphery," he wrote at his campaign website last week.
Coffman says he will maintain his home in Palm Coast. His next gig is to continue training on the A-330 before taking on a new route for American Airlines.