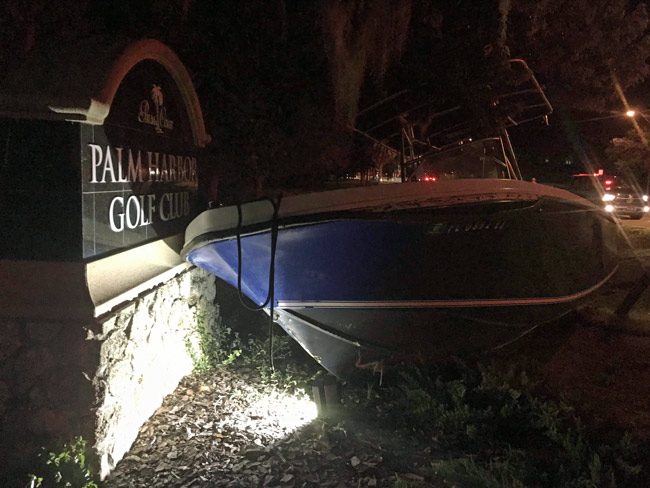 Somebody call Jon Netts.
A 20-foot blue center-console boat crashed into the Palm Harbor Golf Club sign at the corner of Palm Coast Parkway and Palm Harbor Parkway Saturday evening. No one was hurt.
A family was returning from an outing, trailing the boat behind a pick-up truck. The truck was driving west on Palm Coast Parkway after crossing the Hammock Dunes bridge. Immediately before the intersection with Palm Harbor Parkway, the trailer broke off from the truck due to what a Flagler County Sheriff's deputy described as a "faulty piece of equipment."
The trailer rolled a distance until it came to a stop on the north grassy shoulder of the Parkway. The boat slipped off and continued on the grass as if it were on water, dipping into a shallow ditch then curving a bit north until it crashed into the flowerbed and the Palm Harbor Golf Club sign at the northeast corner of the intersection, knocking a concrete pillar along the way. The sign did not appear to have sustained much damage. It's not yet clear how much damage the boat sustained. The trailer may have been destroyed.
The incident took place at 7:45 p.m. The Palm Coast Fire Police was soon at the scene, reducing light traffic on eastbound Palm Coast Parkway to one lane, as were two sheriff's deputies, who did not consider the crash more than an accident, though the investigation was ongoing. A small crowd gathered around the site, with about half of it made up of the half-dozen-odd family members–children still in their swimsuits–who'd been returning from their outing with the boat.
When boats are in distress on local waters Jon Netts, the former Palm Coast mayor, is often called out to tow the boat, being an operator for TowBoat U.S. In this situation, however, John's Towing of Bunnell was called in to tow the boat. TowBoat would have been out of its element. "We get boats aground in the water all the time," Netts said this morning, but "not on land no," though he recalled the closest thing to such an incident some 10 years ago when a boat was on a trailer to be moved out of a slip, the trailer broke off the truck and sank, requiring Netts to then to retrieve both boat and sunken trailer.
The city owns Palm Harbor Golf Club, which has had its troubles attracting enough golfers to break even over the years. Various marketing efforts notwithstanding, the city has no plans to add boat slips to the greens.