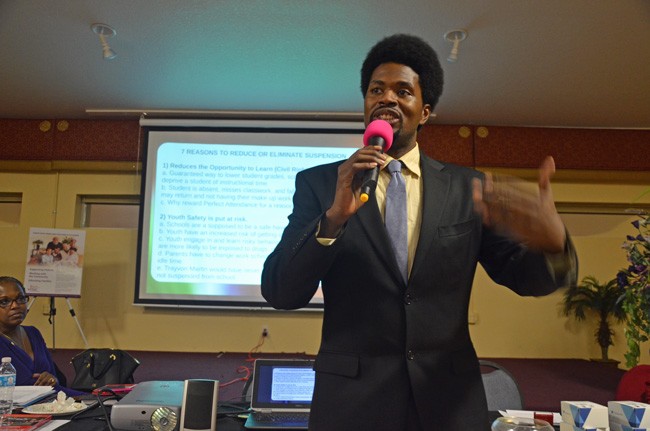 Two and a half years ago the Flagler County School District was the target of a devastating civil rights complaint by the Southern Poverty Law Center. Put simply, the state of Black education in Flagler County was not good. Much of the complaint's criticism focused on the disproportionate disciplining of black students—and the disproportionate lay-offs of black faculty, whose black ranks had been cut in half over a decade.
The complaint went on at length, triggering attempts by the district to address the issues the complaint raised, attempts Superintendent Jacob Oliva said have led to a lot of cooperative work with the law center.
Tuesday evening, before a full-house crowd, the Southern Poverty Law Center's Amir Whitaker, a staff attorney with the center and an educator, was the featured speaker at the Flagler County branch of the NAACP's monthly meeting.
"I'm happy to say that here in Flagler there's been tremendous progress in the past few year," he said to a crowd of about 125. But this was because of what we were saying in terms of the arrests and the suspensions," which have been reduced across Florida, a state that ranks at the top of the nation's table in suspensions. "We are trying to work together," he said, describing the relationship with Flagler as more open than in any of the five counties' school systems he's responsible for in Florida.
His goal Tuesday evening was to focus on remaining problems, including historical problems-the result of Jim Crow's history—that have yet to be addressed, and to outline matters that have improved.
Among the improvements: the district's ranking (12th out of 67 states), based on standardized schools, its "unprecedented" focus on technology, doubling post-secondary attendance in the last few years, and "decreasing the overall number of suspensions consistently, and offering more options" to students. "We've seen significant reduction in the amount of students being arrested here in Flagler," Whitaker said. (The current sheriff, Jim Manfre, is a member of the NAACP.)
Still, the poverty center and the NAACP are still concerned with one particular area: Suspensions overall may be decreasing, but the suspensions of black students, already disproportionate, are increasing, as are expulsions.
Blacks account for 16 percent of Flagler's population, but accounted for 33 percent of suspensions in 2013. That increased to 36 percent in 2014. The number of black students suspended more than once has also increased, and is more than three times the proportion of white students.
---
An unvarnished portrait of a district that still expels a disproportionate number of blacks even as it tries alternatives.
---
Meeting with Flagler faculty, Whitaker said, one never knows who's racist and who isn't. But he did have one encounter with a faculty member who clearly was—who wanted to see more suspensions for blacks. Whitaker said in most instances most people who may be inclined to be racist may not know it, and would dispute having such tendencies. But those tendencies are there. "There's a systemic bias," he said. "No one is affected by it more than young people."
Whitaker showed a three-minute video that made his point. The video features a young man, a white man, a thief, who saws his way through a bicycle in a park-like setting to steal it. Several people walk by either indifferently or to ask innocuous questions, never going further. The young man is then replaced with a young black man. The situation is entirely different: passer-by after passer-by immediately questions the man suspiciously, one whips out a cell phone to call the cops, another yells at him for theft. The video goes further, showing the experiment with a young white woman sawing her way through the chain. Two middle age men not only stop, but ask her if she needs a hand. The piece is excerpted from an episode of ABC's "What Would You Do," which aired in June 2013. See the full segment below.
The focus has to be on reducing suspensions, Whitaker said, because the less one is in school, the less one learns. A student who misses days of school falls further behind, worsening matters.
Whitaker also made the not-minor point that suspensions increase risks to students being suspended by exposing them to situations that are less safe than at school. His illustration to that point was Trayvon Martin, the 17-year-old killed by George Zimmerman in Sanford. Martin had been suspended from his South Florida school and was sent to his father in Sanford as a result. Whitaker did not say that the suspension led to Martin's killing, but that the suspension played an unnecessary role that could have been avoided.
Suspensions don't do anything for the issue," Whitaker said. "Punishment alone is never enough, that's why in our criminal justice system we see 70 percent of the people go in and end up going back in." Suspending students, he said, doubles their risk of dropping out of school.
Whitaker acknowledged that the Flagler district has been experimenting to reduce suspensions. "We want more of that," he said, "to see the disparities go down." He described the matter as a civil rights issue, because every child has the right "to be in that classrom, receiving that instruction."
Flagler is one of 16 out of 67 counties in Florida that are still under the Department of Justice's jurisdiction because of the districts' deeply segregated past, Whitaker said (the county's schools were segregated until the 1970s). "For most of history, there were two separate systems in Flagler, on purpose," Whitaker said. "They were preparing for two different types of people." He added: "That's something that we've inherited here in Flagler. I know thats something that doesn't sit well" with school district officials, he said, "but that's the foundation."
The aim, Whitaker said, is to lay down a new foundation, but he repeatedly stressed that "implicit bias and systematic inequality" has not been eradicated, even if it may not prevail as it did during the segregation era. "What could be new is the momentum we put behind it" to work through the issues, Whitaker said.
Another enduring concern: the absence of blacks' access to certain resources. For example, almost no black students are in dual enrollment–attending both high school and college–than whites: 52 white males to one black male. The disparity elicited an astounded few "wows" from the crowd.
Just as startling: Blacks account for just 4 percent of gifted classes. "This is a trend all through the state of Florida, and again it might not be deliberate biases," Whitaker said, but there is a bias, he said.
And in a county with a population that is 16 percent black, just 4 percent of the district's teachers are black.
"These are issues we have to address, our leadership is not being prepared," Whitaker said, acknowledging that when just 26 percent of students pass the reading FCAT, "we have to accept some responsibility."
His goal: "We want to try to eliminate out of school suspension," he said, at least for non -violent offenders, he qualified. (He is meeting with district officials Wednesday to talk about some of those issues.)
Whitaker early in his talk invited Katrina Townsend, the district student services director, to speak of additional improvements as the district sees them. She spoke of the "team effort" approach, which extends to parents and others concerned about schools. "I offer you an open invitation" to visit schools, she said. (Jacob Oliva, the superintendent, was at the meeting—he became a member of the NAACP tonight—but was called away.) Close to two dozen faculty members, including several principals, attended the meeting, as did Janet McDonald, the school board's newest member. She was the only board member in attendance, though she left during the talk.
When Whitaker queried members of the audience for their concerns, he heard complaints about a lack of transparency in the district's hiring process, which, to some, appears to discourage blacks from working on school faculties, and he heard about the need to include teachers in the sort of discussions designed to reduce or eliminate some of the problems Whitaker had been presenting.
He also heard about school cops, or School Resource Deputies, conducting "interrogations" on campus, without their parents' knowledge, and where students can easily "talk yourself into charges." Eric Josey, a member of the NAACP's executive board, spoke those words.
"School resource officers should be a resource for our children, they should not be an arm of the criminal justice system," Linda Haywood, president of the local branch of the NAACP, said. "We should demand that they are trained to be resource officers, not an extension of the juvenile justice system."
That prompted a motion from an NAACP member to bring the district's contract with the Sheriff's Office (which provides the district's half dozen deputies) to the NAACP for examination. The motion was approved even as Whitaker was ending his talk.
The key ingredient to a students success, one member of the crowd who described himself as an educator and author said, is parental involvement. "Racism is another factor," he said, stressing that "racism is alive and well."
"We've been very sweet, kind and gentle. Enough is enough," Lynnette Callender, a recently defeated candidate for the school board, said.

ABC's "What Would You Do":