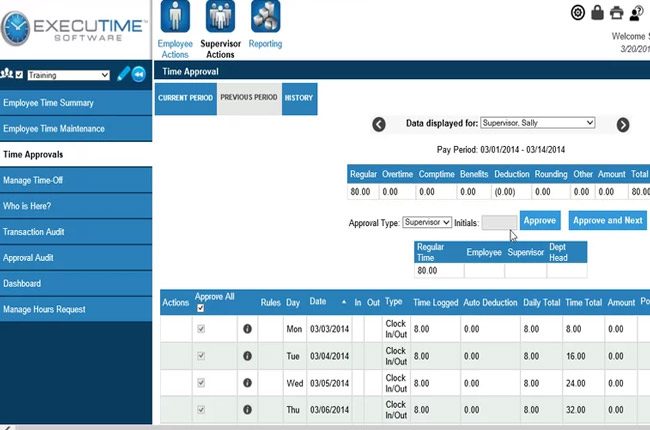 Three months short of her 20-year anniversary at the Flagler County Sheriff's Office, Nancy Birdsong, who worked in the judicial process fugitive unit at the county courthouse, was fired last week, a day after the agency completed an internal affairs investigation into Birdsong's alleged fabrication of time cards.
Released today, the eight-page internal affairs investigation consists mostly of a summary of a 20-minute interview with Birdsong, who says she was not aware she was fabricating time sheets, only submitting time under various categories, including some that were legal but not provided for in the electronic system the agency uses for time cards.
The time in question adds up to 77 hours that Birdsong got paid for but allegedly did not work. The value of the time is $1,578. Birdsong claims the time was a combination of vacation and personal time and time, including time under the Family Medical leave Act from her account and that of other employees, who are allowed to donate such time to colleagues who need it. Birdsong has been caring for a grandchild after getting custody of the child by the state.
Birdsong was suspended without pay at the end of March when the allegations came to light after a supervisor who had just started looking timesheets over in her division noticed the discrepancies. Birdsong's unit is located at the Flagler County courthouse. She was arrested and charged with grand theft following a criminal investigation, booked at the Flagler County jail and released on her own recognizance within an hour. She was fired on April 24, though the effective date of her firing, according to sheriff's documents, is May 4. The charge is a felony.
"It was a foregone conclusion," Birdsong's attorney, Josh Davis, said today. "You have the sheriff who went forward and had her criminally charged and approved of all of that stuff, and now you have his underlings and asking them to do an internal affairs investigation on her. I mean, it would kind of take someone be an idiot that they would not find an internal affairs violation after they've found a criminal charge." Davis said no sheriff's subordinate conducting an internal investigation would counter the previous findings.
But Davis disputes both investigations' conclusions. (Birdsong was arraigned the day before her firing before Circuit Judge Dennis Craig. She pleaded not guilty. Her first pre-trial hearing is scheduled for June 13.
Davis said the amount of money at the heart of the case should be indication enough that something is amiss in the sheriff's claim of criminal or wrongful intent. "You have to be someone in my opinion with little to no brain to think a 20-year old employee is going to get fired over that kind of money," Davis said. (Birdsong made $42,600 a year.) "If the public will buy that, they'll buy anything."
Birdson's statements aside, the internal investigation adds little evidence or information that had not been revealed by the criminal investigation. The internal investigation consisted of examinations of time sheets, the benefits summary, Birdsong's history of hours worked, the history of her entries and exits from her office (through an electronic door card), and 53 pages of email between Birdsong and human resources staff. The investigation was conducted by detective Nicole Thomas.
During her interview, Birdsong said she had mentioned the difficulties she was having in recording her time through the computerized system, but said she was told by one human resources employee that "if no one asked any questions, do not worry about it." When Birdsong inquired about the limit on her family leave time, she claims to have been told by an HR employee, "do not worry about it mama if you are getting close I will let you know."
"She went on to say no one ever questioned her about her timesheets," the investigation states.
The investigator concluded: "All interviews conducted during the criminal investigation of her supervisor's statements established that at no time she was instructed to fill out her time sheet in the manner she completed them," nor did the director of human resources, Renina Fuller, or HR staffer Adrienne Felton grant permission for the timesheets to be completed the way they were.
Nevertheless, Davis says, every timesheet Birdsong turned in had to be signed and approved by a supervisor, including at different times Sgt. John Bray and Cpls. Eric Allen and Scott Wetherhold, but at no time the supervisors flagged anything wrong with the timesheets.
"It makes zero sense to me, so I'm looking for whatever really reason she got fired. Because if there was a target on her for some reason, I really don't know what it was," Davis said, intimating that the discrepancy and small amount of money involved doesn't warrant what he sees as a draconian, immediate criminal investigation, with no attempt to discuss the matter more gradually. "Anybody with half of a brain knows something else is going on here. It's not the way an employee with this kind of record over 20 years is handled."
The internal investigation found Birdsong in violation of four policies and orders, including violations of rules, truthfulness, compliance with state and federal laws (the Family Leave act is a federal law), and falsification of records.
Birdsong had been the agency's 2014 Employee of the Year. Her only other disciplinary issues date back to 2000 and 2001, when she once failed to follow the chain of command, and on a separate occasion conducted an "unprofessional non-work related conversation," when she was a member of the 911 dispatch team. Birdsong is the ex-wife of Steve Birdsong, a deputy who was fired under the previous administration.

The Birdsong Internal Affairs Investigation (2018)