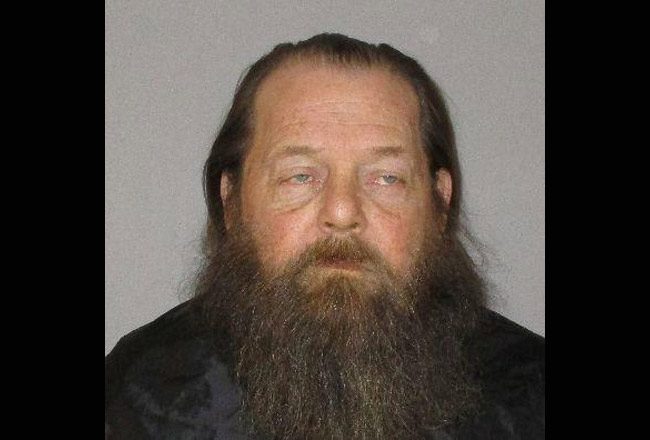 The alleged offenses were first reported to Flagler County Sheriff's deputies on July 8, 2016, when the investigation was turned over to agency detectives: Thomas Jay Binkley, then a 60-year-old resident of Forest Park Street in Bunnell, was accused of molesting two young girls in his charge, over a period of a year and a half.
The last alleged incident had reportedly taken place three days before, involving either of the two girls, who were 6 and 8 at the time.
On Friday, Binkley was booked at the Flagler County jail on $200,000 bond and charged with two counts of lewd and lascivious acts on children younger than 12, each a first degree felony that carries up to a 30-year prison sentence if convicted. (The court docket lists his charges at four.)
At the time when the allegations were first reported, Binkley lived in the same house with the alleged victims and their mother, helping to take care of the two girls and their brother whenever their mother was at work.
One day the girls' great-grandmother observed the youngest of the two girls masturbating. She asked the girl where she had learned to do so. The girl told her that "Mr. Tommy" had taught her, according to Binkley's arrest report. The information was relayed to the children's mother, who alerted authorities.
The children were interviewed by the Child Protection Team at the Flagler County courthouse on July 12, 2016, and both disclosed that Binkley rubbed their genitals over their clothing while they laid in front of him, watching television. The girls said it happened on many occasions. (When it comes to molestation, the law does not make a difference whether the act is separated by clothing. The law does not make a distinction. Last June, 39-year-old James Taylor was sentenced to life in prison after a jury found him guilty of touching an 11-year-old girl over her clothes for a few seconds, though the severity of his sentence also reflected prior convictions.)
It was not until January 2017 that detectives were able to interview Binkley at the small house he rented at 1737 Forest Park Street in Daytona North, also known as Mondex. He told detectives that "he cared for the kids by getting [them] ready for school , feeding them, and even making sure they were showered," according to his arrest report. The children "would come into his bedroom and lay on his bed while they all watched movies together as a family."
At first Binkley denied all allegations that he acted inappropriately and told the detectives that he had no idea why he was being accused. But as the recorded conversation went on, he "confessed to rubbing the vagina of both victims over their clothing with his hand," his arrest report states. He said it happened twice with each girl. "He claimed it was accidental and once he began doing it he would stop because he knew it was wrong," the report states. He said he was never touched sexually by either girl.
It's not yet clear why the investigation and the arrest were separated by such a lengthy span of time. Circuit Judge Dennis Craig signed the warrant for Binkley's arrest on March 23. Binkley is to be arraigned on April 23: that he is reported to have confessed to any acts during his interrogation by detectives doesn't mean he will necessarily enter a guilty plea at arraignment.
Binkley has no prior criminal record in Flagler County. But in Volusia County he's faced a few minor charges, including for failure to pay child support, a guilty plea on a minor drug possession, and in 1987, a fine and a withheld adjudication for a charge of "molesting a trash container," according to the court docket in Volusia.