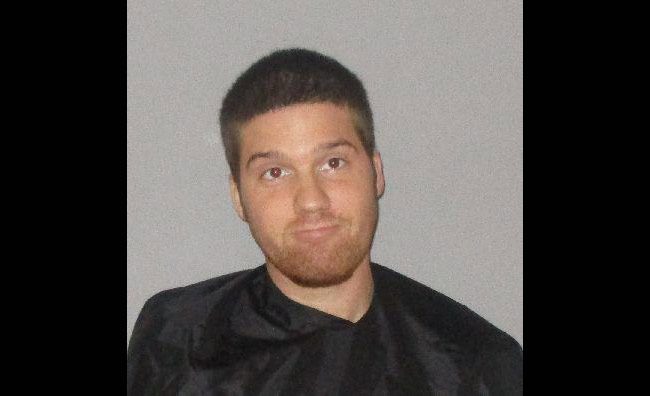 Flagler Beach police officer Gaetano Cozzone was on a routine patrol Monday (Dec. 10) when, shortly after 1 p.m., he conducted a security check at Betty Steflik Park.
He noticed a silver Mercury Grand Marquis parked at the southeast corner of the park. He approached. He then noticed a man in the front passenger seat, but facing the rear of the Mercury. He "appeared to be thrusting the midsection of his body back and forth," Cozzone's report would later detail. The man in the car was also fondling a girl or a woman was straddling him. "The p[air appeared to be intimate with each other, however both subjects appeared to have their clothes on," the cop reported.
He called in the car's plate and made contact with the car's occupants.
"We were just making out," the man, who soon identified himself as 23-year-old Tyler Joyce, told the cop. He also apologized. Cozzone asked Joyce's partner if she was OK, and how old she was. She said she was 18, but she had no ID and was hesitant to give Cozzone her birth date. He cautioned her that it was a crime "to lie about identifying herself," though it's not a crime not to provide identification to law enforcement absent probable cause for a crime.
But soon the matter of probable cause was put to rest: the girl teared up and admitted that she was born in 2003: she was 15, and possibly the victim of a crime, though at that point the officer detained her "because she lied to me about her name and birth date." He asked her for a parent's phone number. The girl provided one only when the officer threatened to call the Department of Children and Families to "retrieve" her. The girl's mother told the officer that her daughter was supposed to be home, and that if her brother knew she was in Joyce's company in those circumstances, he would "beat his ass." She said she wanted to pursue charges, and that she'd pick up her daughter at the police station.
"Due to the fact that at this point [the girl] was a victim," the cop's report continues, "she was undetained; however, remained in protective custody."
Joyce was detained in turn, and both he and the girl were taken to the police station for further questioning. Joyce waived his Miranda rights and said he'd met the girl two weeks earlier while staying at her brother's house for the night. He claimed the girl made advances that night and told him she was 17, but the next day conceded she was 16. In the car, however, Joyce said no sex had taken place, only contact that "may have appeared sexual."
The officer asked him about his clothes. He wore sweat pants without underwear, a t-shirt and flip-flops on a 49-degree night. His clothes, the officer reported, "were not consistent with the weather," and noted: "I asked him if he usually rolls out of bed and wear loose clothes to go meet a friend. He became somewhat defensive." When the officer asked him why he'd go out to meet a 15 year old, Joyce asked for a lawyer. He was placed under arrest.
The girl was interviewed by a different officer and a victim's advocate. She told them she'd never been intimate with Joyce in the short time she'd known him, and that the two had agreed to go to the park "to take pictures." Once there though, "she began to get anxiety," according to her account. They didn't get out of the car to take pictures, but talked instead, then made out.
Joyce, of Fariston Place in Palm Coast, faces a second-degree charge of lewd and lascivious molestation, a second-degree felony when the alleged perpetrator is 18 or older and the alleged victim younger than 16. He posted bail on $20,000 and was released less than 24 hours after his arrest, under condition of a no-contact order regarding the girl.
Correction: an earlier version of this story incorrectly placed the officer's security check between 3 and 4 a.m. The check was conducted shortly after 1 p.m.