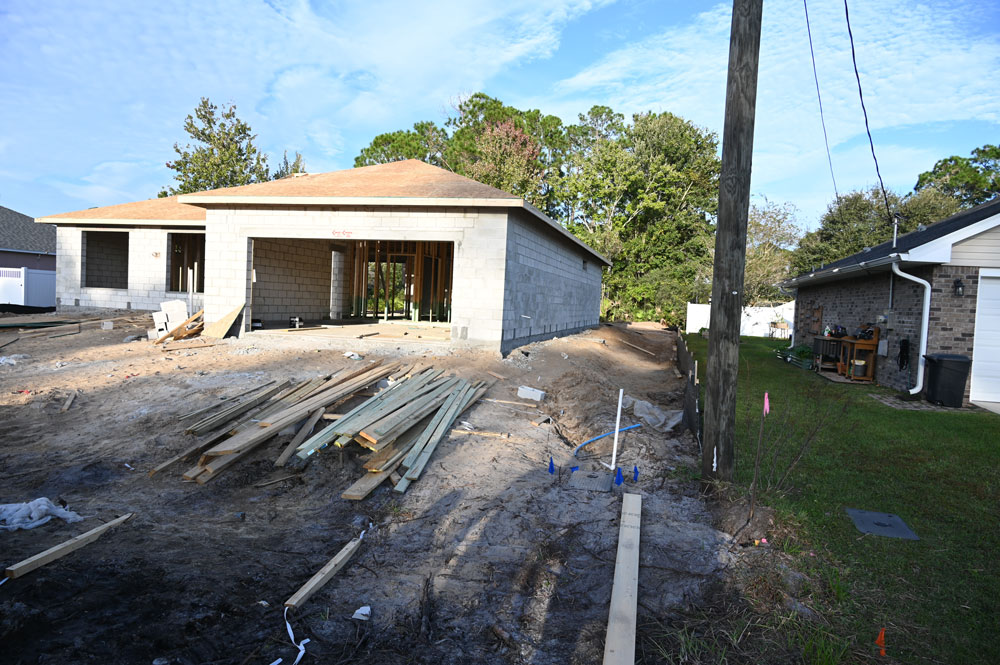 It's true: while houses from slab to rooftop may not be higher than 35 feet in Palm Coast, there is nothing in city building regulations that limit how high the fill beneath the concrete slab may rise. Theoretically, it could be two, three, four, five or six feet higher than an adjoining house's slab.
And some new houses in Palm Coast are rather suddenly rising to those heights as builders seek higher elevations to protect against flooding.




That's been creating flooding problems for neighboring, existing homes, at least in the eyes of existing residents, and generating what started as a trickle of complaints to the city and is now building into a flood, as was the case at a Palm Coast City Council meeting earlier this week. Council members have taken notice, and are demanding action from their administration. (See: "Palm Coast Residents Complain: New Homes Built Higher Than Ours Are Flooding Us, and City Turns Blind Eye.")
That's already in the works, and according to Jason DeLorenzo, the city's chief of staff, the rewrite of the relevant technical regulation pre-dates the recent complaints.
Lynne Stevens, deputy director of Palm Coast's stormwater and engineering department (she was previously Port Orange's public utilities director) "has been working on updating the technical manual," DeLorenzo said, "and one of those updates is maximum slab, the FFE, finished floor [elevation], from the crown of the road." That's not a limit on fill per se, but it amounts to the same thing: it means that fill height cannot be higher than a certain elevation above the crown of the road–the center point of the road in front of a home that happens to be its highest point.
So the entire issue of fill height regulations will be accomplished administratively, since it's a technical manual, without need for ordinances or City Council hearings and approvals. And it should be done rather swiftly. The city has been meeting with "stakeholders" such as graders, who play an essential role in the leveling of fill beneath and around new houses. "It's trying to get things better. It wasn't related to this," DeLorenzo said, referring to the recent controversies about fill-height elevations as he stood in front of the lot under construction that provoked it all.
Oddly, there was no mention of that new regulation when the City Council fielded complaints over just such problems at a meeting earlier this week.




The house at 98 Birchwood Drive is ground zero in an issue that percolated in the background across the city for the last few years, but largely out of the public eye until now. As scores of Palm Coast's 10,000-odd remaining vacant lot fill in with new homes every month, residents have been increasingly contending with flooded yards soon after those new homes go up. Homeowners have complained to contractors and to the city. Contractors and the city say there's nothing they can do: no regulations were being violated, though obviously the city took note along the way.
Finally, the residents on Birchwood decided to take their complaints to City Hall, as they did earlier this week, and to the media. City Council member Ed Danko, who is campaigning for a County Commission seat, has happily played circus master, orchestrating media attention (including soliciting FlaglerLive's, as he did on Thursday, though calls it "fake news" and frequently derides its journalism) and placing himself on a mound of attention-grabbing fill of his own, possibly even interfering with city staff's work.
"I'm not I'm not here to protect the city. I'm here to protect these people. That's my job," Danko said.
Thursday evening, Palm Coast city officials had arranged to speak with the homeowners and the new builder on Birchwood in an attempt to address the situation, only to find themselves in the middle of what one official referred to as the "circus" Danko had organized, including this message on his Facebook page: "Today, Thursday, at 4:15 PM, at 98 BirchWood Dr., media, city staff, the builder, and neighbors affected by the builder will meet. I urge everyone who has experienced this type of situation to be there and voice Your concerns to City staff and the media. I will certainly be there."




On a couple of occasions, surrounded by a few of his acolytes and local media, he also lost raised his voice against the builder at 98 Birchwood. It isn't clear if Danko was playing to the audience or if it was Danko's usual temper flaring. "I'm a little angry, damn it," he yelled, as the builder was telling him to calm down. Danko was wanting guarantees from the builder that his promises–the new house will not cause flooding–would be in writing.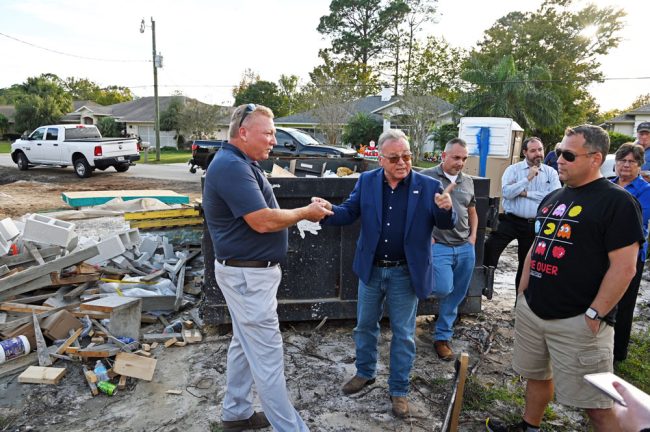 For all the theatrics and orchestration, it may very well have taken some of both to get the existing homeowners' frustrations addressed.
There's no question that the issue is no longer in the shadows. And judging from the public response to articles about it, similar flooding problems are more widespread than the city has acknowledged so far, though city officials don't deny that it's an issue. They do deny, however, that the problem is generated by new construction.
Instead–and this can be startling or angering to hear for existing homeowners facing that problem, as it was on Birchwood–it is water from existing homes that once improperly drained onto vacant lots that residents now are contending with. The water, blocked by new construction, now stays on their lots instead of draining properly into swales.
In other words, as the city sees it, it is poorly designed drainage on existing homes, not new homes that are built on higher grades, that result in flooding.
"We're gonna blame it on them, right?" a livid Danko said. "There we go, blame it on the owners." He was standing near 98 Birchwood Thursday evening, hearing Doug Griesemer of Estela Living, the builder of the house, explain why the high fill on the new house, which rises well over a foot above existing homes (and looks higher, though grading will eventually change that), has nothing to do with the flooding on the adjoining properties, and will have nothing to do with flooding there.




"Are you guys aware that your lots are draining to the back?" Griesemer told Mara Wuerth, who owns the house at 96 Birchwood, and Paul Fink, who owns 100 Birchwood. "You are six inches below the road. Yours is as well. It runs down, backward, and there's no way I can control that. But I will keep the water off of your lot."
Jeff Crews, a survey crew supervisor with the city, confirms it: 100 Birchwood is 15 inches lower than 98 Birchwood, and 96 Birchwood is 13 inches below. It's no small matter that 100 Birchwood was built in 2001, under Flagler County building regulations and three years before Palm Coast even had a building department. 96 Birchwood was built in 2017, fully under Palm Coast's new regulations.
Wuerth doesn't dispute what Griesemer says, but doesn't accept that the huge elevation of the new house isn't going to cause flooding on her yard. Still, Griesemer says, "you're not going to get any water on your yard. I promise you that."
Wuerth wants it in writing. Griesemer said there'll be a document, though city officials say any property's surveying documents are the proof of where drainage does and does not go, making an additional document superfluous.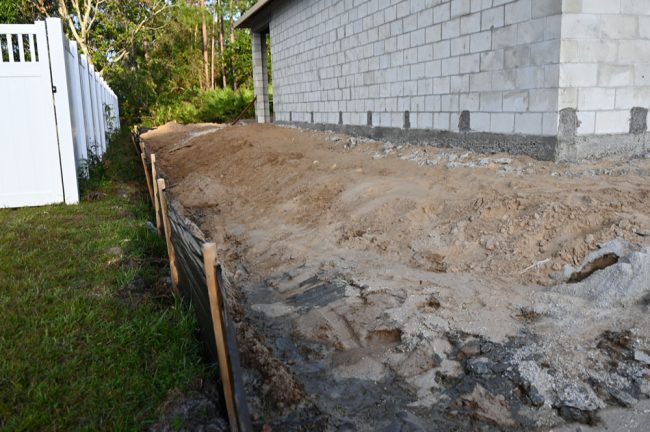 Griesemer says the new house will have a drainage system that will channel the lot's water toward the swale at the front of the house, essentially channeling water on either side of the house in that direction, making it impossible for it to dump on adjoining lots. The new house will also have gutters that will direct roof drainage toward those conveyances. (Griesemer's Estela Living bought the lot in August and rapidly went to work building the house. Estela Living is a Coral Gables company that incorporated just last February, according to Florida Division of Corporation records, which worries Danko: "This could be a fly by night company for all I know, and that's concerning," he said.)
The issue goes well beyond 98 Birchwood, of course. "We need to deal with the homes next to these construction sites," Danko told DeLorenzo as both stood in front of 98 Birchwood. "Their property has slumped, they were built to a previous code. We need to find some way that builders reach out and work this out with the adjoining properties, because if right now this does flood, these people will never be able to sell their homes. Their homes will be worthless, and I'm concerned about that, Jason."




The grading at the house on 98 Birchwood will not look anything like it did on Thursday evening, DeLorenzo said, with a lot of the high mounds of fill in the back and the sides getting leveled toward the front. Crews, the survey crew supervisor, illustrated the point. "Anything over six inches' difference between two houses shows up really hard until the house is finished," he said. "Once the house is finished, and you see how it's graded, it's going to be a non-issue for everybody. I've seen it happen many, many times. But it looks really horrible now but it's not going to be this way when it's done. Like I said, there's only 13 and 15 inches. That's not totally uncommon."
The discussions city officials wanted to have with the builder and the homeowner did finally take place, if under less than propitious circumstances. The technical explanations may not satisfy existing homeowners, especially because the explanations are so counter-intuitive: water flows downhill, and when homeowners see higher lots adjoining them, they will logically assume that water from those lots will flow down to theirs.
That's not going to be the case, the Palm Coast officials and the builder stressed, and the surveys will prove it. But nor did they deny that water may well pool and flood existing, older yards, because of poor drainage issues. And when asked how it could possibly be proven where that flood water will have originated, since it's not color-coded by lot, the officials did not have an answer. In residents' minds, and all assurances aside, when their yards will flood, there will be a culprit, and it's not the existing homeowners.