Note the Nov. 10 follow-up to this article: "As It Fields Flood of Complaints, Palm Coast Is Revising Building Rules to Limit New Houses' Fill Elevations."

It's as if Palm Coast's geology is suddenly sprouting small, quarter-acre hills. It's not a metaphor. New homes are being built on significantly higher fill bases of a foot, two feet or more than adjoining properties. Older properties that never flooded now do. Homeowners of long date are shocked as they watch the yards of their dream homes–their main investment–turn to small lakes.
The city has made them feel even more powerless. They've complained, asked how new construction could possibly be allowed to rise so high, only to be stunned by the response: there's nothing the city can do. There are no limits on fill height.




On Tuesday, many of those homeowners flooded the Palm Coast City Hall chambers to tell the council their stories. One of them described a new house next-door built four feet higher than his, causing chronic flooding. They are demanding some action beyond the vague or technical answers they've been getting.
They got a measure of satisfaction, at least in words and promises, though as far as reversing course on ongoing construction or fill allowances, that's not in the cards. Only new regulations could affect that, and new building regulations take time. But that's what a council member is pledging.
"We still have 1000s of infill lots that this can potentially still happen on," City Council member Theresa Pontieri said. "I have asked city manager to work with staff to readdress our land development code and our technical manual to address this on a larger scale, so that we can not only fix what's going on now, but also look to the future. And I've asked for deliverables from city staff in the form of updates."
Pontieri spoke after nearly a dozen people had brought their stories to the council.




"You know, we pay our taxes and we hope that you guys would take care of us, take care of our needs, look out for our interests," Mara Wuerth, who used a visual aid to show how a house is rising on a lot next to hers, far higher than hers, with no push back from the city. "This is not looking out for our interests. We tried to stop it. They just didn't want to listen, they didn't care. They did not care. They admitted it was too high. I mean, the they built up the sand up this high. This high, and then built the house on top of the sand this high, and what happens when the rain comes. Who's going to pay for all the damages? Nobody." (Carl Cote, the city's construction manager, said the fill was measured at a little more than a foot higher than the adjacent lot.)
"We're finding out that there's a huge lack of regulation in this city, as far as new construction is concerned," Wuerth said. "And we hope that you will address that because there's so much building in the city, and we appreciate that it gives us jobs. It boosts our economy. We're not against that. But we need more regulation and enforcement."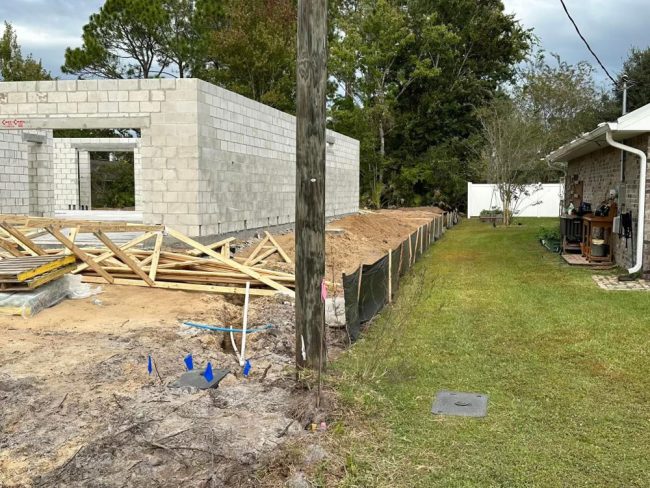 An F-Section resident spoke of similar issues there. "A lot of the insurance companies are saying hey, build it higher is better, but they're also not looking at the surrounding houses," he said. "Brought this up to the building department and inspection was done on a particular property. And the answer was: well, the silt barriers are in place. The silt barriers have nothing to do with the long term effect."
Toni Mikol lives on 7 White Horse Lane. She described a "swamp" in her back yard because of a new house next door, which she says has already affected her property values. "My property values are going down already because there's a house next door. So I expect the city then to lower my property taxes, because I'm not going to be able to sell my house. It is now in a flood zone, which was never in a flood zone." (In fact, the just market value of Mikol's property, which she has owned since 2006, has increased 159 percent in the last 10 years, according to property appraiser records, and by 43 percent just since 2021, the year the house at 9 White Horse Lane was built. Her city taxes will decline by $5 when next year's bill is due.)




Mikol said she has two empty lots behind her house. "They're up for sale," she said. "When those houses go up and the ground is three feet above mine, as it is now I'd never flooded there. I'd been there almost 20 years. The water comes up to my lanai, my concrete patio I put there. My house will have water, the water running through it, when they build those two homes that are going to be put up. I mean, this is ridiculous what the city is allowing these new builders to build these houses." She described an experience similar to Wuerth's: city inspectors told her they were powerless to stop the elevation, which she measured at two and a half feet above her lot's surface.
Several others described very similar issues. Some of them, including Wuerth, had alerted Council member Ed Danko and local media, generating reports (the Palm Coast Observer first reported it in the county) and visits to properties by Danko, who questioned Cote insistently on Tuesday. He described the Birchwood Drive fill as 3 feet or more than the adjoining lot, not one foot, bringing it to the city manager's attention. "When I looked at that property, I was pretty alarmed," he said.
City Manager Denise Bevan said some "field investigations" were conducted, and deferred to Cote, who said the city had gotten permission to do some survey work on the surrounding properties. He put the new concrete slab elevation at 1.09 feet above one side and 1.24 feet above the other. But he said the stormwater grading plan falls within the city's regulations, which require all floodwaters to move from the back of the property to the front, toward the swales and the road. The requirements are focused on grading and slopes. He did not mention fill height limits.
"Right now they just get the fill dirt in, they dump a bunch of fill on the site so they can build the slab, and then they move the dirt around and they work on the final grading at a later stage in the project," Cote said.




When Danko asked Cote whether he'd be "OK living next to that," Mayor David Alfin called the question out of order, and before long, he'd slammed his gavel so hard that Council member Cathy Heighter was visibly startled and the large crowd hissed, while Alfin himself seemed aware that he may have slammed the gavel harder than he intended. He threatened to clear the room, asked Danko to continue his inquiries with the city manager later, and turned to Pontieri, who then made her pledge, urging residents to contact council members and the city and follow-up even as she spoke cautiously about existing limitations.
"Because, yes, we have requirements and yes, if they meet the requirements, there's only so much that we can do," Pontieri said. "But we can also engage in mitigation factors or make the builders and the developers engage in mitigation factors." What those are is not clear.
Candace Stevens moved into her Point Pleasant house as Hurricane Irma was sweeping the region in 2017. "I woke up in the morning, not knowing what to expect and I had no flooding in my yard," she said. Two houses have been built on adjacent lots since. Now her property floods. "I want to know how anybody with a right mind that's not an engineer cannot see that when you're building the house that's higher to us existing people, how the water is not going to sit in our yards," she said. "How is that possible? Don't you all have homes like we do?" When it rains heavily, the property floods. She added: " I moved here and bought my dream home didn't everybody else, please how many other people are having flooding in their yard?"




Marilyn Mack, an F-Section resident who bought her house 10 years ago, saw a new house recently built on an adjoining lot significantly higher than hers last year, a construction company that tore up her yard, tearing down pine trees and never repairing it despite 14 months of her pressing for action. She's gotten lip service from the city. "Something's not right here. This is not how the government is supposed to work," she told the council. As a disabled person, she said her lot has become unsafe. "The inspector came out and gave them their certificate of occupancy knowing that my property looked like that. That's not right. That's not how the government is supposed to work. You're supposed to work for us."
Like others, she spoke of her house as her biggest investment, now in jeopardy. "And everybody that works for the city and whatever departments, construction and everything else, just turned a blind eye and–well, no problem. She'll have to deal with it," Mack said, noting that she's been dealing with it for 14 months. "I don't need this on my plate. I've got enough going on."