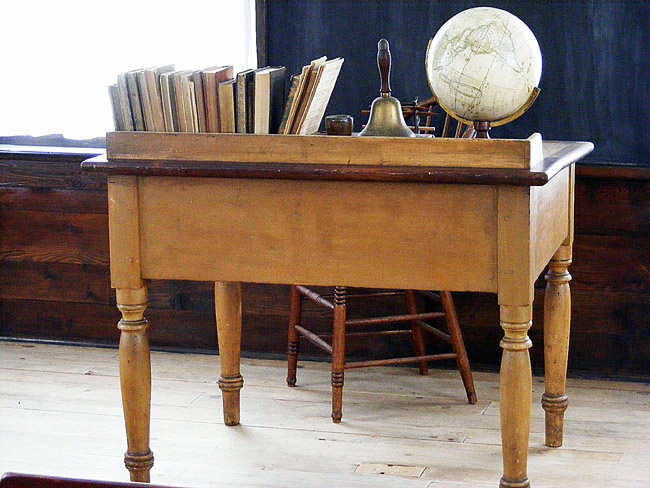 "It must be nice to have the whole summer off," my neighbor commented to me when we ran into each other at Winn Dixie recently. "I'd love to have nine weeks to do nothing but sleep late and go to the beach. Teachers have it made."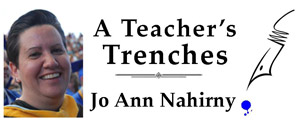 Do nothing? Seriously? His characterization of what teachers do, or, as he perceived it, don't do,  over the summer bore no resemblance to  any so-called "break"  I've had for the past 14 years, and certainly doesn't match what I've been through since the last bell sounded on June 7.
For starters, I haven't been to the beach in about five years. And "sleeping late" to me means staying in bed until it gets light out (about 6:15) because for ten months out of the year, I'm up in the dark at 4:55 to commute for an hour to get to work at Matanzas High School by 7.  But I haven't yet slept until 6:15,  because  a day after the school year ended, I boarded Delta's crack of dawn flight from Daytona to Atlanta, the first leg of my journey to Louisville, Ky., where I spent  a week working for the College Board. My task? With about 900 other Advanced Placement English teachers and college professors of composition, I scored some of the 1.2 million essays which students nationwide composed in May as part of their answers to the "free response" section of the AP English exam.
All told, I scored nearly 1,700 essays written in response to this question:
"Consider the distinct perspectives expressed in the following statements.
            'If you develop the absolute sense of certainty that powerful beliefs provide, then you can get yourself to accomplish virtually anything, including those things that other people are certain are impossible.' William Lyon Phelps, American educator, journalist, and professor (1865-1943)
            'I think we ought always to entertain our opinions with some measure of doubt. I shouldn't wish people dogmatically to believe any philosophy, not even mine.'  Bertrand Russell, British author, mathematician, and philosopher (1872-1970)
            In a well-organized essay, take a position on the relationship between certainty and doubt. Support your argument with appropriate evidence and examples.  Suggested time: 40 minutes. This question counts for one-third of the total essay section score."
By my fourth day of scoring essays, I was standing up while reading, because my backside and back ached so much I could no longer sit. Many of my coworkers were standing, too; others used pillows, magnifying glasses, eye drops, mega-doses of coffee, or sugary candy, shots of 5-hour ENERGY   and whatever else it took to stay comfortable, alert and reading at a rate of 30 to 40 essays per hour.
I certainly doubt I got a raw deal when I lucked out on reading essays taking a position on the relationship between certainty and doubt. It could have been worse. I might have had to score the question that asked students to write an essay that argued whether the U.S.  Postal Service should be restructured to meet the needs of a changing world, and if so, how. Either that, or peruse hundreds of essays in which teens analyzed the rhetorical strategies President Kennedy used to achieve his purpose in an excerpt from a speech he made on April 10, 1962 responding the steel companies raising steel prices by 3.5 percent.  So honestly, I'm not complaining.
But seriously, how many of you could've composed competent essays in response to those three questions –in just two hours? I know many teachers who couldn't. Those are probably the ones my neighbor was talking about. You know, the ones who sleep late and go to the beach.
Anyway, once I was back in Florida in time for a soaking from Tropical Storm Debby, I started to get a jump start on school work. After all,  August 16  is just around the corner, and this year I'll be teaching about 175 students in seven class periods on yet another  innovative  new schedule configuration. This one will have us teaching three  "block" classes of 90 minutes or more each on "A" day, three different groups of students in three alternate "block"  classes  on "B" day the next day, plus one 45-minute class that meets every day. But on Fridays, we'll teach all seven classes. I'm not sure what they're calling this schedule yet: modified A/B rotating block skinny something or other.  But I do know I need to revise my last year's lesson plans to conform to this schedule—the fifth different academic schedule we've had in seven years at Matanzas.  So I decided to tackle lesson plans first after returning from Louisville… while waiting to hear how my own students performed on the AP exam.
I didn't sleep very well on the night of June 30. How could I? I knew my students could call the College Board AP hotline the next morning to learn how they fared, and I was anxious to hear their scores.  After tossing and turning for a couple of hours, I finally got up at dawn that Sunday and started working on my next major task—college recommendation letters—since 65 students asked me to write one for them.  If I cranked out five a day, perhaps I could finish in two weeks. Once school resumes, I won't have time to do it, between grading essays, teaching,  and attending meetings and parent conferences. So I began writing.
To Whom It May Concern: I am pleased and proud to write this letter of recommendation for Matanzas High School student Liz C.  As a junior, Liz was a student in my AP English Language & Composition class.  This fine young lady displayed a motivation and dedication to learning…
The first e-mail interrupted my letter-writing when it arrived in my inbox at 8:22 a.m. on July 1.
Hey Mrs. Nahirny! I just called for my AP scores and I got a 4! Thank you for everything you taught me this year; your class was by far the most beneficial, helping my overall writing scores as well as helping me achieve higher scores on my SAT. Sincerely, EJ
A 4, on a scale of 5, is good enough to earn college credit, as is a 3 in some disciplines. One minute later, the next message came in.
I got a 4! Love, BM
8:54 a.m.  It's EM from fourth period. I got a 5!
8:59 a.m.  I passed with a 3! Thank you so much for everything. You were by far the best teacher I have ever had! CR
11:02 a.m.  I  got a 3! I started calling for my score at midnight but wasn't able to get it until this morning. JL
12:58 p.m. This is CE   from 4th period. Just wanted to let you know I got a 5 on the exam. Thank you so much for this year; you really taught me a bunch. What you've taught me about writing and reading will carry on into college and my career.
The messages continued  for the next couple of days until finally, several days later, the College Board gave me access to all my students' scores.  All told, 52 out of 71 students passed the exam — the largest number of students to pass any AP exam in any subject in Flagler County this year. Now it was my turn to send an e-mail:
Dear Students:
Thanks for sharing your AP scores with me. I am so proud of you. I want you to know that 74% of you passed the exam with an average score of 3.127. More students at Matanzas passed AP LANG than any other AP subject exam at MHS or FPC. Congratulations!
I do have a bit of unexpected news to share with you: it appears my cancer has recurred. I went for a CT scan and biopsy at Shands UF in Gainesville earlier this month, and I will likely face surgery there soon. Thankfully, it is a much smaller growth than the first time, but they're pretty sure they're going to have to remove it. I will miss a few weeks of school, probably in August or September. But in the immortal words of Arnold Schwarzenegger in 'The Terminator,'  "I'll be back!"
Meanwhile, I'm working on your recommendation letters and will try to have them all done before I go into the hospital. I have about 20% of them done now! (I'm a bit behind! Sorry!)
When they schedule the surgery, I'll let you know. At Shands, there is even a way you can e-mail me!  (https://ufandshands.org/send-patient-message.) Someone there receives them, prints them out, and delivers them to the patients in their rooms. I know I'll recover quickly when I get more e-mails than anyone in the whole hospital! Love, Mrs. Nahirny.
So, as you can see, teachers like me don't "have it made" and really don't get the kind of 'break' my neighbor imagines we do.   I certainly wish my summers "off" could be more like that –but I doubt they ever will.

Jo Ann C. Nahirny, a 1985 graduate of Columbia University and a National Board Certified Teacher, teaches English at Matanzas High School in Palm Coast. Reach her by email here. Nahirny plans to continue writing her In the Trenches column for FlaglerLive after her surgery. The date of that surgery will be determined when she next meets with her surgical oncologist at Shands on Aug. 9. Nahirny plans on being at Matanzas next week, for the first day of school, and possibly for a couple of weeks into the school year, before taking medical leave.