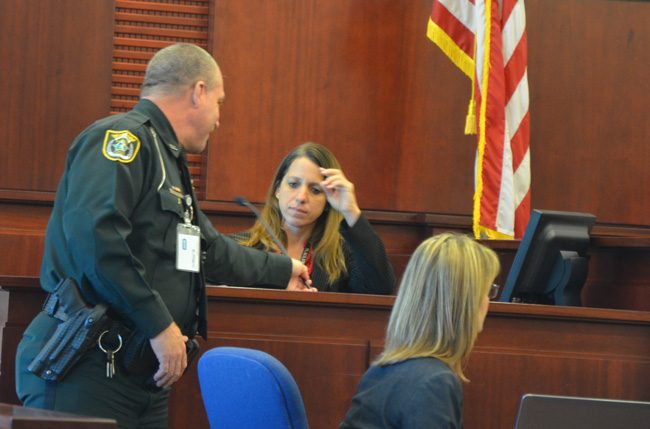 Since last fall the Flagler County Sheriff's Office and its employees have been wrestling with the effects of what could be a sick building at the sheriff's operational headquarters in Bunnell. Four employees were initially affected. More than two dozen have since filed related workers' compensation claims.
Earlier this week Sheriff Rick Staly, in letters to his employees and to the county administrator, detailed the severity and extent of the problem and demanded that the county provide immediate alternatives where affected sheriff's employees may be moved. The county has yet to issue a formal response, saying that one is forthcoming and that some further analytical measures are in the works.
The county is responsible for the sherif's facilities, essentially placing the sheriff and his employees at the county's mercy. The sheriff's letters earlier this week reflect significant frustration with the county's responsiveness. The county conducted a pair of analytical studies last fall and remediation of two affected areas, but after affected employees were returned to the building–they'd been allowed to work from the old portion of the jail meanwhile–problems reemerged, then began affecting many more employees.
Until now, the employees' perspective has been reported only second-hand, while the sheriff's office has projected a relatively cohesive, supportive response to employees' concerns from the beginning. While the sheriff's letters this week clearly point in that direction, that may not have been entirely the case previously, as a lengthy letter Detective Annie Conrad wrote the sheriff and two other members of his executive team two months ago: Conrad writes apprehensively and in fear of severe consequences against her or others, and reveals what she perceived as some inappropriate responses to the crisis. She also writes with a sense of desperation in hopes of making an impact on the sheriff and his top two executives–Undersheriff Jack Bisland and Chief Mark Strobridge.
Conrad, who last month was named the Flagler County Law Enforcement Officer of the Year, is among the more severely affected employees. She's been on family medical leave for weeks, and her job as a detective has been in question: she refuses to re-enter the Operations Center in Bunnell, and to provide her with "reasonable accommodations," she may be re-assigned to road patrol when she returns, which would amount to a demotion.
Conrad appears to have gone out of her way to limit her letter's audience to its three intended recipients: she did not email it but delivered it in paper form to the three, presumably hoping to keep it from being electronically disseminated or easily uncovered as a public record: her intention was not to embarrass the leadership but to impress on the sheriff the urgency of the problem, which she felt was not being taken as seriously as it should.
The letter also points to the tensions and misunderstandings behind the scenes to a degree never reported until now.
In an email this evening, Strobridge said the sheriff took the letter seriously and personally responded to her by phone, assuring her that he wanted to resolve the situation.
"Detective Conrad's letter was received the end of April and the month between the time of her letter and the letter from the Sheriff to the County the Sheriff met with the County Administrator several times on this issue, to the point of frustration that caused him to write the letter," Strobridge said. "We are dependent on them to provide proper and safe facilities. Sheriff Staly's letter is the catalyst that has caused the Board Of County Commissioners to change the agenda for Monday's workshop meeting and special County Commissionmeeting to deal with the building issues. Without his efforts, there would still be just a lot of talk.
"During the time of the testing and initial remediation as I received reports and updates from the County, I put them on the agency intranet that could be accessed by agency personnel and made direct notification to all individuals as I uploaded reports received from the County. This effort was to keep the members of the agency informed as to the County's progress. As you have written in the articles, we are tenants in this building and Sheriff Staly continuously work to get the issues resolved."
Strobridge said that "In reviewing the facts it is obvious that It was not Detective Conrad's letter that caused the Sheriff to take action. He was already taking action and had been."
FlaglerLive obtained the letter as part of the documents in an internal affairs investigation we had requested. The internal investigation was triggered by a few lines in the Conrad letter alleging that Cmdr. Steve Brandt had made inappropriate comments while "brainstorming" about employees' rashes and illnesses: he had joked that the three employees suffering from skin conditions, including Conrad, another detective and a commander, may have shared the same sexual partner. All three women involved in the matter agreed that Brandt, a long-time employee with a solid record, was not being malicious or ill-willed, that it may have been an inelegant joke, and that none felt targeted: Brandt has never been inappropriate in the workplace previously.
Conrad had not requested the investigation, which was instigated internally–itself a reflection of the Staly administration's consistent willingness to look internally at any missteps no matter who's involved or what the consequences may be: the Conrad letter was included in the investigative record, and as such, the administration was aware it would draw attention and be potentially published.
Brandt was disciplined over his statement (he was suspended without pay for three days even though the policy he violated calls for just one day's suspension) and acknowledged in a memo to Bisland that "as an executive member of staff I am held to a higher standard. I also understand that as a member of executive staff that a higher level of discretion is to be utilized when engaged in conversation with employees."
The more revealing document in the investigation is Conrad's letter, which is reproduced below as she wrote it.

Dearest Sheriff Staly, Strobridge, and Bisland,
I am choosing to send these personal letters to all of you in this fashion because I promise you no one else knows the contents of it. Please feel free to throw them away after reading them. I have just been shut down every time I wish to speak with any of you because of chain of command or making things worse. If I get in trouble for this I will totally understand, but my mental health is more important to ine at this moment and expressing my true feelings and dispelling several rumors is worth the punishment if it's necessary.
I have tried really hard to put myself in your positions and realize you can't accept there is anything truly wrong with the building. From an outsider and especially someone that is affected, I just keep repeating to myself that it's baffling that no one sees the totality of the situation and the fact that a lot of their good people have come up sick/affected and the only commonality is the. workplace. I also know when you're not affected it's difficult for you to understand, but imagine if it was your wife or daughter and now their lives may be forever changed because of a situation no one is willing to recognize. That's why I'm not looking for a response from any of you, but begging you to simply hear me out as a person who has dedicated their entire life to serving and taking care of others in this county and even more, a team player for this team. Maybe the small town mindset is what makes all this so hard for me.
I truly hope you will take the time to read this though; Let me start by dispelling a few rumors;
1) I do NOT have Ill intentions: The day I met with Bisland and spoke from my heart in reference to my concerns, it was never meant to start a war. Please understand my mindset, I am extremely sick, absolutely terrified, and all I was asking for is support from the people I work for to find out why we were all getting sick and to take it serious. I thought I made that crystal clear. I'm scared not only for me, but for everyone else who won't speak up.
I know you allowed me to go off site, but the place you have us working now is torturing. The room is like being in an airplane. I've bought air quality plants, made a homemade air purifier, and still had to work out of my car the other day because the air was so stagnant. But I don't mind working out of my car and problem solving, but again that is not as easy for others. I know the county is doing what they feel they NEED to do to cover their butts, but if we truly want to find out the problem it takes team work (like anything else). The county should not be interpreting the reports, the company writing the report should speak directly to you guys because it's your people at risk if there is a problem.
[Flagler County Facilities Director] Heidi Petito sat right in the large meeting that day and completely gave out wrong information which was clearly written in the report provided by Richard. The fact that the HVAC system wasn't working properly is HUGE piece of the puzzle and she argued it was. Richard's company should be at the meetings explaining it in a way we can understand and be available for questions. Just because we get tests back that are acceptable to most we just ignore the fact that people are sick. It was real easy for Brandt to simply tell me to go back to patrol the very first time I expressed my concerns, because that's what we do here. Get rid of the loud one and then let the others ones suffer and learn to keep their mouth shut. I've never not fought for my team and I'm not trying to fight with anyone, but simply remaining open with everything with what is happening with me with my sickness and the medical findings.
2) I do NOT think I am a mold expert: If you experience the symptoms that I have, you are forced to become very interested and make it a priority to research and figure it out, just as if I was a diabetic, or any other illness that requires special care. I spoke with Richard from H2H in the beginning because he IS an expert. I would take every chance I had to share our symptoms, and pick his brain, because I do think the medical aspect is a HUGE piece of the puzzle. He is a very passionate person when it comes to his job and I consider him extremely professional. I also asked him, being in the field if he knew of a doctor that specializes in mold exposure.
It took me a month to get an appointment with the doctor he suggested, which cost me $843.00 for the 5 hour visit. She required all my medical paperwork in prior to my visit so she would be prepared. She reviewed all the mold reports that I've received from the building and wrote a long letter explaining the health risks of not getting out of the potential exposure area. This was not to be a pain in the butt or to stir things up. I even previously put Richard from H2H as someone who could have copies of all my medical paperwork, lab results, and findings to compare with his findings in hopes of narrowing in on the problem. This has obviously been interpreted by you all as something completely different, and for the most part labelling me "the villain.
The County will no longer talk to me, Richard will no longer talk to me. My lifelong friend Mike Dickson will no longer talk to me. In the beginning he was even going to ask his wife to help figure it out because she has medical training and is very smart. All because people think I have Ill intentions all of a sudden and all I want to do is solve the problem so we can all be safe. I will be more than happy not to talk to Richard again, but I beg you to let him see the medical findings. The problem is, the less people talk, we see the more that is hidden. Next door is a prime example. We know there is asbestos next door. We know they saw it, everyone is talking about it, and no one is looking out for people's welfare. That is just not the type of person I am and I have a very difficult time understanding it.
3) There are so many rumors floating around; we brought stuff from our houses, Jenn gave me Shingles, Brandt even asking Nicole if she slept with a guy that Jenn and I slept with. Joke or not, all I can say is wow. I know in Law Enforcement we all joke around, but it would be different if you joked and then looked out for your people. But he's obviously the driving force to making them come back into the building. You guys are closer to Nicole and you well know her situation as a single mom.
She can't afford to seek the expensive treatment and diagnostic stuff that I have and I've brought it all back to share with her and others affected in hopes they can be treated properly. I'm not only sinking in debt at this point, but I have the mental strain that if I share all this info I will be put on a black list and lose my job. The exposure that I have is throughout my body and very severe.
I was able to lead Nicole to a cheap test online that is an eye test to test for different illnesses including Bio toxin Illness and she was positive for that and two other illnesses. She will go back in the building when ordered because she doesn't feel she is at a point in her life and her career that she can lose her job. That is so sad! She will sacrifice her health and get even more infected because a piece of paper says there is nothing wrong and no one stands up for her. How do we know we are even testing for the right stuff if we don't know what are people are infected with?
I go back April 27th for a follow up and get my culture and blood work results. This will tell me exactly what I am infected with. I am currently showing presence for 3 out of 4 mycotoxins, the levels still need to be interpreted at my follow up, however 2 out of the 3 cause cancer. This stuff is no joke! I am absolutely terrified.
One of the biggest struggles in all of this is the mental torture for a few reasons. The fear of never getting better, and never being normal again. The fear of losing the job that I love. I definitely cannot afford to lose my health insurance at this moment either. The struggle with depression is real! I fight it every day and pray hard for God to give me strength.
I'm not sure where I will be able to go without being able to go back in the building but whether it's the schools, the courthouse, or patrol I have no doubt I will continue to do the best job I can do because I love working for the people and doing the right thing. It's in my heart and soul no matter how people treat me.
I live by my life verse Luke 6:38 "Give, and it shall be given unto you". When I begin to get discouraged by the people around me, I remind myself you too are children of God and then I see people in a different light.
Commanders from every unit have welcomed me into their Division if needed because they know I give 110% no matter what and they are prepared to help me work around the fact that I may have to do things a little different to avoid the building. I just hate that I will ultimately being punished for getting sick, and trying to look out for others by looking like the absolute trouble maker. And honestly one of the hardest parts is to leave the others stranded not being able to voice their opinions and concerns because they are scared to get "black listed" so to say.
My asthma has went away since I left the building, but my body has an overgrowth of fungus/yeast. I'm currently on approximately 12 different medications right now, some being very costly. Jenn and I can swing it for now, but Nicole cant. We look back on how supportive everyone was for Watkins, and realizing there is a fund to help deputies in times like this and nothing is ever offered.
And I'll finish with this, and it's not to feel sorry for myself because I feel God walks me through things for a reason, but since the day I literally spilled my guts on the table for Bisland NONE of you have EVER asked how I am doing. I was even in the hospital last weekend due to complications of this whole mess and no one has ever reached out. And I know Brandt was notified. It's just hurtful, especially because we are all on the same team and it feels we serve and protect everyone else but not our own sometimes.
I apologize if you think anything I said is out of line and I truly thank you for allowing me to vent and express myself. I have provided these to just you with no one else having knowledge in hopes of not causing further damage with anything and getting anyone else in trouble besides myself.
Thank you for your time and God Bless,
Annie