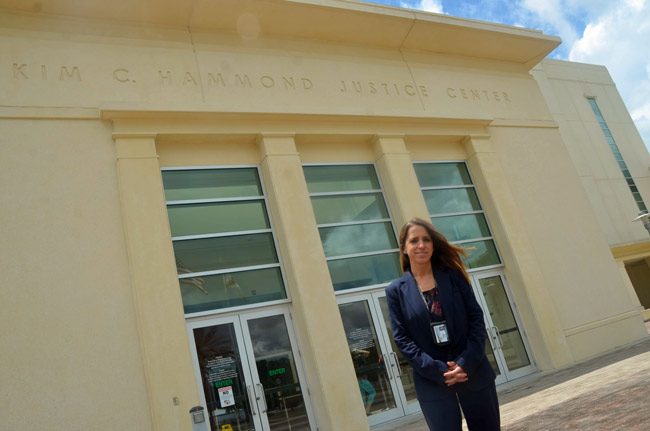 Annie Conrad has been with the Flagler County Sheriff's Office for 14 years, the last 11 as a detective. One of her key cases in the past year was also among the grimmest for any cop's career: the long investigation of the murder of Charles Singer, 48, by his wife Dorothy Singer, who buried him in the backyard of their home in west Flagler last May.
For weeks, Dorothy singer spoke to Conrad and another detective as the perplexed wife of a man who'd left her and gone missing. She fabricated a series of stories, almost all of them false, as Conrad would visit and speak with her time after time–the body of Charles Singer decomposing only a few dozen feet away from where they stood. Conrad realized something was amiss when she took a walk around the property and noticed the spot where Dorothy had buried her husband, an out-of-place mash of debris with an overturned jon boat that Conrad photographed. Days later, Charles's body was unearthed.
Last Thursday evening, Conrad was named the Flagler County Officer of the Year at the 20th annual banquet of CrimeStoppers of Northeast Florida.
The next day, a jury found Dorothy Singer guilty of first-degree murder, and Circuit Judge Dennis Craig sentenced the 53-year-old woman to life in prison without parole.
Singer's last words in freedom had been addressed to Conrad in a three-page, neatly hand-written letter that was also a fabrication: she was passing it off as a suicide note, an attempt to fake her own death and get out from under a situation that was overwhelming her. But it was telling that she'd addressed the letter to "Detective Conrad & family." She'd made a connection with the detective, who has that effect on people, more especially so victims of crime.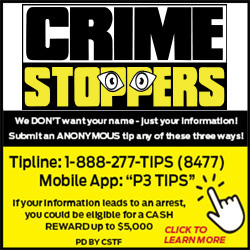 Conrad had been a chief witness for the prosecution at Singer's trial. So for much of the week, Conrad was in the hallway outside the courtroom when she wasn't on the stand (following rules of sequestration, witnesses aren't allowed inside), or else she was with Charles Singer's family in one of the witness rooms, like a victim's advocate.
"What I've discovered through the years is," Conrad said, "I love working with the people, so my cases have almost navigated to death case, whether it be suicide, natural death or homicides, I seem to have a passion for working with the families."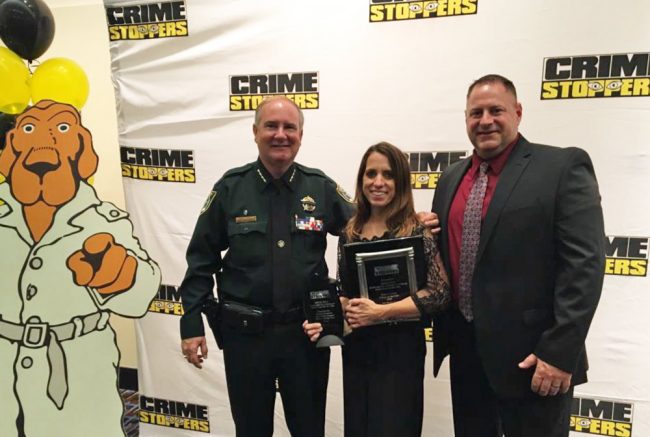 The darkness, the grimness of murder scenes and their consequence on affected families doesn't frighten her. It challenges her to be there for those families. "It's almost like I feel like I get put in certain situations near the darkness for a reason–to be the strength for those people that are mostly affected," she says. "I'm an extremely empathetic person. They say that if you don't find the avenues to handle the stress, sure, it could be quite stressful."
Her avenue? Church.
As Conrad sat in the hallway the day after she was awarded CrimeStoppers' honor, she was asked about the grimness of the job–how she copes with it, whether the consequences of the worst violence she sees firsthand challenge her faith. It never does, she said.
She'd never let on unless one pries–as reporters tend to do–but she carries a Bible with her, and she reflects. She later explained her response with a couple of quotes from Scriptures. From the 34th Psalm: "The Lord is close to the brokenhearted and saves those who are crushed in spirit," and from Corinthians' reference to "the Father of compassion and the God of all comfort, who comforts us in all our troubles, so that we can comfort those in any trouble with the comfort we ourselves receive from God."
"I think those scriptures pretty much sum it up," Conrad said. "I think compassion should be one of the top requirements to work in law enforcement. They wouldn't want me in the hiring process. Our guys are pretty good about leaning on each other after bad stuff happens also. I feel a sense of relief when I can help others, if that makes sense."
She leans on her husband, Chris Conrad, the long-time Florida Highway Patrol trooper–they have two children–and she finds yet more solace and comfort in her cares for animals: "That's pretty much what everyone knows me as," she says. "I teach an animal block to the Sheriff's Office's new recruits, on animal handling and calls. That's a huge part of my life, probably another important outlet for me too." She's passing it on: her daughter the other day brought home a set of opossum babies whose mother had been killed on a road.
You could hear the empathy in Conrad's voice and demeanor in the many recorded interviews with Dorothy Singer, before and after it became obvious to Conrad that Singer was lying. The recordings were almost all played during the trial. Singer is not aware she's being recorded, but Conrad never condescends or suggests so much as a hint of judgment. Her neutrality carried over to the witness stand during trial, when Singer was again within a few feet of her. Conrad was entirely in command of her facts and memory of the case, but spoke of Singer with the same neutral respect she'd displayed in the recorded interviews, knowing all the while her testimony was crucial to getting Singer put away for life. Conrad had Charles's family in her sights, too: they sat in the audience, also just a few feet from her.
It explains perhaps why she still gets calls from families involved in difficult cases years after the fact, motivating some–like former juveniles–to stay on the right track, giving others a chance to be heard from one of the very few people who might understand what they're going through, for having so intimately been immersed in their case. "I hear from cases that are three and four years old," she says, "I hear from people, they're friendships that I've made, sometimes they just need to call and talk."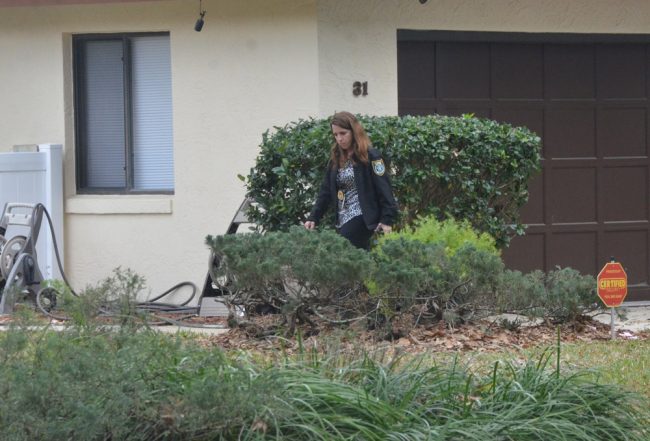 Conrad, 45, was all but born and raised in Bunnell, where she arrived before she was walking. She's been there since. The Sheriff's Office hired her as a road deputy in November 2004. She spent three years on that assignment. She'd find herself following up on cases, researching, digging. She was a born investigator. She was driven. So she tried out for detective–and also became the Sheriff's Office's first female member of the SWAT team (at least no earlier documentation of a female member could be found). She only stayed on the SWAT team one year, and has focused on detective work since.
"Detective Conrad's tireless efforts led to her nomination of this award," Sheriff Rick Staly said. "It also led to the conviction for first degree murder of Singer. Annie is a highly valued member of this team, and we are all proud of her."
The sheriff's release announcing the award referred to Conrad as a detective, and Chief Mark Strobridge on Monday confirmed that Conrad was and remains a detective. But there's been a bit of confusion about the fact, with Conrad herself thinking she'd been transferred back to road patrol after going of family medical leave a few weeks ago, over issues related to office conditions at the Sheriff's Operations center in Bunnell, first reported here in February. Issues became so severe that she suffered a series of health setbacks.
"She was going to be transfer to road patrol as a result of reasonable accommodations," Strobridge said, "but she went on medical leave which kind of froze everything, so she's still a detective." It's still not clear whether that holds for when she returns: "It depends on where this entire situation is, nothing is going to change until she comes back," Strobridge said. (The conditions within the building have affected numerous employees and have had the sheriff's administration in something of an upheaval for the past couple of weeks.)
Meanwhile, Conrad is taking in her award as a form of validation for much of the work she's done. "It's awesome. It's definitely an honor, especially when you stand on the stage with a bunch of other really talented and passionate law enforcement officers," Conrad said. "It definitely makes you proud."