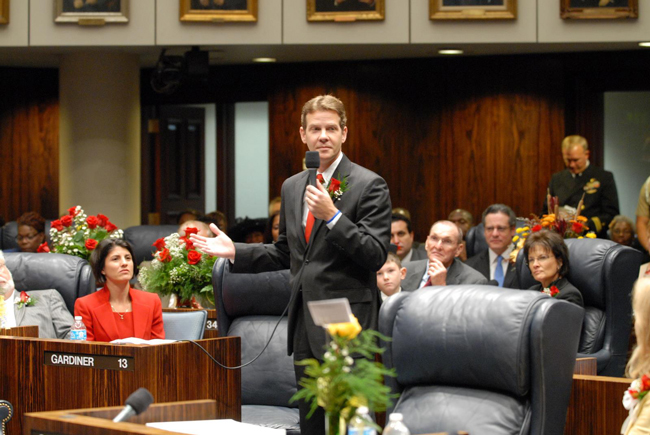 Senate Republicans on Tuesday formally designated Andy Gardiner as the chamber's next president, lauding him as a compassionate and temperate conservative in nearly an hour-and-a-half of flowery floor speeches.
Gardiner is "tested by life, tempered by experience and with a strong backbone, a warm heart and…an optimism as warm as the Florida sunshine," Senate President Don Gaetz, R-Niceville, said. "Andy Gardiner is the face of the new Florida."
Gardiner was accompanied by his wife, Camille, and three children in the Senate chamber packed with GOP dignitaries including Gov. Rick Scott, Attorney General Pam Bondi, Agriculture Commissioner Adam Putnam, Chief Financial Officer Jeff Atwater and Republican Party of Florida Chairman Lenny Curry.
In its 2012 endorsement of Gardiner, the Orlando Sentinel described the senator as "a staunch fiscal and social conservative, but not a shrill partisan like some other party leaders." (The full video interview is accessible here.)
The 44-year-old Orlando Republican laid out an agenda focused on the economy, water and natural resources and expanding educational and employment opportunities for disabled Floridians.
The state's economy "appears to be on a steady uphill climb," Gardiner said.
"We are headed in the right direction and we have the right governor to head us in that direction. … It should be a goal of our caucus to continue to look for areas where we can improve," he said.
Gardiner, a vice president of external affairs at Orlando Health, said the Senate will reconsider the enterprise zones set to go away in 2015.
"We ought to look at them and make sure they did what we intended to do. Maybe we change them," he said.
Gardiner, whose son Andrew has Down syndrome, said he wants to do away with "special diplomas" that he said mean little in the real world.
Instead, students should get trained in specific trades that would enable them to attend college "but also get a meaningful job when they're done."
A triathlete, Gardiner also said he wants a statewide policy for Florida's water and natural resources, which could be linked to eco-tourism. Gardiner pushed for a $50 million coast-to-coast bike trail included in the budget but vetoed by Scott this year.
"We're known for our theme parks but we should be known for our rivers and our lakes and our bike trails all across this great state," he said.
Gardiner will officially take the helm of the chamber after the 2014 elections in November.
The designation of the even-handed and low-key Gardiner could bring peace to what has been a fractured caucus for a number of years.
"I'm not here to dictate. I'm not here to tell you what to do. I'm here to support and help you," Gardiner told his colleagues.
Gardiner survived a caucus coup attempt last year in which other Republicans, including Sen. Joe Negron of Stuart, tried to oust him. A battle between Negron and Sen. Jack Latvala, R-Clearwater, to become president after Gardiner has yet to be resolved.
"I think it means peace and quiet for the Senate. He's a very calming influence on senators. He works with everyone. He's universally well-liked. And I think it means a good two years for the Senate," Latvala said.
Inspired by Gardiner's son Andrew — an Orlando Magic fan — the caucus surprised Gardiner with a video featuring some of the basketball team players and Magic jerseys for each of the Gardiner children bearing the number "86" because Gardiner is the 86th Senate president.
Gardiner gave his caucus members replicas of the state seal made from copper from the old Capitol dome accompanied by a quote from Benjamin Franklin: "That government is the strongest of which every man feels a part."
"I believe it and I live it," he said.
–Dara Kam, News Service of Florida

The News Service of Florida has five questions for Andy Gardiner:
Q: How does your son's disability affect the way you govern?
GARDINER: Well, I came in in 2000 in the House, and certainly my views of the role of government have changed. But having children, as well, has changed that a lot. My son has unique challenges, and I think that's opened up my eyes to a lot of families that are living that journey. And I believe government has a role in helping them along that journey. So that's been a lot of my focus.
(Do you think children's issues get short shrift?) If you look at our budget last year, we put about $15 (million) or $17 million into (the Agency for Persons with Disabilities) for the Medicaid waiver list. I think we should continue to buy that down. If you look at the history of children's issues, not just with Governor Scott but going back to Governor (Jeb) Bush … I mean, Governor Bush paid off the entire waiting list. The more we can do, working with APD, to work on that waiting list, the better.
And early intervention services — we put more money into that — those are all very important issues. But it's important to remember when you do all these early interventions and you're helping the child from 6 years old to 7 or 8 years old, at some point that child gets to high school and wants to go get a real job and wants to go to college. You've prepared them. Now it's time for us to look at what we can do next.
Q: In your acceptance address, you said, "Whether your personal life journey started with a unique challenge that most others do not face, or includes starting over after coming home from military service, or aging out of foster care, we in public service should not endeavor to carry you on your journey but to clear your path of obstacles." What does that mean, in terms of policy, for people with disabilities, military veterans and kids aging out of foster care?
GARDINER: Well, regardless of when that diagnosis is, whether it's an injury or it's a birth and the parents are notified, I believe what our job should be in government is really hand that family, "Here's where the state of Florida will be a partner with you," whether it's early intervention services, or we make changes to the (Individualized Education Program) process where families now are empowered to make the decision. And to be able to say to a veteran coming back, "It's okay, the state of Florida's here. And we're going to provide you a road map. Here's all the services that are available to you."
If you look at it, we have a lot of great services that are already being provided, even for children with disabilities. But it's almost overwhelming for a family, and for a veteran, or a child in foster care, we should lay all of it all out for them, and almost like a deck of cards, choose the one that's best for you to be successful in the state of Florida.
Q: You supported a Senate plan to accept federal money for expanding health care coverage, an alternative to expanding Medicaid. But your counterpart, Speaker-designate Steve Crisafulli, says he won't back off the House's position, which refuses money tied to Obamacare. Will you try to convince him?
GARDINER: Number one, I'm not president yet, and I will support my president, Don Gaetz, whatever his decision is. I think the Senate has a pretty good proposal that is not an expansion of Medicaid but really provides some of that personal responsibility premium assistance. And we're open to discussion with the House, but I can only speak for the Senate, and if there's ever an opening to sit down and talk about numerous ideas — and if the House has new ideas — we're certainly open to that. But until it's my time, my job is to support Senate President Gaetz and what he wants to do on that particular issue.
Q: In your acceptance address, you said we need better policies on water and the environment. We've heard critics of the governor's jobs program say it's costing us too many natural resources. What do you think of that criticism?
GARDINER: I don't necessarily agree with that criticism, and I don't want residents of the state to think that I'm somehow saying we haven't done the right thing. I think we've done a lot of great things. But what I wanted to let people know is, as our economy gets stronger and the revenues are increasing, it gives us the opportunity to look at areas that maybe we have not looked at as much because the revenues were down.
And I know it's also a priority for the Speaker-designate, and I just think it's a great time to sit down and say, "Let's look at all our water policies, let's look at bike trails, let's look at all these things." Could we leave a legacy that it's not an annual fight over funding for one particular project? Maybe it's a significant change in the way we do water policy in the state of Florida.
Q: You're known for your ties to Disney, which opposes destination casinos. As Senate president, what will be your approach to gambling?
GARDINER: Well, it's not who I'm tied to or who I know. I think everybody knows that I'm opposed to gambling. I always have been, and there's usually three or four of us who consistently vote against any expansion — including the lottery.
But I think it's important for everybody to understand the Senate president's job is to help the Senate be successful, and there are so many views on that particular issue. It's not my job to dictate to the Senate that "This will be our position." It's (to) put the members in the right places — they'll draft it; they'll bring it forward.
It's time for us to take a hard look at our gambling policy in the state of Florida.