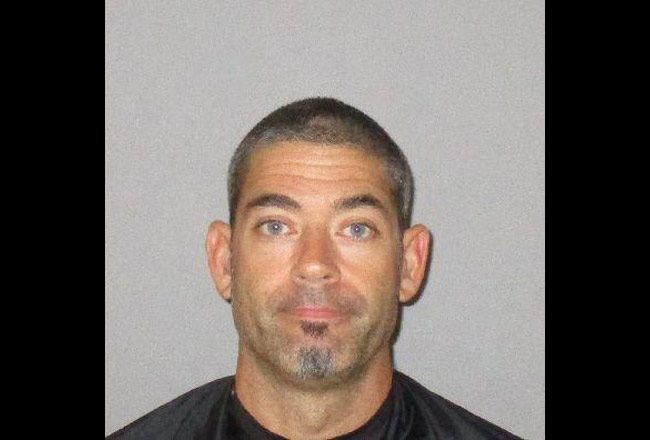 Sam Christopher Andolina, 39, of Palm Coast, is at the Flagler County jail on a charge of raping the 13-year-old daughter of his fiancee, and on a charge of molestation. He faces a first and a second-degree felony and is being held on $150,000 bond.
Andolina claims he was the one who was molested as he slept.
The allegation was originally reported to Flagler County Sheriff's authorities in January by the alleged victim's mother, referring to an incident days earlier. The child's mother told a deputy that when she confronted Andolina about what her daughter had told her, he claimed to have fallen asleep on the couch and woken up to the girl "grabbing" his penis, according to his arrest report. He could not explain why he had not reported it to the girl's mother.
The girl's mother ordered Andolina out of the house. He relocated to his parents' house in Cape Coral. The case was assigned to sheriff's detective Cpl. George Hristakopoulos, who has investigated several similar cases that have resulted in charges and convictions recently.
The girl first reported the alleged rape to a sibling in the context of the two siblings discussing "secrets." Based on an interview Hristakopoulos conducted with the older sibling, the alleged victim told her that last Dec. 30, Andolina was asking her whether she liked boys. She'd told him no, finding them "gross." Andolina then took the girl into her bedroom "and told her that he does this with [the girl's] mother all the time," according to the arrest report. He "took his penis out and told her to bite and pull on it." He then allegedly fondled her breasts and raped her with his finger. When the sibling told her she had to tell their mother, the victim got upset, fearing that Andolina and her mother could not get married if she told.
Starting on Dec. 30, Andolina displayed a "complete 180" in his behavior toward the two siblings, "lingering" around them constantly. The moment the older sibling would be near the alleged victim, Andolina would appear and talk about numerous random things. The older sibling found his behavior "suspicious."
The victim's mother confronted Andolina one evening four days later, after she found out. She asked him straight out if he'd molested her daughter. He jumped up. "This is what I get for not telling you," he told her, "but I didn't know how to tell you." He then told her of the incident, saying he'd been asleep, waiting for her (his fiancee) to come home, when he woke up to find her daughter's hand on his "junk."
That version of the story, when told to the girl, upset her greatly, according to the report, for its lack of veracity as far as she was concerned. Her mother told Andolina that the girl had no reason to make up a story considering how excited she'd been about the impending marriage between Andolina and her mother.
The alleged victim was interviewed by the Child Protection Team, whose members are trained to interview children in such a way as to minimize any possibility of suggestibility or leading questions, independent of police investigators. The girl reiterated the way the assault unfolded in terms and details similar to those she'd spoken to her sibling, adding that Andolina stopped assaulting her when she told him to stop. But, she said, Andolina then told her to undress and take a shower. He also told her that if she were to tell anyone what had happened, she would be restricted from her iPad for 10 to 15 years.
The alleged victim "appeared very concrete in her processing and showed a limited understanding of non-literal phrases," the investigation found, while her "recollection of the events was uncompromisingly forthright and direct. Throughout the investigation, [the girl] has maintained the same unwavering version of events, despite exhibiting sadness at the fact that Sam Andolina is no longer a part of her household."
The investigator then conducted a "controlled phone call" between the victim's mother and Andolina–meaning that investigators were listening in. Andolina told her of the incident, saying he was "out cold sleeping" on the couch and "dreaming" and not being "the least bit alarmed" because he thought he was either dreaming or that it was his fiancee actually touching him. The only thing that made him realize otherwise, he said, is when he alleges that the girl asked him if his own biological daughter did the same to him. "That's when I came through and I realized, you know what I mean, everything is coming together real quick."
The girl's mother asked him if he perceived himself as the victim. He did not have an answer. He claimed to have been drunk and "dropped the ball" in not telling her about the incident.
In mid-January Andolina agreed to meet Hristakopoulos and provide a sworn statement. But two weeks later he changed his mind. The detective subsequently was contacted by a neighbor of the girl's mother who passed on a text message Andolina had sent in February, claiming innocence, and saying the girl "does have issued [sic.] mentally."
Andolina added: "Yeah, the worst damage is already done which is family wise and she had to call and make a report which I understand and supported, so now it's just a waiting game legally, which I'll do whatever they need me to do."
But on two occasions, the investigation found, he refused to provide a statement–"the only thing that law enforcement has requested of Sam Andolina," the arrest report states.
Andolina was arrested in Cape Coral on Sept. 6 and booked at the Flagler jail just after midnight today, where he remains.