From afar or even from up close as you drove by today on State Road 100, near Florida Hospital Flagler in Palm Coast, the protest Diana LeBrun brought together under a brutal noonday sun didn't look like much: precisely 18 people who'd gathered along the road with signs that read, "Health Care is a Right," "Save Medicaid Save Lives," "Save the ACA," "22 Million Lives Matter," a reference to the 22 million people expected to lose their insurance should Senate Republicans pass what they're calling the "Better Care Act" as a replacement for the Affordable Care Act.
It didn't look like much, this demonstration against the bill, but the moment you got close, the moment you spoke to any of the 18, you'd start hearing the sort of stories rarely heard through the din of political brawls and television shout shows. They're the kind of stories that make the political noise sound ridiculous, because the stories are not about ideology, they're not about too much or two little regulation, high taxes or low. They're about people's own experiences, the sort of experiences which, heard once, then again and then again as you made your way down the line of this ostensibly small band of protesters, take on the resonance of a deeper echo, of stories almost anyone in town, anywhere in the country could relate to, because everyone knows a friend, a family member, a colleague going through these experiences. Anyone might be the very person telling you the stories.
These few demonstrators were those persons. Your neighbors, colleagues, Facebook friends.
You could start with Nancy Nally, a Palm Coast resident. She and her husband Mike are raising a 14-year-old daughter, Bridget. Bridget was with her mother this afternoon, wearing a dress stitched as if by Betsy Ross: it was the American flag. And she wore a color-dotted baseball hat with the word "LOVE" in big gold letters.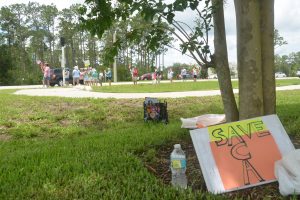 Bridget is autistic. She has juvenile rheumatoid arthritis. She has scleroderma, a painful disease that hardens the skin and connective tissue. And she has lichen sclerosis, which also affects the skin. She's currently being tested for more recent concerns. Her medical bills this year will likely be around $90,000. The bills were closer to double that last year, when she was on more expensive and intensive medication. She gets infusions at Shands children's hospital in Gainesville, for $11,000 an infusion. "That adds up fast, and that's not including all the other specialists, all these biopsies," her mother says. (When her mother was interviewed, Bridget had walked off to rest under a tree, as she had been in the sun for a while.) "She had a CT scan last week," to make sure the scleroderma hasn't gone to her lungs.
"She needs to have stable insurance," Nally says.
She had it for seven years, through Aetna. Aetna sent Nally notice that Bridget will lose her insurance on Dec. 31, because Aetna is dropping the individual market and dropping out of the Obamacare exchange. The company claimed that it was losing money on some of these services. If it was, it hadn't affected its 2016 bottom line. The company realized an operating profit of $2.3 billion, on revenue of $15.7 billion. Its stock price has zoomed up 370 percent since Obamacare became law.
But that's another story, and it's irrelevant to Nally, who is left wondering if she will be able to insure her daughter anymore—or herself and her husband, for that matter. They are both insured through the exchange, as are 1.6 million Floridians.
"We hear a lot about freeloaders on the system," Nally says, "but my kid is likely going to be disabled for the rest of her life, through no fault of her own. She was born this way. She didn't choose to be this way. She just is. She's probably, developmentally, with her autism, never going to be self-supporting. And yet on top of it she's got these serious medical problems that are insanely expensive. There's people like that, that are caught in the system. It's bad enough as a parent, worrying if this is going to kill my kid, without worrying about how I'm going to pay for it. Or worrying if it's going to kill her because I can't pay for it."
---
"We hear a lot about freeloaders on the system. But my kid is likely going to be disabled for the rest of her life, through no fault of her own. She was born this way. She didn't choose to be this way. She just is."
---
There are worries about her own insurance and that of her husband. They're both on the exchange plans. The Nallys are eons from the 1 percent, the 5 percent or the worriless percent: they run their own publishing company. They owns several Internet sites, they do marketing and social media consulting for crafts industries. Nancy is also a freelance writer. Obamacare makes health insurance affordable.
"So we have to hope that whatever is going on right now in the House and Senate doesn't make her uninsurable," Nally said of her daughter. "Under the current ACA law, we would just go into the exchange and buy her a new plan for next year. But with all the stuff that they're turning upside down, with not wanting to treat pre-existing conditions this, massive deductible that, and all this other stuff, we could end up up a creek."
Nally and the other demonstrators were not aware that just about then, Mitch McConnell, the Senate majority leader who'd had the GOP health bill crafted in secret before unveiling it a few days ago, decided to postpone a vote on it until after the July 4 recess. The bill immediately drew criticism, including mounting opposition from GOP senators and many more Republican governors. It was the latest in a series of defeats in attempts to undo Obamacare.
"They're frantically working to strike deals to make the bill palatable to the people they're losing, so who knows," Nally said. "Unfortunately, many of the people they've lost in the GOP senate for this bill, they've lost because the bill wasn't mean enough." Nally is briefly interrupted by a passing car, horn blaring, its occupants showing the thumbs up. "So any deals that get struck to make the bill more palatable may made the bill nastier, which isn't real comforting."
So Nally goes back to holding up a sign and hoping more cars honk their approval than not, like the man who took the time to stop his car in traffic, heading east, and like a man possessed, started bellowing back his disdain for Obamacare from across the four lanes.
Next in line was Pat Ferraro, 66. She's lived in Flagler Beach for 30 years. "I don't know if you know anything about brain aneurysms but you're not supposed to live through them," she says, by way of introduction.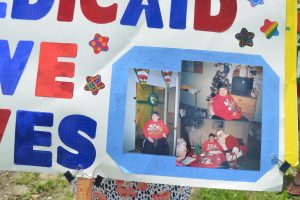 "Through the grace of God and wonderful surgery, I lived through it. They put an aneurysm clip in." That was four years ago. She then retired. Now she has to have an MRI every year to make sure the clip is fine and she's not developing anything else. "I do have a pre-existing condition, even though that one is cured," she says. "Without the ACA, I would not be covered for pre-existing conditions or for the mammoth medical costs or the MRI every year. We cannot desert our most vulnerable people in this society, the poor, the disabled, the working class Americans. We need to continue ACA. Yes, it needs some tweaking, we can fix it. It's not in the death spiral that people like to claim with fearmongering."
And then she says she's glad she's living to tell her story. "I hope I can continue to tell mine," she says.
Near her was Doreen Blischak. She points to the pictures on her placard showing a woman facing the camera, obviously in ill health. "This is my friend Mike, she was born in 1954," Blischak says. Mike is a twin. Her sister is healthy. Mike is not. She sustained brain damage at birth. "There are people like her being born every day in this country," Blischak continues. "There are increased neo-natal health care to keep seriously impaired infants alive. So who's going to decide that they get care or not? Who's going to decide to take Mikes away, if Medicaid is dropped, or severely reduced? Who makes that decision? That's my question. That's all."
The GOP bill would gut Medicaid over the next few years, throwing people out of nursing homes and nursing care, among others, and cutting off insurance coverage for millions of children: 40 percent of the nation's children receive coverage through Medicaid.
Diana LeBrun, a leader of Indivisible Flagler, the progressive group, had organized the protest with a few postings on Facebook, little more. Fifteen years ago she donated a kidney to a stranger just to save his life. It became a pre-existing condition. Because of Obamacare, she is currently not charged more because of that condition.
"This new bill, I probably will be thrown into a state regulation pool, and if they even take me, I will be charged up to five times the amount than if I hadn't donated that kidney," LeBrun says. "That's not the whole story. The whole story is, there are 100,000 people on the transplant list, and 13 of them die each day. The only way we're going to get a handle on this is to get people to donate, for example their liver, part of their liver, or their kidney. How do I recruit people to donate when I'm going to tell them that they have a preexisting condition for the rest of their life?" And when that preexisting condition may be the difference between getting insurance and not.
That was just four interviews, four people out of the 18 holding up signs.
There would have been more, and likely every one of the 18 could have told a story as made of flesh and blood as the fine print of the GOP bill is made of cuts and subtractions. But time ran out: the protest was scheduled for just an hour, people had to go back to work, some had to get out of the sun, Bridget looked like she was ready to go home. The protesters gathered for a group shot. They smiled. Then they scattered.