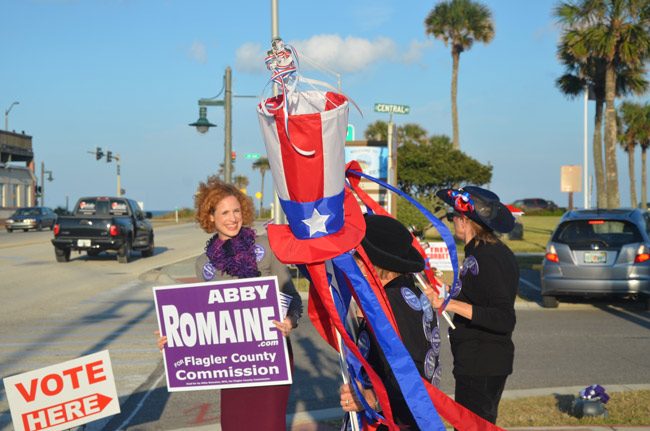 One day after Dennis McDonald filed to run as an independent against Flagler County Commissioner Greg Hansen, Abby Romaine on Thursday filed to run against Hansen in the Republican primary.
Romaine and McDonald were both candidates for that seat in 2012, in reverse roles: McDonald contested it as a Republican, losing to Frank Meeker, and Romaine contested it in the general election as an independent, winning 45 percent of the vote against Meeker's 56. Meeker died in 2016. Gov. Rick Scott appointed Hansen to the seat in January.
"A number of people in the community have been approaching me over the last month, asking me to run," Romaine, a patient advocate at Florida Hospital Flagler, said. "I thought about it long and hard, prayed about it, and this week it solidified in my head it's what I needed to do. I have a servant's heart, I'm hard-wired that way, I need to give back to the community. I loved doing it at the hospital."
With less than 24 hours left in the qualifying period Romaine had to pay the $3,100 qualifying fee–"the little bit of funds that I have"–banking on pledges from supporters who have said they would be contributing to what promises to be one of the year's more expensive race in Flagler: Hansen has raised $35,000 so far ($25,000 of it his own contribution), McDonald has assets exceeding $1 million. Romaine opened a campaign account only today but said contributors "have got my back." In 2012, her campaign raised a total of $14,200 to Meeker's $17,000.
In 2012, Romaine said, she ran a bi-partisan campaign, drawing support from both parties and independents. By switching to Republican this year she's followed in the steps of other candidates who have found it either impossible or undesirable to continue as Democrats or independents and expect to win, among them Palm Coast Mayor Milissa Holland, a close friend of Romaine's, and Nick Klufas, a Palm Coast council member.
But Romaine has hewed to the center for much of her career when she hosted a radio show on WNZF before her 2012 run and as a political analyst on America's Radio News network. She doesn't want to discuss national Republicans, preferring to stick to local politics. Recalling her first run, she says "it became very clear that my vision and message resonated with the Republicanism of days of yore where you need to have your very strategic action plan for how you're going to be be spending funds, watching those funds like a hawk."
She's held leadership roles at the Hammock Conservation Coalition and was among the originators of what was Flagler County's Safe Haven program before it became Sally's Safe Haven, the supervised visitation center in Bunnell for families with split-custody children of abusive parents. The center was eventually named for Sally Sherman, the deputy county administrator who saw its realization.
Today Romaine cited an issue involving Sherman as one of the reasons she decided to run: the county re-hiring her as a "consultant" immediately after she retired through the Florida Retirement System's Deferred Retirement Option Program, at greater cost to the county–and taxpayers than when she'd been a regular employee. "It's not appropriate that someone enters the DROP program with the very prescribed intention of coming immediately back and using these legal maneuvering loopholes in order to get around the requirements of it," Romaine said. "This is not personal. Sally Sherman is an extremely capable, professional person and a lovely human being."
The issue with Sherman, Romaine said, should have been flagged by commissioners but wasn't because they were aware of her re-hiring, but not of the details. "We need more of an eye on what's happening within the walls of our government," Romaine said. "We should take a look at that consent agenda and make sure we're not approving things without drilling down."
Romaine also cited the issues with the Sheriff's Operations Center, potentially sick building that led to the evacuation of its employees last week, as a concern, without differing from how the county and the sheriff have contended with the issue so far. Hansen did not respond to a request for comment about Romaine's run, though his wife Linda had, near the time when Romaine filed, forwarded an email announcing his selection by the Florida Association of Counties as a "presidential advocate," recognition for an honoree's partnership with the association in advancing its legislative agenda.
Interviewed briefly Thursday evening, McDonald welcomed Romaine's cadidacy. "She's a good friend, couldn't have a better opponent," he said. "She plays heads-up ball, she's a very nice, straight-forward gal."

Disclosure: Abby Romaine served as a member of the FlaglerLive board of directors since 2016. Romaine resigned her position today.