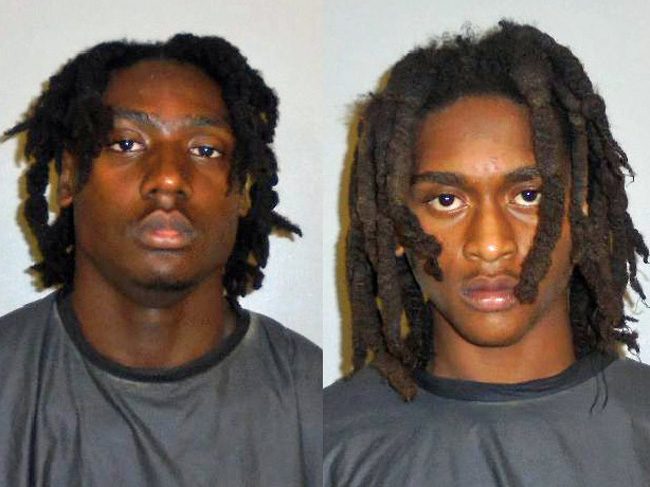 Three Palm Coast residents, one of them 17, were arrested early Sunday morning and connected to a string of 11 car burglaries in Palm Coast's B-Section that same morning. Burglaries were reported until mid-morning. The two adult men were arrested around 6 a.m. The third suspect was arrested in connection with last week's burglaries in the B-Section.
Palm Coast has been the target of several burglary sprees in the last few months, at least one of them carried out by a small group of burglars from Jacksonville (they were arrested). In this case, the alleged burglars are believed to have committed their spree in their own neighborhood.
The two adult men, Marcus McCormick, 20, of Bannerwood Lane on Palm Coast and Brian George, 18, of Biltwell Lane in Palm Coast, were both charged with loitering and resisting arrest. McCormick was also charged with violating a misdemeanor probation. George was charged with burglary.
The 17-year-old, a resident of Bunker View Drive, was charged with 20 counts of burglary and one count of grand theft, "all in relation to the vehicle burglaries that occurred last week in the 'B' section of Palm Coast," a sheriff's release states.
A call to 911 by a resident who saw someone "messing" with his car led to the apprehensions. The caller told police he saw a man–he said he believed he was white but wasn't sure because it was still dark–run down Bannbury Lane. A sheriff's deputy who soon patrolled the street noticed a gold Ford Taurus in the right of way in front of 27 Bannbury Lane. The deputy was familiar with the car from two previous encounters. George was the driver both times. This time, the deputy reported seeing George climbing over an enclosed privacy fence and fleeing from the deputy after he flashed a spotlight on him.
A K-9 unit arrived and soon found George and McCormick hiding in a ditch next to 32 Bannerwood Lane. Both were in water, concealing their bodies, according to their arrest reports. Because George had allegedly entered a homeowner's enclosed yard, he was charged with burglary. George declined to speak with police.
McCormick did speak with police, saying at first that only he and George were in the Bayside area. A deputy then told McCormick that he knew the 17 year old was with them (the arrest report doesn't explain how). McCormick conceded that the 17 year old had been with them, but had run in a different directions. (All three had been arrested in June on prowling charges.) The 17 year old was located and questioned, then charged.
If anyone has any information about these crimes or any crime in Flagler County, they are urged to immediately contact the Flagler County Sheriff's Office at (386) 313-4911. Callers can also remain anonymous by contacting Crime Stoppers of Northeast Florida at (888) 277-8477 (TIPS). Callers are eligible to receive a reward of up to $1,000.