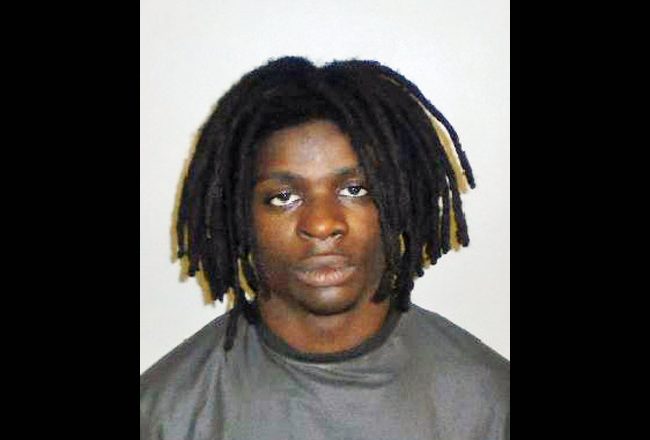 There were five in all. The oldest is 19-year-old Jordan Vital. The youngest is 14. Two are 15 and one is 17. All are from Jacksonville. The five were arrested early this morning and associated with 23 vehicle burglaries that had taken place overnight in Palm Coast's B-Section, and one of them, a 15 year old, was linked to a vehicle theft late Friday night. The vehicle, a Dodge Ram, had been stolen out of St. Johns County and was recovered in Palm Coast.
Several times this year Palm Coast has been the target of seemingly organized vehicle-burglary sprees that usually target particular sections of town or particular types of businesses. Earlier this month, 52 vehicles were vandalized, their windows smashed and their interiors ransacked, at five of Palm Coast's major hotels. In early May, four car thefts and about a dozen burglaries struck Palm Coast's P and R Sections. In early March, a burglary spree targeted the homes of elderly residents in Sea Colony and Grand Haven. None of those sprees resulted in arrests.
Saturday morning was different.
The B-Section had been abuzz with deputies and K-9s on the ground and Flagler County Fire Flight, the emergency helicopter, above at dawn this morning after a resident alerted 911 just after 3 a.m. that she'd seen five individuals walking in and out of driveways, pulling on door handles in attempts to get in.
Deputies' response was rapid enough that they saw two individuals running through the backyard at 14 Bayside Drive–and continue to run after given commands by the cops to stop. They took flight into the wooded area off Bayside Drive east of Belle Terre Parkway.
After a brief chase a deputy apprehended one of the individuals at 148 Brookside Drive, a 14 year old, without incident. Deputies found several miscellaneous items on him "that belonged to unknown people," according to his arrest report, "possibly the victims of vehicle burglaries in the area."
Deputies searching the wooded area of between Bayside Drive and Banton Lane then located an individual sweating profusely and trying to hide in shrubbery. The individual was 15, and also had unclaimed items in his pocket. The search continued, with K-9s and deputies on foot eventually locating two more individuals in the backyard at 150 Brookside Lane. They, too, had been trying to hide in shrubbery. Vital, the 19 year old, was one of them. The 17 year old was the other. In his pocket were the keys to the Dodge Ram that had been spotted earlier. Neither cooperated with police.
The Dodge Ram was spotted, in fact, after one of the overnight burglaries had been called into 911. Deputies responded to a property on Lakeside Place. They were told that the suspect at the wheel of the Dodge was a woman. (Vital, who has dreadlocks down to the jaw, could pass off for a woman from a distance at night.) One of the deputies stopped at Pine Lakes Parkway North and Belle Terre Parkway saw a white Dodge Ram, fitting the description of the suspect vehicle, speeding down Belle Terre. The deputy followed. The Dodge made a right onto Brookside Drive, but by the time the deputy made the turn the Dodge had turned off its lights and vanished, at least briefly: the deputy found the Dodge on Brownstone Lane facing west. It had been abandoned in the middle of the road.
That triggered one search that proved fruitless. It was several hours later that residents started reporting car burglaries, and that indications of a new burglary spree became clear. When one resident actually spotted the five suspects, that led to a swarm of deputies into that area of the B Section, and the successive apprehension of one suspect after another.
The fifth was not found in the B Section, but at the Kangaroo gas station in Victoria Plaza. Someone called 911 to report that an individual was sitting there. The 15-year-old boy was interviewed by a deputy and said he was not involved in the incidents, but his pockets' contents matched the sort of miscellaneous items found in the pockets of the other suspects apprehended that morning.
He also had ammunition in his pocket that matched a firearm deputies had recovered earlier, along with three pairs of shoes, in the area of the search. According to the suspects' arrest reports, it appeared that the suspects had shed shoes and gun while fleeing. When three of the individuals were apprehended, they had no shoes on.
Based on the 15 year old's own statements about how he got to Palm Coast, which matched the explanations of the other four boys and man involved, he, too, was arrested and charged.
The five were charged with grand theft, loitering or prowling, and resisting arrest without violence.
"I am extremely proud of all of the citizens who were great witnesses and called the FCSO to provide valuable information. If it had not been for them, we may not have been so successful in apprehending these suspects this morning," Sheriff Jim Manfre said in a release issued this afternoon.
Deputies are urging anyone living in these areas to check their vehicles to see if they may have been burglarized. If so, they are asked to call the sheriff's office at (386) 313-4911. Residents are urged to immediately report suspicious activity to 911. Anyone with information concerning these crimes, or any crime in Flagler County, is asked to call the same number. Callers can also remain anonymous by contacting Crime Stoppers of Northeast Florida at 1-(888) 277-8477 (TIPS). Callers are eligible to receive a reward of up to $1,000.