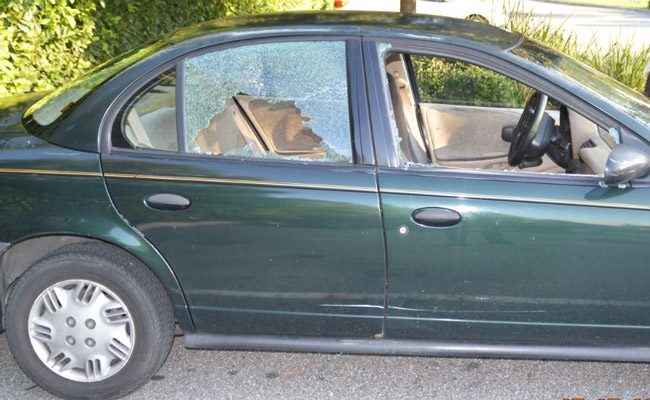 Last Updated: 6:46 p.m.
Some 52 vehicles were targeted in burglaries at four Palm Coast hotels overnight, with smashed windows and stolen belongings in what appears to have been an organized spree, a Flagler County Sheriff's spokesman said this morning.
The sheriff's office had initially put the tally at around 40 burglaries. By noon, the tally had risen to 45. And by the time the sheriff's office issued a release on the matter in late afternoon, the total was up to 52.
The vehicles were parked at the Hilton Garden Inn, the Fairfield Inn, the Holiday Inn, and Hammock Beach Resort. The resort was a surprising outlier geographically, in the Hammock, as opposed to the three other hotels, which are within eyesight of I-95's on and off ramps. Hammock Beach is on the Barrier Island, a considerable distance from I-95's interchange with Palm Coast Parkway and across the Hammock Dunes bridge, off State Road A1A. The three other hotels are concentrated around the interchange with State Road 100. Wherever the vehicles were, it's the sort of crime that can fatally damage a visitor's impression of the region.
"Window smashes and I don't know what kind of items were taken yet, we were still working those calls when I got in this morning," Jim Troiano, the sheriff's chief spokesman, said. He compared the spree to one on January 18, when 22 vehicles were targeted and two stolen (and later recovered).
"They come in quickly, they break the windows, they take the items and they leave, using the Interstate," he said, with Ormond Beach and Jacksonville getting struck by similar waves recently. "They do travel as a group. They're a band of traveling criminals." No cars were reported stolen in the latest spree, Troiano said. Some surveillance video made available later today shows a dark colored sedan enter one hotel parking lot and several suspects exit and begin breaking into vehicles. In one case, a suspect breaks the driver's side window of a white sedan then slithers in (not opening the door, which might have triggered an alarm), and methodically, unhurriedly uses a flashlight to scour the car. He stays inside two minutes, then slithers out.
Detectives are still in the process of obtaining surveillance video from other locations.
The burglaries contrast with the more common, improvised larcenies or crimes of opportunity that are reported almost every day in the county: those usually target unlocked vehicles. Smashed windows are the exception, not the burglars' preferred method. So locked vehicles in the case of overnight burglaries at the hotels would not have helped.
In the same time period, at least three such larcenies were reported in Palm Coast's C Section, on Colchester Lane and Collier Court. In two cases, nothing was taken from the vehicles. In the third, only some loose change was taken. A fourth car burglary was reported in the R Section, on Rodger Place, where body spray and air fresheners were stolen, and a gun was stolen from a vehicle on Pineapple Drive in a fifth incident. In all those cases, the vehicles had been left unlocked.
The sheriff's office included the following tips in its Facebook alert about the burglaries this morning:
• Take a few extra minutes to keep your vehicle locked.
• Don't leave anything valuable in your vehicle. If you have to store valuables in your vehicle, lock them in the trunk completely out of sight.
• Park in a well-lighted area close to the front of businesses where more people are likely to see if something suspicious occurs.
If you see something, say something by reporting suspicious activity immediately to 911. Anyone with information concerning these crimes, or any crime in Flagler County, is asked to contact the Flagler County Sheriff's Office at 386/313-4911. Callers can also remain anonymous by contacting Crime Stoppers of Northeast Florida at 1-888-277-8477 (TIPS). Callers are eligible to receive a reward of up to $1,000.