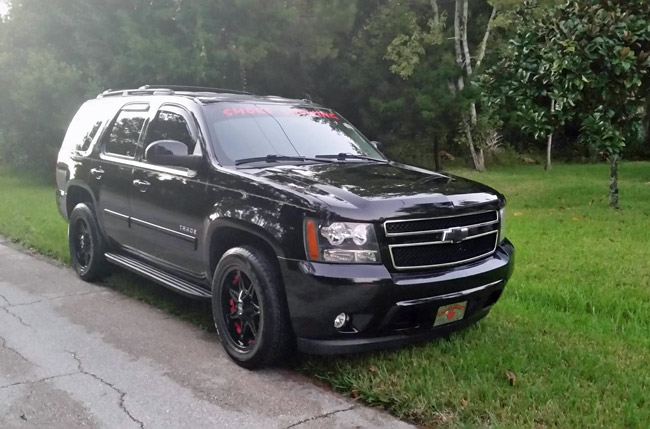 May 4 Update: Joseph Merritt's Tahoe was located and recovered by Daytona Beach police on May 3.


Joseph Merritt is a lieutenant with Flagler County Fire Rescue. Sunday morning, he woke up at his Pitt Lane home in Palm Coast to discover that both his vehicle and that of his wife had been stolen from his driveway. It was the first in a series of car thefts and car burglaries that would keep Flagler County Sheriff's deputies busy for the next 36 hours, mostly in the R Section. In all, four vehicles were stolen and one reported, and many more were broken into.
Most of the cars broken into had been left unlocked.
In Merritt's case, he has video, which you can see here or below. The video documents the thefts of both cars around 5:15 a.m., showing a shirtless, skinny man in his early 20s, wearing white shorts, opening the driver's side door of  a 2013 Ford Taurus (with a Florida tag # of HQA1P), without trouble, spending several seconds inside, grabbing something then quietly closing the door before getting into the black 2013 Chevrolet Tahoe at the same address (Florida tag # YF3ZQ) and driving off with it. Seven minutes later, the thieves return, and this time a shirtless, somewhat more heavyset man, also shirtless and wearing pats–he is black, with dreadlocks–gets in the Taurus and drives off from the 35 Pitt Lane address.
The Tahoe has a firetruck mural on rear window, an IAFF Local 4337 license plate on the front, and "smoke showing" in red lettering along the sun visor (see the picture above). The Tahoe had a firearm inside when it was stolen, a 9mm Kel-Tec in a canvas ankle holster, a briefcase with various documents and personal items, and photography equipment valued at $7,000. Credit cards last see in the Tahoe have been used at Wal-Mart and Target in Daytona Beach.
(A sheriff's office news release disseminated in other media incorrectly referred to the twin vehicle theft as taking place in the R Section.)
By Monday morning, the sheriff's office had been inundated with reports of burglaries and car thefts from the R and P Sections. As detailed in the overnight commander's report, baseball equipment was stolen from a car left unlocked at 36 Russman Lane, a car was broken into at 24 Pinelynn Lane, a resident at 42 Ryder Drive saw an individual try to break into a car there by pulling on the car handle, an unlocked car at 113 Pheasant Drive was broken into. A vehicle at 40 Pitt Lane, not far from Merritt's home, was also burglarized. A coffee maker was stolen from a vehicle at 38 Russo Drive.
At 19 Rymen Lane, a truck was stolen from the home and driven down the block, hit something and was left abandoned. It was recovered by deputies. At 1 Rymen Lane, a 2007 black Mazda CX9 was stolen from the driveway and is still missing. Its tag is Florida 075-XCK. [Update: The Daytona Beach Police Department recovered the Mazda on May 2.]
Three vehicles were burglarized at 42 Riddle Drive, and the faceplates of two radios were stolen. A cell phone was stolen from a car at 5 Round Thorn Lane. A GPS unit, tool box and Jumper cables were taken from a car at 18 Riptide Place. At 25 Pittson, a wallet and credit cards were stolen.
Anyone with information concerning these crimes, or any crime in Flagler County, are asked to call the Flagler County Sheriff's Office at 386-313-4911. Callers can also remain anonymous by contacting Crime Stoppers of Northeast Florida at 1-888-277-8477 (TIPS). You may receive a reward of up to $1,000.
The sheriff's office strongly recommends a few common-sense precautions: Remove all valuables from the interior of your vehicle. Cameras, computers, purses, wallets, firearms, and other electronics should be locked in the trunk or secured out of sight. Always lock your vehicle and activate the alarm, if installed. Most of the burglaries affected unlocked cars. Park in well-lit areas when possible.