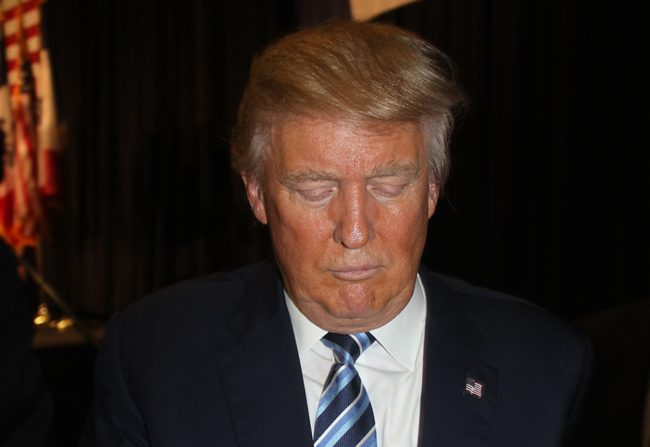 In a sharp reversal from three weeks ago, presumptive Republican nominee Donald Trump has regained the advantage over Hillary Clinton in Florida and Pennsylvania and remains tied in Ohio in the latest Quinnipiac University swing-state poll.
Trump now has a 42-39 advantage in Florida–still barely within the 3.1 percent margin of error–after trailing Clinton 47-39 on June 21, reflecting the damage to Clinton's campaign since the FBI declared her use of a private email server irresponsible and revealed that several statements she'd made about it were lies. His lead is larger when Libertarian candidate Gary Johnson and Green Party candidate Jill Stein re included: it grows to 41-36, with 7 percent going to Johnson and 4 percent to Stein.
Trump now has a 40-34 percent advantage in Pennsylvania overall when the two minor party candidates are included (as they will be on the November ballot), and a 37-36 advantage in Ohio.
That's despite voters finding Clinton significantly better prepared to be president than Trump. In that regard, Clinton has a 53-37 percent advantage in Florida, a 56-36 percent advantage in Pennsylvania, and a57-34 advantage in Ohio. Similarly strong margins favor Clinton's intelligence over Trump's. But a candidate's intelligence has not necessarily played a deciding role in recent presidential elections.
As for who has the higher moral standards, Trump and Clinton run with evenly tepid reactions from voters, who find them both tied in the 42 percent range. In June, Clinton had a 47-36 percent advantage in that category.
"While there is no definite link between Clinton's drop in Florida and the U.S. Justice Department decision not to prosecute her for her handling of e-mails, she has lost ground to Trump on questions which measure moral standards and honesty," Peter Brown, assistant director of the Quinnipiac University Poll, said.
By wide margins, voters in each state agree with the statement, "The old way of doing things no longer works and we need radical change." Voters also agree by wide margins that trade agreements with other countries have hurt them and their families' financial situation.
The Trump advantage is significant as it precedes the Republican National Convention next week. Trump is obsessively and publicly focused on polls. He is certain to refer to the Quinnipiac polls as a sign that his chances to beat Clinton are not imaginary. Candidates typically benefit from modest bumps in their approval rating after conventions, suggesting that his advantage may yet widen–as it might after he announces his pick for vice president, expected this week.
Florida voters say 54-39 percent that Trump would be better creating jobs; 49-45 percent that he would do better on immigration and 57-35 percent that Trump would be more effective against ISIS.
There is also a clear racial and gender divide in the response to Trump in Florida. "In Florida, Donald Trump is getting only 21 percent of the non-white vote. Although he is winning among white voters, who are mainly Republican, victory in Florida will be a very difficult lift for him if he can't do better among non-white voters," Brown said.
The poll also found that "prejudice against minority groups is a big problem in the United States today." In Florida and Pennsylvania, 74 percent of those surveyed agreed with that statement, and 72 percent agreed in Ohio. Respondents also agreed by equally large margins that "the news media is part of the Washington D.C. establishment, which is out of touch with the rest of country."
The poll was conducted through landlines and cell phones, in live interviews, from June 30-July 11, surveying 1,015 Florida voters with a margin of error of +/- 3.1 percentage points, 955 Ohio voters with a margin of error of +/- 3.2 percentage points, and 982 Pennsylvania voters with a margin of error of +/- 3.1 percentage points.