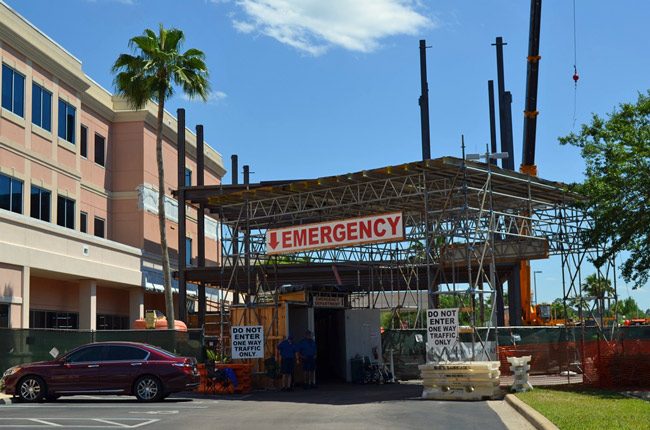 Construction continues to progress on Florida Hospital Flagler's $15 million expansion project to add 32 new beds on the second and third floors over the hospital's emergency department.
Work has been completed on both the expansion's foundation and the concrete masonry block shear wall stair tower. Construction workers are currently setting structural steel and exterior framing is expected to begin in early June.
As part of the construction, there are changes to the traffic patterns, parking and public entrance to the Palm Coast hospital's emergency department. A temporary entrance and tunnel provides a short walkway for the community to safely access the emergency department while still avoiding the construction areas. In addition, complimentary valet services are now provided at the emergency department during peak hours.
Construction began in February and will add progressive care unit (PCU) beds to the Palm Coast hospital. On the PCU, patients are less critical than Intensive Care Unit (ICU) patients, but they require more care than provided on the regular nursing floors.
The architect is Orlando-based Hunton Brady and the contractor is Batson Cook from the Jacksonville area. Construction is expected to be completed by the end of 2016.
More images below.