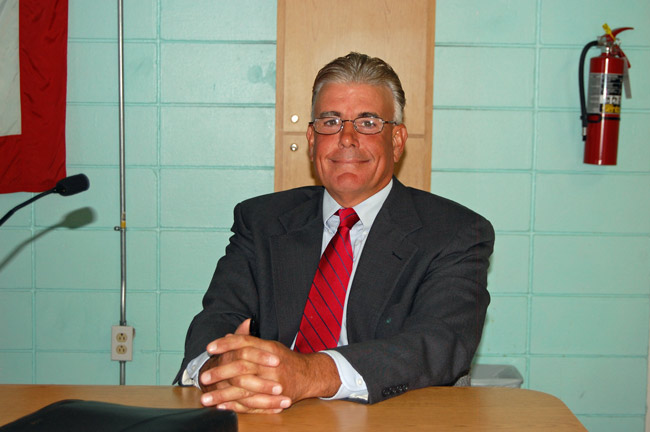 There was a surprise last month in Flagler Beach city government's in-box: a notice that Bruce Campbell, the former city manager, had applied for unemployment compensation.
Campbell, however, had voluntarily resigned his job last year, which would make him ineligible for unemployment. Otherwise, the city would be required to pay a portion of his unemployment claim, which would likely amount to $275 a week for up to 26 weeks. Campbell was earning about $1,730 a week when he was city manager.
Campbell confirmed Monday that he'd filed for unemployment. "I did through job source," he said, referring to Career Source, the publicly funded agency that helps job seekers. "I went to job source and they said that I could apply for unemployment." Asked if he'd mentioned to he'd resigned rather than been laid off, he said the process "didn't get into that."
In Campbell's interpretation, "my contract was not renewed." That's accurate, though Campbell himself had asked the commission–at least twice, publicly–not to renew his contract. He did so the first time in October 2014, when he wrote commissioners: "I have decided not to request that we negotiate a renewed contract as your city manager." He offered to stay on until the commission had a replacement. But when the commission dragged its feet, he put it on notice again last July that he intended to be gone after the budget process, by the end of September.
Commissioner Marshall Shupe tried to keep him on by offering a new contract. Campbell would have none of it, saying " this is all to me maybe a little bit too little too late."
The commission got busy finding a replacement and did so in a relatively short time, compared to its previous attempt five years ago, which took a year. Larry Newsom was hired in mid-November and began work with the new year.
City Clerk Penny Overstreet informed some of the city commissioners about the unemployment claim late last month. "When I was told he'd filed it just caught me off guard, I couldn't understand why or where he was coming from," said Marshall Shupe, who chairs the commission–and had twice tried to keep Campbell on. Shupe said Campbell had made clear that it was his intention, not the city's, to leave the job despite the city's various entreaties, making him ineligible for unemployment. "I would think under the circumstances the city would not be agreeable to that but I don't know hat the legal ramifications are." Shupe cited the 2014 letter from Campbell that made Campbell's position explicit. "I wouldn't think somebody that leaves a job on their own free will would be in the same situations as someone that was terminated."
Commissioner Jane Mealy concurred. "Initial reaction he quit, that's the end, I don't believe people who quit should get unemployment insurance. But I don't know the details," Mealy said.
Campbell acknowledged that he is "probably not" eligible for unemployment.
The city administration doesn't think he is. "I would say he's not, but I don't know how they're interpreting it," Liz Mathis, who heads the city's human resources department, said of the state's unemployment office. "As of right now I gave them the information about him not renewing his contract and giving them a deadline" (that is, giving the city commission a deadline to end his employment.) Mathis said unemployment claims at the city are rare.
Campbell, who lives in Flagler Beach, says he's been "searching for opportunities," but nothing specific has turned up yet. "I'm going to look for something at some point."