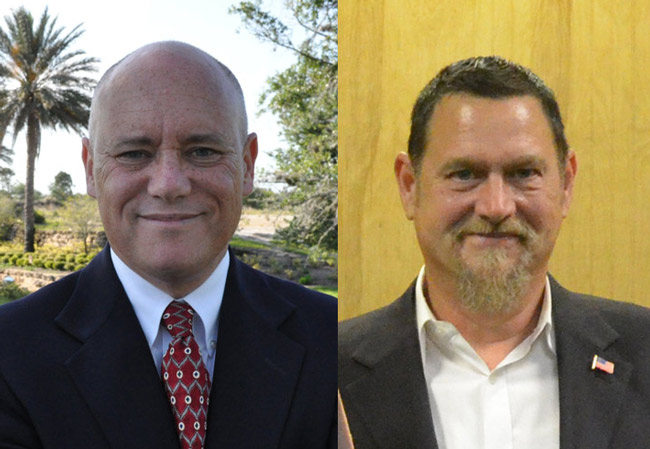 The two decisions are unrelated, but they coincidentally happened within moments of each other today (Dec. 2): Mark Richter, the frequently controversial, two-time Republican candidate for the Flagler County Commission, decided to abort his run for the seat held by Charlie Ericksen. And Donald O'Brien, who's been on the verge of running or briefly ran in several local races–but never to completion–announced today that he would run as a Republican for the seat held since 1992 by George Hanns, a Democrat.
Supervisor of Elections Kaiti Lenhart confirmed this afternoon that Richter dropped off a letter announcing his withdrawal, "as I will be moving out of the county soon," Richter wrote in his letter. Richter's campaign had not collected any campaign contribution other than the $300 Richter had loaned himself last June.
"That was good news for the county, because I think we have a number of better individuals that would be candidates for that position," Ericksen said, including himself among those candidates: there's been some uncertainty as to whether Ericksen would run again in 2016. "I'm still interested in running to retain my position, and I would expect to be making an announcement on that within the next couple of weeks," he said.
Richter's withdrawal, Ericksen said, would have no influence on his decision. "I didn't consider him a legitimate candidate," he said.
---
"I didn't consider him a legitimate candidate," Ericksen said of Richter, against whom he'd have faced a primary fight.
---
Richter ran against Nate McLaughlin in the 2014 Republican primary, losing narrowly. At the time, Richter was a member of the Ronald Reagan Republican Assemblies, the extreme-right pressure group whose members now control the local tea party and the Republican Executive Committee, and have elected two of their members to local government boards–Steven Nobile at the Palm Coast City Council and Janet McDonald at the school board. The group has distanced itself from Richter, who said he quit the Reagan Assemblies in May, following the latest in a series of scabrous acts, one involving a sexually explicit email he circulated among local media editors. Richter had planned to leave his Mondex property and move to Ericksen's district in Palm Coast to run for the position.
Ericksen said he'd heard that Alan Petersen, whom he'd defeated in a primary in 2012, was thinking of running again, but Peterson, while not categorical about it, said today: "I have given it some thought but at this time it's unlikely that I would run."
Jason DeLorenzo, the Palm Coast City Council member, has been seriously considering a run for that seat as a Democrat after a five-year term on the council, which ends next fall.
O'Brien was among the first 10 graduates of the Flagler County Chamber of Commerce's inaugural "public leadership institute" seminar last September. The seminar is intended to prepare potential candidates for a run, paying particular attention to pro-business individuals who reflect the chamber's perspective. O'Brien unquestionably does. He's lived in Flagler County 25 years and is co-owner and chief financial officer at Hayward Brown Flagler Insurance. Previously he was a co-owner of Coast Title Insurance Agency, and before that, the chief financial officer at Cypress Bank.
"I'm passionate about Flagler County," O'Brien said in a statement he emailed local media today. "I have a vision to help take the community to the next level and make Flagler County one of the top counties in Florida in terms of quality of life, health and public safety, and economic opportunity." He added: "I continuously hear from my fellow citizens that they are looking for energetic and engaged leaders who are willing to serve to help take Flagler County to the next level," O'Brien said in a statement emailed to local media today, a barely veiled reference to Hanns's age and longevity on the county commission.
Hanns bristles at any suggestion that he is less spry today than he was three decades ago. "I am engaged and my enthusiasm has not diminished one but from the first time that I ran," Hanns said. But he had only good words about O'Brien.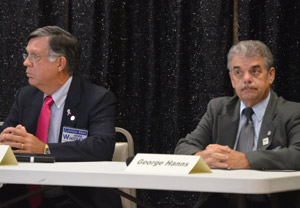 "He's a good guy, he seems to care about our community, I don't know what he feels he can do better than I've done for the past 25 years," Hanns said. "He would be better served running in a different area such as the city council and getting his feet wet and getting more familiar with politics than to jump right in with the county commission. Otherwise I have nothing but respect for him and appreciate him running. He will probably be one of the most creditable people who've run against me. I have no intention of losing, at the same time he' ll have to prove that he can do a better job than I have."
Hanns said he had spoken with O'Brien previously, when O'Brien told him he wouldn't run if Hanns decided to run again. Hanns announced several weeks ago he would run. O'Brien had also stated his intention to run only if Hanns did not, in an interview with the Observer's Brian McMillan in May, lavishing Hanns with compliments: "I think he's done a good job over the years, and my position is that I would like to continue that, and I would like to follow in his footsteps," O'Brien told McMillan (O'Brien's son had been a colleague of McMillan's). "But I don't see that there's any glaring issues with the way he's served so far, so I'm not looking to say I would be an improvement; I just think I would be ready to step up in the void if there is one."
In an interview this afternoon, O'Brien explained his decision to change his mind: "I just kept thinking a lot about it and the more I started to become active and really pay attention and attend meetings and dig into things, I just felt this ways my time," he said. "For a lot of reasons for me personally, this is the best time for me to run and put myself out there for public service." He said he's always been more interested in county politics than other boards.
Acknowledging his respect and compliments of Hanns, he said: "I don't think it's a matter of doing things better, I think it's a matter of bringing new perspective, new energy, more engagement with the public," though he also said he would be the "best man for the job."
In 2012, he abruptly withdrew from a run for the Florida House, a race eventually won by Travis Hutson. O'Brien flirted with running for the seat again when Hutson ran for Senate in January, but opted against it. The seat went to Paul Renner.