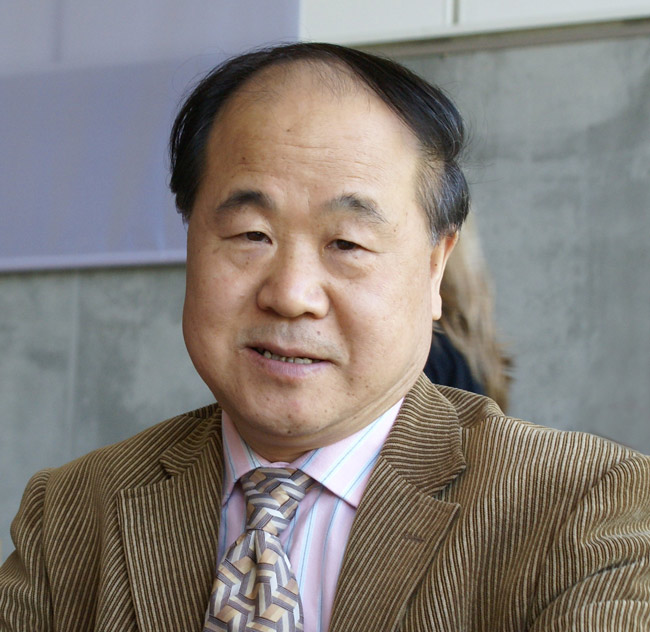 China's Mo Yan wins the Nobel Prize for literature: Mo Yan (a pseudonym for Guan Moye) was born in 1955 and grew up in Gaomi in Shandong province in north-eastern China. His parents were farmers. As a twelve-year-old during the Cultural Revolution he left school to work, first in agriculture, later in a factory. In 1976 he joined the People's Liberation Army and during this time began to study literature and write. His first short story was published in a literary journal in 1981. His breakthrough came a few years later with the novella Touming de hong luobo (1986, published in French as Le radis de cristal 1993). In his writing Mo Yan draws on his youthful experiences and on settings in the province of his birth. This is apparent in his novel Hong gaoliang jiazu (1987, in English Red Sorghum 1993). The book consists of five stories that unfold and interweave in Gaomi in several turbulent decades in the 20th century, with depictions of bandit culture, the Japanese occupation and the harsh conditions endured by poor farm workers. Red Sorghum was successfully filmed in 1987, directed by Zhang Yimou. The novel Tiantang suantai zhi ge (1988, in English The Garlic Ballads 1995) and his satirical Jiuguo (1992, in English The Republic of Wine 2000) have been judged subversive because of their sharp criticism of contemporary Chinese society. Fengru feitun (1996, in English Big Breasts and Wide Hips 2004) is a broad historical fresco portraying 20th-century China through the microcosm of a single family. The novel Shengsi pilao (2006, in English Life and Death are Wearing Me Out 2008) uses black humour to describe everyday life and the violent transmogrifications in the young People's Republic, while Tanxiangxing (2004, to be published in English as Sandalwood Death 2013) is a story of human cruelty in the crumbling Empire. Mo Yan's latest novel Wa (2009, in French Grenouilles 2011) illuminates the consequences of China's imposition of a single-child policy. Through a mixture of fantasy and reality, historical and social perspectives, Mo Yan has created a world reminiscent in its complexity of those in the writings of William Faulkner and Gabriel García Márquez, at the same time finding a departure point in old Chinese literature and in oral tradition. In addition to his novels, Mo Yan has published many short stories and essays on various topics, and despite his social criticism is seen in his homeland as one of the foremost contemporary authors.
Oil in new Gulf of Mexico slick matches that of 2010 Deepwater Horizon spill: "The oil in a slick detected in the Gulf of Mexico last month matched oil from the Deepwater Horizon spill two years ago, the Coast Guard said Wednesday night, ending one mystery and creating another. "The exact source of the oil is unclear at this time but could be residual oil associated with the wreckage or debris left on the seabed from the Deepwater Horizon incident," the Coast Guard said. The Coast Guard added that "the sheen is not feasible to recover and does not pose a risk to the shoreline." One government expert said the thin sheen, just microns thick, was 3 miles by 300 yards on Wednesday. Some oil drilling experts said it was unlikely that BP's Macondo well, which suffered a blowout on April 20, 2010, was leaking again given the extra precautions taken when it was finally sealed after spilling nearly 5 million barrels of crude into the gulf. BP declined to comment. But a BP internal slide presentation said the new oil sheen probably came from the riser, a long piece of pipe that had connected the drilling rig to the well a mile below the sea surface." From the Washington Post.
Florida wants to double charter school enrollment: "The State Board of Education adopted a new strategic plan this week that envisions about 17 percent of one-time public school students attending either charters — public schools run by private groups — or using taxpayer-funded vouchers to attend private schools by the 2017-18 school year. This year, about 9 percent of students are in charter schools or using Tax Credit or McKay scholarships. The board's plan touts Florida as a place where parents "have the freedom to choose the educational path that is right for their child" and hopes more than 300 new charter schools will open in the next six years. […] About 150 Florida charter schools have closed over the years, some after running into serious academic or financial problems. "Instead of setting arbitrary goals that have nothing to do with need or proven results," the state board "should make it their mission to improve public education for the 90 percent of all students who attend traditional Florida public schools," said Kathleen Oropeza, an Orlando mother and founder of the group Fund Education Now, which has sued the state over what it calls inadequate school funding." From the Orlando Sentinel via the Record.
Florida ranks first in foreclosure activity, first time since 2005: "A 24 percent increase in new foreclosures from the same time last year, as well as a 23 percent increase in final bank repossessions, helped Florida skip into the top spot from its second-place finish in August, according to a RealtyTrac report to be released today. RealtyTrac experts said it's not just that Florida's filings jumped but that activity in other hard-hit states, especially those that don't require court approval for each foreclosure, has abated. Foreclosure activity nationwide in September was the lowest it's been since July 2007. […] "In Florida, it's not so much a sign of new distress, it's just taking longer for Florida to work through the distress that's already there," said RealtyTrac Vice President Daren Blomquist. "More than any other state, Florida's foreclosure process was thrown into dysfunction by the fallout from the robo-signing controversy, which just bogged things down and built up a backlog." Florida had about 377,700 foreclosure cases in the court system as of June, according to the state courts administrator. A one-time stipend of $4 million was given to the state's 20 circuit courts in July to target foreclosures. Palm Beach County was able to hire five additional case managers and two senior judges with its share of the stipend, said Chief Judge Peter Blanc." From the Palm Beach Post.
Democrats at the deep end: "Democrats are going bipolar. Half the time they are grabbing at random bits of hopeful information. (An Esquire/Yahoo poll shows most Americans would rather go on a road trip with Obama!) Half the time they are in total despair. Nothing makes them happy. Show them that cute picture of the lioness befriending the orphan baby antelope that's gone viral, and they will point out that the only reason the antelope is an orphan is because the lioness ate its mother. Before falling asleep, they think about how smart Joe Biden is when it comes to foreign affairs. […] You have to calm down, Democrats. Romney hasn't turned into some new supercandidate. You were just underestimating him during September. He's the same old Mitt. This week in Des Moines, he told an editorial board that he doesn't have any plans for pushing anti-abortion bills if he's elected. ("There's no legislation with regards to abortion that I'm familiar with that would become part of my agenda.") Meanwhile, back at headquarters, his spokeswoman was assuring National Review that he "would, of course, support legislation aimed at providing greater protections for life." Maybe this will come up in the vice-presidential debate. Do you remember how well Joe Biden did against Sarah Palin? Things haven't really gone off the deep end for the Obama campaign. They've gone back to normal. You knew that the Obama-is-going-to-win-by-10-points euphoria wasn't going to last. When did anybody ever win a presidential race by 10 points? Don't tell me about Ronald Reagan. When Ronald Reagan was president, gas was 90 cents a gallon and I was writing on a Kaypro." Gail Collins in the Times.