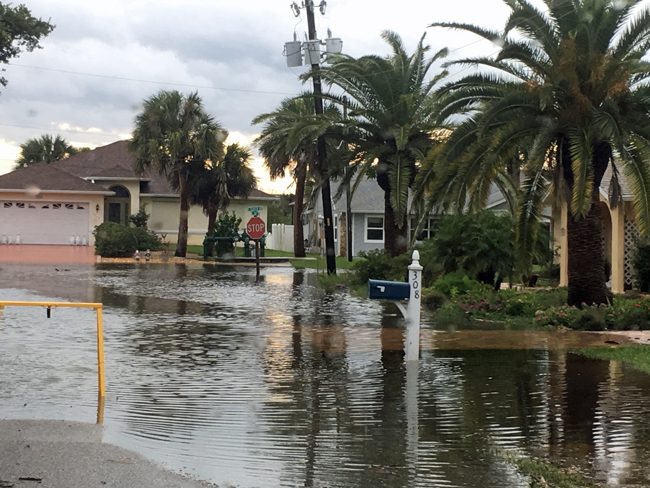 Last Updated: Wednesday, 7:50 p.m.
Note: all closure and reopening reports are here. Dorian in pictures here.
Wednesday, 7:50 p.m.–Flagler County's Emergency Operations Center was ending its alert-level response and resuming regular operations at 7 this evening, with county government also closing its call center.
Rising waters from the Intracoastal in Flagler Beach were again a concern with high tide this evening, with reports of flooded streets and yards and water nearing homes. But by mid-evening, it appeared the waters had crested and would start receding.
"It's watering the road, dangerously close to some waters, and hopefully it turns around at 6:30 but at this point it's still rising," Flagler Beach Commissioner Rick Belhumeur said as he rode in various parts of South Flagler around 6 p.m.
The high water was especially pronounced in south Flagler Beach along avenues such as South Flagler, and near South 23rd Street, where floodwaters there and along other low-lying streets and avenues near the Intracoastal penetrated hundreds of homes in the aftermath of Hurricane Irma. But the area around the golf course near the city's water tower, also badly hit by flood waters after Irma, appears to have been spared for now. There is also high water in areas off Old Moody Lane, under the Flagler Beach Bridge. Lambert Avenue homes two years ago were severely flooded.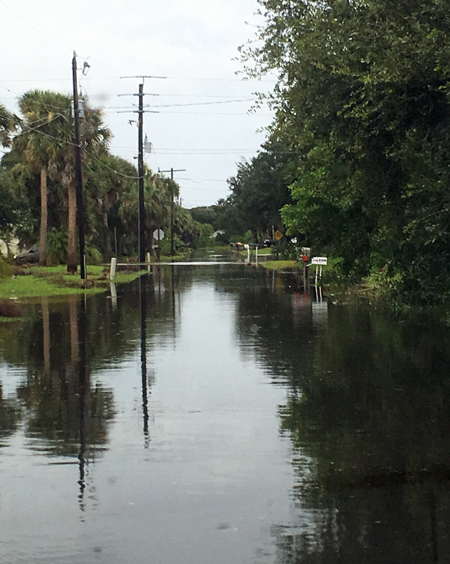 "The storm surge always comes after the storm, then you've got the wind pushing it in a different direction," Belhumeur said. "It's pushing it down the Intracoatsal and forcing it to rise. We'll know after today if it turns around after high tide or not."
"I'm sure that people that live in front of where these waters are would appreciate people don't drive through the water, creating waves into their homes," the commissioner said.
"It's come up through the retention ponds and into back yards," Flagler Beach Police Chief Matt Doughney said this evening. He said the city was working to get some public work crews and pumps in areas affected, which he said were–for now–limited to the 1200 block of South Flagler and 2400 block of South 23rd.
By close to 8 p.m., Belhumeur was reporting better news: "It appears that the tidal surge has crested with high tide and the water is starting to recede."
Though the county's call center was closing, residents with unmet needs related to Hurricane Dorian may call 386-313-4200 during regular business hours, 8 a.m. to 5 p.m. Thursday and Friday. Those with significant home damage should report damage to the Property Appraiser's Office during business hours at 386-313-4150.
Previous updates are below.

Curfew Lifted, Flagler In the Clear, Residents May Return Home, Normal Services Set to Resume Thursday and Friday
Wednesday, 5:35 p.m.—As of 5:35 p.m. today, both hurricane shelters were closed: at a Rymfire Elementary and Bunnell Elementary, a health department official said. That will give school district personnel more time to ready the schools for classes Friday morning. At their peak, the two shelters had a population of 400.
Wednesday, 3:15 p.m.—-After peaking at just under 2,000 customers without power today in Flagler, the number was down below 400 by mid-afternoon, and trending downward.
The 7-Eleven on South Oceanshore Boulevard opened again at 2 p.m. with cold drinks, hot coffee and other conveniences. Other businesses are expected to open gradually. On the mainland, critical wellness and recovery centers such as Brown Dog in St. Joe's Plaza are open now, Loping Gopher in Bunnell's Marvin Gardens opening at 4 p.m. Moonrise at European Village and Brass Tap opened at 3 p.m. but with a limited food menu at the Tap and a closed kitchen at Moonrise. (See the broader open-for-business yellow graphic a few paragraphs below, though Flagler's economic development folks who put it together are inexplicably black-listing pubs.)
Wednesday, 12:48 p.m.—The curfew on the barrier island and parts of east Palm Coast and West Flagler was lifted shortly after noon today.
Both Flagler bridges are open. Residents are welcome to come home.
But power cuts are now affecting some 1,700 customers in Flagler, the most of any counties in the state.
"The biggest risk right now is traffic – residents getting out of their homes and driving around," a Palm Coast government statement issued after noon said. "Another risk is trees that have pulled down power lines. We ask that people stay home as we are still under a hurricane warning and storm conditions can reduce visibility."
The city got some 5 inches of rain so far, with more expected.
"We needed to wait to ensure everyone's safety," said Emergency Management Director Jonathan Lord. "The county is reopening offices tomorrow, and working diligently to get everything back to normal as quickly as possible."
The Flagler Pier will remain closed until a structural engineer can assess its integrity. There will be no lifeguards at the beach Wednesday or Thursday.
"Please, please stay out of the water. Lifeguards and first responders will not be able to help you if you get in trouble," Flagler Beach Police Chief Matt Doughney said.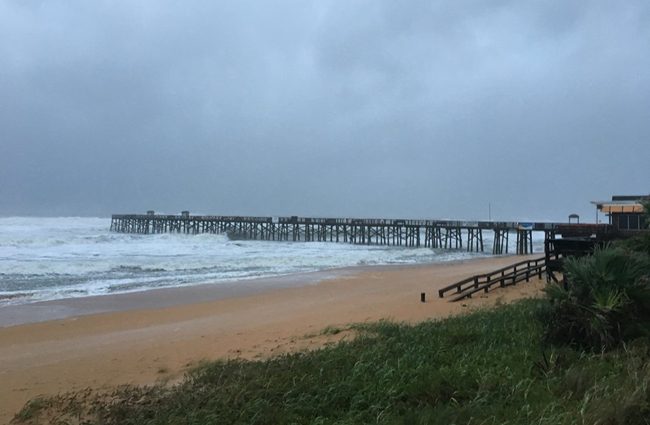 "Watching the catastrophic damage from the Bahamas, and seeing the current radar, and the fact that these severe weather bands are only 12-15 miles from the coast," School Board member Andy Dance wrote on his Facebook page around noon, "we are extremely blessed that Dorian took the path it did. You may feel like you over-prepared…but we were "that" close to being properly prepared."
Lord spoke at a noon conference shortly before 1 p.m.
"County does have some damages especially on our dunes," Lord said. "We have no breaches of the dune system. We do have significant erosion to many of our dunes." There has been no reports of flooding.
While the county has been making it through Hurricane Dorian, he said, the county is only now entering peak hurricane season. He urged residents to stay prepared. He thanked residents for complying with the orders, and local governments and state agencies for their cooperation "to make sure that if this had been worse, we are ready and prepared to take care of our communities. Thank you."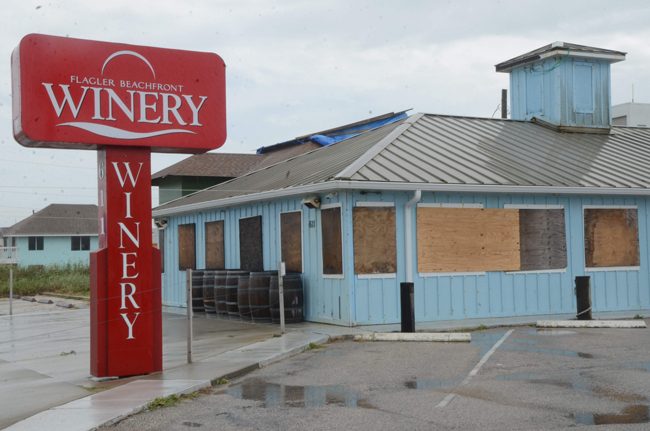 Lord was the subject of lavish praise "for his leadership" through the emergency by the likes of Jim Tager, the school superintendent, and others.
Schools reopen Friday, with district officials working on a plan to make up the days, very possibly without encroaching on the weeklong Thanksgiving holiday.
"It's great news that the curfew is lifted," Sheriff Staly said. He cautioned that roads are still wet with some bad weather still coming. "If you don;t have to go out today, spend another day at home and go back out tomorrow," he said. There's been very few policing issues, including a couple of arrests for domestic violence issues. "Crime was down," he said, with 60 deputies on duty. "Of course it would have been a bad day to commit a crime in Flagler with that many deputies on the streets."
Lord said that he knew of only one tree down in all of Flagler County, possibly with two more down on the west side, which Staly said deputies took care of immediately.

Curfew Lifted, Shelters 'Starting to Empty Out,' Little Damage in Flagler Beach, Power Cuts Near 2,000 in Palm Coast
Wednesday, 11:07 a.m.–Continuing a stream of good news, the National Hurricane Center at 11 lifted the hurricane warning over Flagler: "The Hurricane Warning for the northeastern coast of Florida from the Volusia/Brevard County line to Ponte Vedra Beach has been changed to a Tropical Storm Warning," the center said in its latest bulletin, as Hurricane Dorian was continuing to move north.
Flagler County's two shelters at Rymfire and Bunnell Elementary had peaked at around 400 users during the emergency, but "are starting to empty out at Bunnell," a school district spokesman said at 11.
The Rymfire shelter is for special needs, and is run by the health department. The department's Gretchen Smith said the shelter peaked at 120 clients and 58 caregivers. It is now down to 117 and 57.
Dorian had picked up a bit of forward speed, moving north at 9 mph with winds of 105 mph, with a slow weakening expected over the next few days, which is good news for the Carolina coasts, near where the storm is heading. Tropical storm conditions are currently affecting portions of the northeastern coast of Florida, and should begin along the Georgia coast later this morning.
But Dorian's impact on Flagler Beach, the Hammock and Palm Coast remains mostly in the nuisance category than anything more serious.
The curfew remains in effect on the barrier island, but county officials are meeting at noon to discuss when it will be lifted, among other issues, with the lifting of the hurricane warning playing a large role in the curfew's own likely end.
Wednesday, 10:40 a.m.—The number of customers without power in Flagler is down to 900, from a high of 1,600 in early morning, an indication that repair crews are actively responding to power failures in the county. FPL is reporting similarly swift restoration responses in surrounding counties, with outages significantly reduced by mid-morning, even as the hurricane warning remains in effect.
"Dorian is finally moving away from Florida," U.S. Rep. Mike Waltz, whose district includes all of Flagler and who's been unusually present in the area (compared to his predecessors), said on his Facebook page a short time ago, with a video of himself in front of Bunnell Elementary, one of the county's two shelters. "Yesterday I stopped by a few shelters housing evacuees and special needs residents in Northeast Florida. I'm impressed by the leadership of everyone in our state and area. So many people have stepped up to serve others and make sure they are prepared and safe. I'll be working with them and with federal officials after the storm passes to help our area recover!"
Dorian Stays Well Offshore; Little Damage, Fewer Than 1,000 Lose Power So Far in Flagler, 'Looks Like We Dodged the Bullet"
Wednesday, 9:13 a.m.–Two of the questions most frequently asked of emergency and city officials right now are: when will the curfew be lifted, and when can we come home.
The immediate answer to both is: certainly not before noon.
The longer answer is this: "We will have a policy group meeting at noon with Jonathan Lord and all the policy makers," Sheriff Rick Staly said. The policy group consists of all the county's and city's top leadership. Lifting the curfew will depend on a number of things, among them the cancellation of the hurricane warning and the conditions in the streets–trees being down and wires down. "All of us want to lift it as soon as we can, we just want to make sure that it's safe for the community."
The bridges technically remain open but are not to be used because of the curfew. Still, all indications point to a relatively swift restoration of normalcy, once the hurricane warning lifts and Dorian clears out north.
The curfew on the barrier island in Volusia County was lifted at 6 a.m., with bridges open to traffic both ways.
Not so in St. Johns. Access to St. Johns County's barrier islands remains restricted as the bridges to the islands remain under a condition of limited access. As such, St. Johns officials say, eastbound access is limited to legitimate business or personal intent. Law enforcement officers are posted at each bridge to identify the reason for requesting access to these evacuation zones and allowing it when appropriate. Proof of residency or purpose may be required.
"We were very, very fortunate, we didn't even have sustained winds at 45 mph, so we didn't even have to bring in our people," Staly said. He'd ridden around the county until 1:30 this morning, then again earlier today. "Really I haven't seen much, there's some debris from wind and stuff, small tree limbs, branches, things like that, pine needles everywhere. A little bit of flooding on A1A, I saw that at 1:30 this morning too, but it looks like from my perspective what I could see the rebuilt dunes and the designs held, which is good news."
"We clearly dodged a bullet here, the community did a great job heeding the warnings," he said.
Flagler Beach Police Chief Matt Doughney posted the following at 9:05 a.m.: "The curfew is still in effect for for Zones A & B, which is all of Flagler Beach, and we appreciate your compliance. We know you're probably getting cabin fever, but we're not out of the woods just yet. Please stay indoors until we announce that the curfew has been lifted. We'll post that announcement here when that time comes. Thanks!"
Wednesday, 9 a.m.—Florida Power and Light was reporting 1,108 Flagler County residents without power Wednesday morning, fewer than in surrounding counties, as Hurricane Dorian's slow move up the Florida coast remained well offshore. Winds in Flagler Beach at 7:44 a.m. were in the 10 to 15 mph range, with gusts to 23-25 mph.
"Looks like we dodged the bullet," Flagler Beach Commissioner Rick Belhumeur said this morning in a text. "Just got back from a short walk on my street. Tides are lower than they were yesterday, and it's high tide! Great news. Spoke with a policeman and he says A1a is intact, not even a downed tree limb blocking any roads in the city. Wind doesn't appear to be issue at the moment." The power stayed on in his neighborhood.
In St. Johns, 2,696 customers have lost power, 2,591 in Putnam, 2,017 in Volusia, and 2,688 in Brevard. Power restoration in Putnam was swift: by 8 a.m., most customers there had regained electricity.
In Palm Coast power cuts were reported in the W, P, F and the Palm Harbor neighborhoods.
Dorian was roughly 90 to 100 miles offshore, nearly parallel to Flagler County this morning, moving north-northwest at 8 mph, with winds of 105 mph. Hurricane-force winds were extending outward up to 60 miles, not enough to reach shore, and tropical-storm-force winds were extend up to 175 miles.
"It looks like we've dodged a bullet but it's not done yet," Jonathan Lord, Flagler County's emergency operations chief, said this morning. "But it's heading north, away from us." He said bands of rain with gusts of tropical storm force winds are expected to continue into the afternoon. Just because crews are out making assessments "doesn't mean it's safe for the general public yet," he said.
There's only been reports of "nuisance" flooding in the west of the county, and no reports of flooding on the barrier island.
"I'm out riding right now with a commissioner, we're looking at the roadways," Flagler Beach City Manager Larry Newsom said around 8 a.m. "The pier seems to be fine, Veterans Park is fine." He was seeing debris, but nothing serious.
There's been "no significant damage to any business," Flagler Beach Police Chief Matt Doughney said. But don't expect the curfew to be lifted this morning just yet.
"We're fortunate enough to actually have a minimum impact by this weather event," Palm Coast Mayor Milissa Holland said at 8 a.m., standing in what relatively light wind there was, and no rain, outside of Station 25 on Belle Terre Parkway with Deputy Fire Chief Bradd Clark. "We're obviously waiting throughout the day, it's not over, we still have many hours to go, it is still offshore."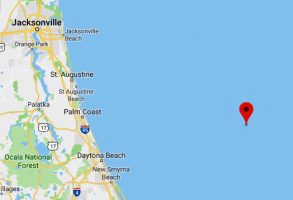 She cited some 1,600 power outages in the city at the time she spoke. Assessments by city crews have been ongoing.
"The curfew and the evacuations are still in place," Clark said. "We're still experiencing some wind gusts that are affecting the power lines, currently we're going on a number of power line arcing and power line down calls. Best advice for today, good day to catch up at the house, stay in if you can, the effects of this storm are still off of our coast and will be for the majority of the day. Stay in indoors, not contributing to the problem."
The slowness of Dorian's progression up the coast is now the problem: "We are getting as many power line down calls now as we were at 2 in the morning," Clark said. "The wind gusts are significant enough that trees and power lines are being affected. We haven't seen an abundance of rain but we are seeing heavy rain."
Surfline's live video of the surf from the Flagler Beach pier at 8:30 this morning was indicating a stormy but by no means destructive surf.
At the south end of Flagler Beach this morning:
"It was a pretty uneventful night," Sheriff Rick Staly said this morning on WNZF There were no curfew violations. There was a Baker Act. A tree crashed on a road in Seminole Woods and a car ran into it, but there were no injuries. In Bunnell, City Manager Alvin Jackson said there were "a few arrests," mostly domestic issues.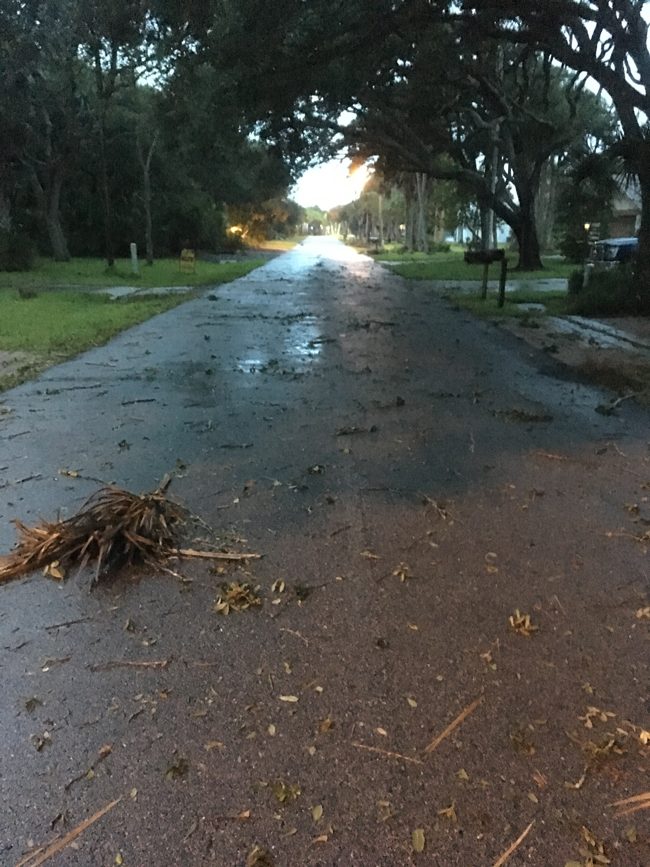 Previous days' stories that have rolled off this page are archived in one place here.

Note: the comments below may refer to stories that have rolled off to the archived record page on Hurricane Dorian here.