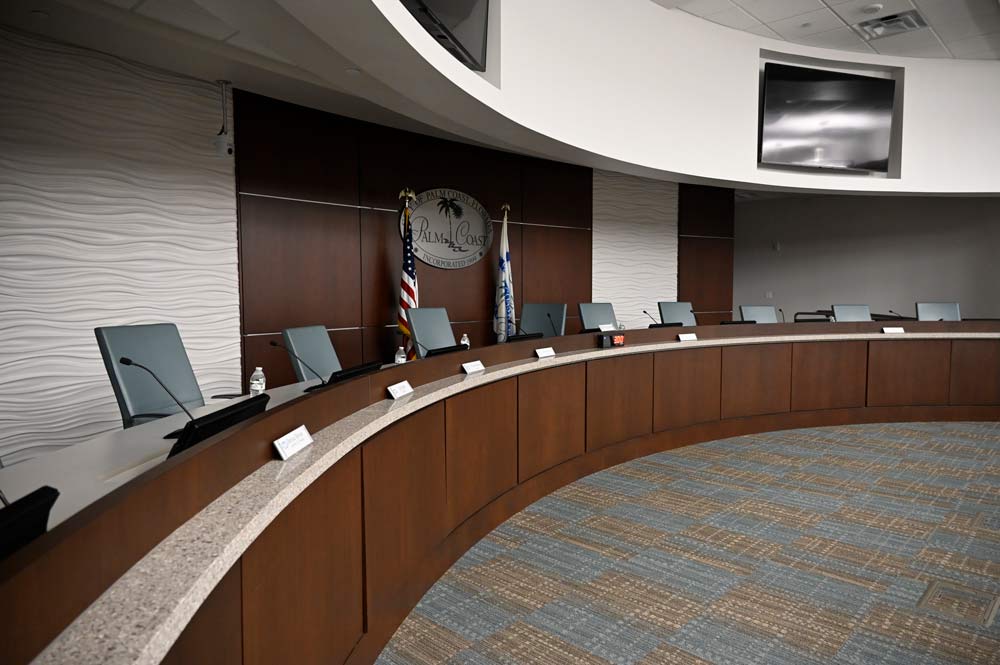 Palm Coast and Flagler County government this week adopted their budgets and tax rates for the 2023-24 fiscal year with little controversy and so few people in the audience at final hearings that you could count them on one hand. The county raised taxes, the city kept its taxes flat.
When tax rates remain flat, as they will in the county, it's still a tax increase according to Florida law, because property owners will pay more taxes due to increasing property values. Values increased nearly 13 percent in the county and in Palm Coast. As a result, with the county keeping its tax rate identical year over year, that equates to a tax increase for property owners. Those increases will range from 3 percent to 10 percent.




Palm Coast went to the rolled-back tax rate. That's the rate that will generate the same revenue next year as the city generated this year. It's not a tax decrease by any means. But it is not a tax increase, either.
Most homesteaded homeowners will see little change in their tax bill, especially with school tax rates again declining slightly. A $250,000 house with a $50,000 homestead exemption will pay $2,518 in county and city taxes, down from $2,591. The decrease is not only due to the city's rollback, but to a slightly lower tax rate for the county's debt service.
Renters and property owners of non-homesteaded properties will not be so lucky. For example, the tax bill at Integra Woods Apartments in Seminole Woods will jump by almost $60,000 all told, with more than $25,000 of that in county taxes, a 10 percent increase year over year. The complex's city taxes will increase by $2,223 and will total $143,200, because of increased property values' effects.




Homeowners often mistakenly believe that renters don't pay property taxes. In fact, renters subsidize the property taxes of homesteaded homeowners. Integra Woods has 310 apartment units. If the landlord passes down the cost evenly, that equates to an additional $81 per unit next year–more than double the average increase in county taxes for the median homesteaded house in Palm Coast, which will see an increase of roughly 4 percent in county taxes.
Most other commercial properties will see similar increases in the city.
Some city council members wondered at Wednesday's Palm Coast hearing adopting the rate whether this was the first time in the city's 24-year history that it has gone to rollback, and one of them–Ed Danko, who is often inaccurate, falsely boasted in a campaign email–he's running for a county commission seat–that "for the very first time in the history of Palm Coast, last night the City Council approved a new budget with a full-millage-rate rollback."
It isn't, though Danko could be excused for that mistake: many a politician doesn't understand rollback. In 2011, for example, while the city maintained its millage rate year over year, it did so by going 16 percent below rollback, generating $7.2 million (or 21 percent) less in revenue than the previous year. The housing market and property values had crashed. The only way the city could make up that revenue was by actually going to rollback, which in that case would have required a significantly higher tax rate. Perhaps earing that residents would have (falsely) interpreted that as a tax increase, even though it would have been a move identical to Palm Coast's this year, council members opted to lose revenue instead.




In comparison, Palm Coast's budget this year will still grow by a few million dollars, but not as much as if it had maintained the same tax rate, as the administration had recommended to the council. Maintaining the same tax rate would have equated to an 8.29 percent increase overall, less than half that for homesteaded property owners. The rate the council adopted, $4.2570 per $1,000 in taxable value, is still significantly higher than it was in the years before and during the Great Recession.
Palm Coast residents will also see substantial increases in their water and sewer fees, their stormwater fees and their garbage fees, all of which are controlled by the city, all of which shift the revenue burden from the property tax to other revenue sources that are not called taxes, but have the same effect on household budgets. Collectively, the increase in those fees will by far dwarf whatever savings homesteaded property owners will see from the rollback.
So city officials' claim that they have kept taxes in check should be taken with a few grains of salt. Nevertheless, council members celebrated themselves yesterday, though they more pointedly gave a standing ovation to city staff, which had to scramble in mid-July after the council surprised them with its decision to go to rollback.
That had not been the plan, and some council members privately regret it. It was a miscalculation. The plan had been to rollback the tax rate but start a new electric franchise "fee" that might have generated even more money than the lost revenue. Danko saw through the ploy, packed the chamber with his partisans and had them shout down the proposal, which died just as three previous such proposals had died since 2011.
Miscalculations aside, the end result was that the city inadvertently and quite unwillingly ended up at the rolled back rate the council members were celebrating on Wednesday, digging a bit of a hole for a city budget that now places it in a very difficult position, should the slowdown in property values ' increases continue, or worse, should values decline, after overheating for a couple of years. That could replicate the scenario of 2011, when the council would have to go to rollback–not to reduce revenue, but to make up lost revenue.

2023-24-palm-coast-budget-taxes