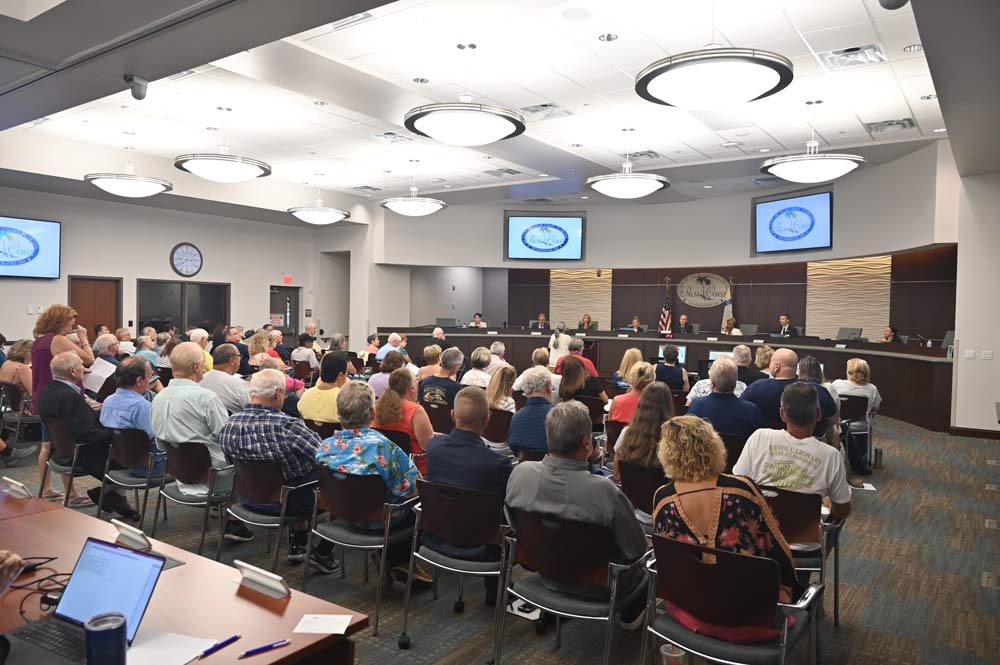 In another unseemly, disconcerting meeting that included coarse language and flaring tempers from the dais and rowdy and name-calling behavior from a floor thronged with residents, the Palm Coast City Council today substantially lowered the property tax rate in one vote and with another approved a new fee or tax–a very modest one for now–on power bills.
The fee was approved on first reading, and would have to be ratified again in two weeks. Based on the plan approved today, the council would leave it to voters in a future non-binding ballot initiative to determine what percentage of the new utility franchise fee they'd be willing to tax themselves–between 0.5 percent and 6 percent–so the city can use the revenue to maintain or improve city streets in increasing need of attention.
The ballot initiative is not a certainty: the administration will explore that legality in the next two weeks, and resubmit the proposal to the council for final approval on second reading. If the city cannot go that route, the franchise fee would be scrapped. If the council approves the new fee later this month, it will go in effect at the 0.5 percent rate this fall. A different rate would only go in effect if voters approve it in the November 2024 election.
Both votes split the council 3-2, with Mayor David Alfin and council members Nick Klufas and Theresa Pontieri in the majority, and Ed Danko and Cathy Heighter in dissent. Both votes caused a ruckus.
Danko was chiefly responsible for the tawdriness of the meeting as he incited the crowd and pandered to it, especially when Alfin, in a tactical blunder, passed the gavel to Danko–the vice mayor–so Alfin could make a motion to approve the new tax rate. That enabled Danko to chair that portion of the meeting so unchecked that he jeered the mayor and gaveled the city attorney to shut her up as she attempted to restore the very decorum he had fractured.
"I normally would be in favor of a complete millage rollback that would mean zero increases on your property tax," Danko said. "However, in this case, it's nothing but a cheap political trick, and it's basically we're going to give you a break here, but then we're going to shove it up your ass over here, and take the money back from you." He went on along those lines before turning to the mayor: "I gotta tell you, Mr. Mayor. I am ashamed of you today, this is the cheapest trick, oldest political trick in the book, and the fact that you would try to pull this off, I have no doubt people will remember this come election time."




"You're here grandstanding," Klufas, who has rarely lost his cool on the dais, told Danko, his voice rising and his fist pounding the dais, before Danko interrupted him by accusing him of not doing his job and the attorney attempted to intervene, invoking "rules of decorum."
"I think you've taken some liberties, campaigned and pandered quite a bit," Alfin told Danko when the mayor reclaimed the gavel.
The clamor of the meeting drowned out its somewhat historic import: while Palm Coast has adopted the rolled-back rate in the past, it has never done so by cutting its way back to rollback and eliminating revenue–$2.8 million would be cut from what the current rate would have brought in net year. That's 60 percent of the projected increase in revenue the administration had proposed.
In the aftermath of the housing crash in 2007, the council went to rollback in some years, but it had to increase the tax rate to get there, compensating for property values that had plummeted. At the time, raising the tax rate to rollback ensured that the city's revenue stayed flat.
The second historic change today was the city's adoption of a new fee, or tax–the utility franchise fee, in a 30-year agreement with Florida Power and Light. While the contract gives the city a potentially hefty source of new revenue, that would happen only if the fee is set at 6 percent, the maximum allowed by law (and the level at which cities like Bunnell, Flagler Beach and Ormond Beach set their fee.) The council considered such a fee at least twice in the last 11 years, only to face fierce resistance from the public and reverse course.
The utility franchise fee agreement passed today on first reading, but mostly as a place-holder. The fee itself was set at 0.5 percent, the lowest level at which it may be set. It'll cost a household using 1,000 kwh a month about $2 a month, or $24 a year. If the city had set the fee at 6 percent, it would have cost closer to $8 or $10 a month.




Pontieri made the case for the franchise fee as a way of diversifying the city's tax base. She said, with agreement from Klufas, that the city should never again be in the position it was in the aftermath of the housing crash, when it had to raise the property tax as steeply as it did to ensure that services continued. What neither Pontieri nor Klufas noted was that those increases were not, in fact, tax increases on residents, but rate increases to keep revenue level. The effect on property owners, homesteaded property owners especially, was neutral.
Nevertheless, the franchise fee, while more regressive than the property tax, would apply to all properties–homesteaded homes, business, schools, churches, non-profit organizations–as the property tax does not. It would as Pontieri suggests, be a hedge against plummeting property taxes, should a crash happen as it did in 2006-7. That's assuming the franchise fee is generating substantial revenue.
Based on last week's discussion at a council workshop, today's outcome was not likely the one the council majority was seeking. Pontieri last week had made clear er interest in reducing the city's reliance on the property tax, but not in reducing city revenue. Alfin and Klufas have almost always deferred to administrative recommendations on the budget: leaving the city with a $2.8 million hole was almost certainly not their intention, much as today's dynamics make it impossible to reverse course.
The "hole" should be qualified: to be sure, city revenue is not declining. It is still increasing. But instead of increasing by $5.7 million, had the council kept next year's property tax rate flat, it will increase by $2.9 million. That's still a very hard hit for the administration, which had crafted a budget based on the expected $5.7 million increase. It will not be able to make up the revenue through the franchise fee, except fractionally.
In actual numbers, the city administration was recommending maintaining the current property tax rate of $4.6 mils, or $4.6 per $1,000 in taxable value: a $225,000 house with a taxable value of $175,000 would have a Palm Coast tax bill of $805.
Alfin's proposal to adopt the rolled-back rate of 4.257 mils means that the $225,000 house would have a Palm Coast tax bill of $745, a saving of $60 (at least next year).




The rolled-back rate is the tax rate that would generate almost the same revenue next year as it did this year. Anything above that rate would be considered a tax increase, even if the tax rate is cut. (See: "What is the Roll-Back Rate in Property Taxes?")
The city administration spends months preparing the budget that the council then spends additional months discussing, refining and finally adopting in September, ahead of the fiscal year beginning on Oct. 1. So the city's directors, who usually sit along the back wall, demarcated from the crowd by a moat of tables, must have been watching in horror as first Danko, then Pontieri in a matter of moments turned the budget into charcuterie as they tallied up where they'd get the $2.8 million from.
Danko would have reduced the streets budget from $12 to $10 million next year, though in fact the entire current budget this year was $8.55 million, and was to grow by $800,000. He'd have cut the communications and marketing department's budget in half, and imposed an unclear hiring freeze that would not apply to fire services.
Pontieri would cut $1.2 million from the city's fleet-replacement dollars, essentially halting a long-developed and calibrated replacement system. The city manager's "contingency fund" would be cut by $225,000. And she estimated that the "current millage rate" combined with improving property values and an 8 percent inflation rate would somehow yield another $1.4 million. That last calculation does not appear tethered to the city's books as they are: the inflation rate is falling sharply and has no bearing on city revenue as Pontieri was projecting, and other factors are assumptions that essentially result in placing the burden of the balance of needed cuts on what would end up in next year's reserves.
When Pontieri was discussing budget figures, she was refusing to answer Danko's question about whether she would not make up the difference through the franchise fee. The council hadn't reached that point yet. So when the public began addressing the council, it did so on the assumption that the fee would go in effect closer to 6 percent.




"I think it's all smoke and mirrors," Michael Martin told the council. "There is no point in doing an actual rollback rate if you're going to give us supposedly reduced taxes and then on the other hand, take it away and increase fees. So I absolutely agree with you. If you're going to do the rollback rate, which I do support, then you absolutely cannot give us a tax increase in terms of additional fees."
Kathy Austrino, who started by saying that it's "wicked hot," said she was concerned about her elderly friends and shut-ins. "My electric bill is going to scare me next month because of this heat. What happens to them and their fixed incomes? They have to stay well. So just please keep in mind the heat in the season." Another speaker spoke of knowing an elderly man who refuses to put his air conditioning on because of his power bill. "I just want to remind everybody that people can go into convulsions at a temperature of 104, and they can die past 106," she said, recommending a different fee or tax than one on power bills. "I know you're not going to listen to us about the growth. That's hopeless," she added.
"Everything is due to the this growth, we hear the hundreds of pages of agendas of growth every single meeting of this council, the same thing," Celia Pugliesi told the council. "Stop with this overgrowth, this expansion. We're becoming like the Romans expanding too far, when we're not taking care of what we have, sir."
"It is imperative for the council to be upright and honest with the citizens of Palm Coast," another resident said. "If you need X million dollars for your budget, you establish a millage rate for that amount and stop playing games with us by establishing franchise fees that you can just throw into your general fund, and there's no accounting for, and nobody has any idea what you're doing with it, and you can raise it willy-nilly whenever you want, and there is no connection whatsoever to the actual Florida Power System in that." (In fact, revenue rom the franchise fee would go into the general fund in the same way that revenue from the property tax does. Spending out of the general fund would be tracked the same way is it today, with every dollar accounted for, as annual audits certify.)
There were some strange and inaccurate ideas, like one man's proposal to put the city's water utility on the market and using the money from its sale to eliminate budget problems in future years (it would not). Another called all taxes "theft." Inevitably, there was the call for a "forensic audit" of the budget and a call for the firing of a department director, based on hearsay that "she refuses to let people lower her budget." Another said "we don't need all this fluff that you are putting on here," without giving one example of "fluff."




Where two or more strange or factually incorrect ideas are presented, it is inevitable that Dennis McDonald, the once-seasonal candidate for office, would make an appearance, as he did today (twice)–implying that one of the city's top employees should not be "on vacation in Europe," and that by driving an electric car, Klufas was somehow cheating the city of tax dollars (as opposed to drastically reducing his carbon footprint and those associated costs on an environment McDonald ostensibly advocates for).
Vince Liguori, who's led previous battles to defeat either the utility franchise fee or the public service tax, put it this way to council members: "Do you believe the other councils were stupid to reject that franchise tax? No, they were just as smart as you and probably smarter." He then wondered why the council wasn't discussing budget cuts or considering cutting council members' salaries–which were increased 151 percent only last year.
As Danko held the gavel, he allowed speakers to break protocol and address or play to the crowd–as Danko himself did when he launched the discussion–to applaud at will. The crowd wasn't calmer during the franchise fee discussion, though by then Alfin controlled the gavel.

palm-coast-trim-rate-2023