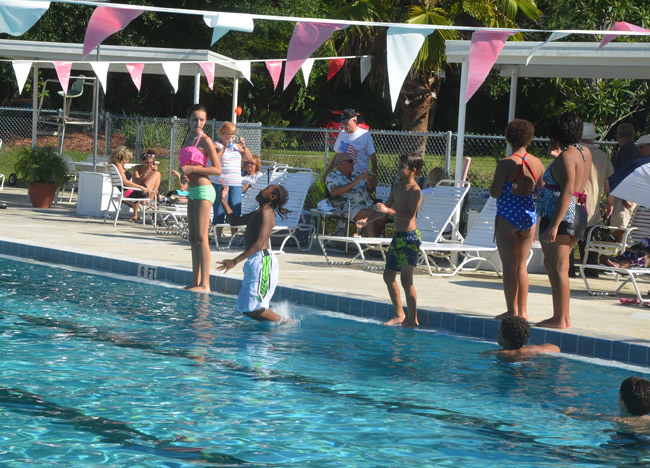 The Belle Terre Swim and Racquet Club was hopping Sunday afternoon: live music, free food, prizes, swimmers in the lap lanes, swimmers in the open pool area, loungers all around. "When I used to come here on a Sunday afternoon back in the 80s," Veronica Thornton said, "it was like this. Not quite so many people—every single day."
But that was more than 30 years ago, when the Belle Terre Swim and Racquet Club was the only game in town, when shops—and residents, just about—could be counted on a few hands, and when the school district had no competition for its community programs. All that is history. So is the Swim and Racquet Club: handsome and inviting as it still is, the club feels more like an oasis of nostalgia than a functional, marketable pool and health club, even though it has both. Its diehard patrons even speak of it in those terms. "People have grown up in this pool," says long-time patron Ronee King. "It's worth saving."
But the Flagler County School District is done with it. The club—which is to say, the school district, and the public treasury—has been losing money: $137,000 this year. That's had to be made up from general fund dollars. The district negotiated for months with the Volusia Flagler YMCA (the "Flagler" part of that has been entirely wishful since the Y left Flagler in 2011) to lease the club. It looked possible for a while. The talks collapsed when the Y said it would only take over if the district spent $200,000 in capital improvements, because the club is in severe disrepair. The district was unwilling.
---
Free food, prizes and nostalgia draw a crowd, but can that translate to 850 paid membership?
---
The district's next move was to propose closing the club to members and keeping only the pool going for high school teams and the Flagler County Synchro Belles, the synchronized swimming team that's had its share of success. The proposal triggered the latest round of opposition from club supporters and led to the formation of a group intent on saving the club, and taking it over. The school board reluctantly agreed to delay closure and instead put out a request for proposals, but only for a month.
Today is the deadline for those RFPs. In August, School Board member Andy Dance had spoken about getting the matter resolved by month's end. It's not clear whether the board will set a special meeting to decide the issue. Meanwhile, it keeps losing money. "Every day we're open I have staff we have to pay, electricity, utilities," Adult and Community Education Director Kevin McCarthy said. Staffing is down to just two full-timers and one part-timer. "We've really scaled back as much as we can in order to still stay open. We had a real challenge maintaining lifeguards and gym attendants."
The so-called Belle Terre Swim and Racquet Club Advisory Committee is led by Doug Courtney, whose last bid to save a property was for the old Flagler County Courthouse (he was outbid by the First Baptist Christian Academy, which opened last month) and CarMichael McMillan, the SwipSwap administrator who made his name in popular opposition to Palm Coast's despised red-light cameras.
Before Sunday the committee claimed to have raised $22,000—enough to run the club for one month at a bare-bones level. Sunday's open house was to be a big fund-raiser. It drew a large crowd. Some 300 raffle and other prize tickets were sold, though people often buy more than one, while McMillan claims the event drew up to 500 people, almost certainly an exaggeration. Lots of free food is always a big draw. There will be no such free food if and when the club continues to operate under anyone's management.
And by day's end, the money raised was $4,900, McMillan said—enough to run the place for a week.
McMillan says it's doable if the club can recruit 850 paying members, at $200 a year per member. But that would be more than twice as many members as the club had two years ago. He insists that a majority of people in town don't even know the club is here. He says he knocked on 200 doors, and of the people who answered, the large majority said they didn't know of the club's existence. Of those who did, they though the pool was its only feature. They were unaware of its extensive gym, with a huge array of exercise machines and dumbbells.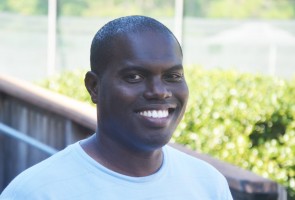 "It's known as 'the pool,' and that I think is what really hurt this place," McMillan said. "It's a total pool package. No gym membership in town is better than this, for what you get, OK? You get a lovely pool, you get exercise equipment, even the dumbbells. There are no other gyms with the dumbbell selection we have. So if you're a heavy trainer, this is the best place for them to come."
The customers are available. The club once peaked at 1,200 members, he says. "This place started off with a lead and just gave it away," he says. "I understand the folks who run the facility, they're educators. They shouldn't be running a gym, and that's what we're trying to address. I don't fault them for getting into a circumstance where they didn't say a way out."
Some supporters of the club fault the district for not advertising the place and its amenities well enough, a criticism McCarthy rejects. "I don't think it's fair to say the district has neglected advertising, there's no extra dollars to advertise anything. We're just trying to keep the doors open," McCarthys aid.
As for the needed capital improvements, McMillan says the advisory group will take it one step at a time. The 850 needed memberships would merely allow the operation to break even, not make improvements. "We'd like to have that problem, but that's not a problem for us to worry about at this point," he said.
The fund-raiser started at 2 p.m. and was scheduled to run until 6 p.m. By 4 p.m., the crowd, which had included Palm Coast's mayor and two county commissioners, but not school board members (the RFP process required them and school board employees to keep their distance from concerns submitting proposals) was beginning to thin even as Courtney was offering up more prizes.

Download the Belle Terre Swim and Racquet Club RFP here.