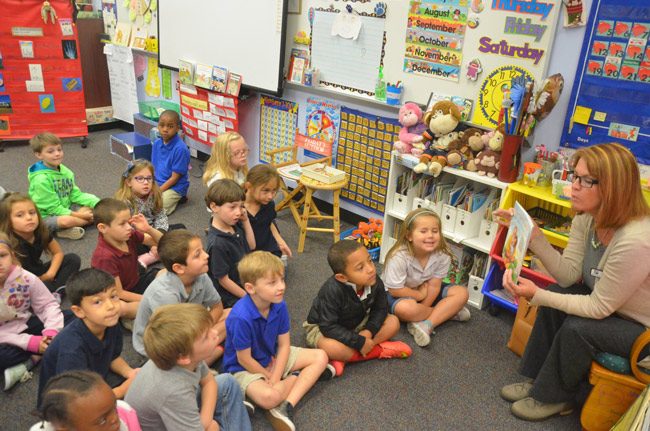 Volunteer readers, you're wanted: Belle Terre Elementary is hosting its annual African American Read-In on Thursday, February 22, from 9 to 11 a.m. at the school (5545 Belle Terre Pkwy, Palm Coast) as part of the national African-American Read-In sponsored by the Black Caucus of the National Council of Teachers of English.
The goal is to make literacy a significant, exciting and relevant part of African American History Month. The school is seeking many volunteers to read to classes, with each volunteer assigned to one class, and all classes from kindergarten through sixth grade slated to get a reader. The books will be provided, and will be selected works by black authors. (See the account of last year's Read-In here.)
After the read-aloud, readers are asked to spend time discussing her or his profession and accomplishments with students. Last year's event drew the likes of mixed martial arts competitor Davaughn Brown, Flagler County Sheriff Rick Staly and nearly a dozen members of his staff and ranks, Palm Coast Mayor Milissa Holland, School Board member Colleen Conklin, Linda Sharp-Matthews, president of the Flagler County NAACP and many others.
If you are interested in participating, please contact LaToya Lockhart ([email protected]) or Priscilla Campbell ([email protected]) by February 12.
If you are unable to volunteer the school is asking for a monetary donation. "It is our goal this year to provide all students in grades kindergarten through third grade (789 students) with a personal copy of a grade level specific book to take home," Terence Culver, the school's principal, said in a letter to potential volunteers.
The National African-American Read-In was established in 1990 and has since spread to schools, churches, bookstores, libraries, businesses and anywhere else two or more people gather to read out loud and highlight black literature and diversity. "It is important for all of us to see ourselves in books," Jerrie Cobb Scott, a member of the Black Caucus in 1990 and the founder of the African American Read-In, said at the time.