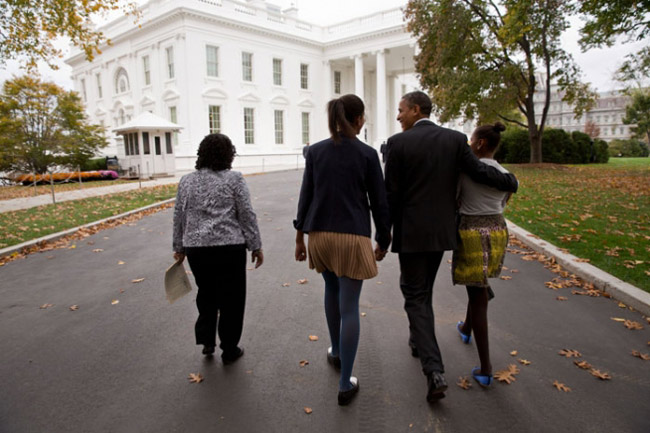 The latest Quinnipiac/New York Times/CBS News poll–one of the more reliable polls tracking the swing-state electorate–shows President Obama again in the lead in Florida, but by the smallest margin, after a few other polls had shown Mitt Romney overtaking Obama in early October. The Quinnipiac poll has Obama ahead 48-47, well within the poll's margin of error. That makes the race too close to call in this state.
For Obama, it's a far smaller lead than Quinnipiac's last Florida poll in late September, when he was ahead 53-44. But that was after the effects of Romney's remark accusing 47 percent of the electorate of being freeloaders, and before Obama's dismal performance at the first presidential debate in Denver. On the other hand, the Quinnipiac numbers do not reflect reactions to the president's handling of Hurricane Sandy, which so far has garnered the loudest endorsement from a Republican–New Jersey Gov. Chris Christie, who delivered the keynote address at the Republican National Convention in Tampa. Real Clear Politics's average of Florida polls still has Romney ahead by one point.
Florida may be becoming more irrelevant to Obama's chances of winning, however. The Quinnipiac poll has the president ahead by five points in Ohio, well outside the margin of error, adding to virtually every other poll that sees Obama ahead in Ohio, by a combined average of 2.4 points. (The one exception is the poll from Rasmussen Reports, which has questionable polling methods.) If Obama carries Ohio, it is virtually impossible for Romney to win the electoral college–and therefore the election–without winning Florida, Virginia, Iowa, Colorado and Wisconsin, all of which are currently toss-ups with slight to pronounced leans toward Obama. If current trends hold, what had appeared to be a much tighter race two weeks ago has again reverted to a more assured path to victory for Obama, and not by a very small margin, as some analysts see it: Obama could carry well over 300 electoral votes (270 are needed to win).
Early voting so far has favored Obama in Iowa and Nevada, but not necessarily in Florida, where the numbers are more muddled. The race has also been characterized by seesawing: there may yet be a lurch one way or the other.
"The gender gap which has marked this campaign is getting smaller in Florida and Virginia," Peter Brown, assistant director of the Quinnipiac University Polling Institute, said. "In general, women are about 10 points plus for President Obama and men are in Gov. Romney's corner by about the same margin. This represents a slight increase for Romney among men and women. In some earlier polls, Obama's lead among women had been in the high teens.
"Much of the difference between Obama's solid lead at this point four years ago and today in the swing states and nationally is the drop in the president's support among white voters, especially in Florida, where he trails 59 – 37 percent among whites, a group he lost 56 – 42 percent in 2008, when he got 43 percent of the white vote nationally. But the president is getting about 95 percent of African-Americans in these states," Brown said. "In general, voters prefer Obama on a majority of issues and characteristics and rate the two candidates roughly even on the big one – the economy. Likely voters think Obama better understands their needs and problems, but more voters see Romney as a strong leader."
Looking at Florida more closely, women likely voters back Obama 53 – 43 percent, down from 58 – 39 percent in September. Men back Romney 52 – 43 percent, compared to 50 – 47 percent in September. White voters go Republican 59 – 37 percent, while black voters go Democratic 96 – 2 percent and Hispanic voters back Obama 57 – 39 percent.
Independent voters back Romney by a slim 49 – 44 percent margin, but appear to be voting Romney in early voting, according to the Miami Herald. That may be the key to a Romney win in Florida, unless the Independent vote is overwhelmed by the Hispanic vote–which is for Obama (but not nearly as heavily in his favor as in other states).
The economy is the most important election issue for 51 percent of Florida voters, while 15 percent list health care and 9 percent cite Medicare.
The nation's economy is getting better, voters say 42 – 33 percent and Florida's economy is getting better, voters say 37 – 25 percent, with 36 percent who say it is unchanged.
Obama cares about their needs and problems, voters say 60 – 38 percent, but they are divided on Romney as 47 percent say he cares and 49 percent say he doesn't care. Romney has strong leadership qualities, voters say 65 – 31 percent, compared to 55 – 43 percent for Obama.
In Florida's U.S. Senate race, Democratic incumbent U.S. Sen. Bill Nelson leads U.S. Rep. Connie Mack, the Republican challenger, 52 – 39 percent. Independent voters back Nelson 52 – 36 percent.
Florida voters disapprove 45 – 39 percent of the job Gov. Rick Scott is doing.
"The president has a 57 – 39 percent lead among Hispanics in Florida, almost certainly a smaller margin among Latino voters than he will get in most if not all other states," Brown said. "The difference is that Cuban-Americans, generally more Republican than other Latino groups, are a much larger share of the Hispanic vote in the Sunshine State."