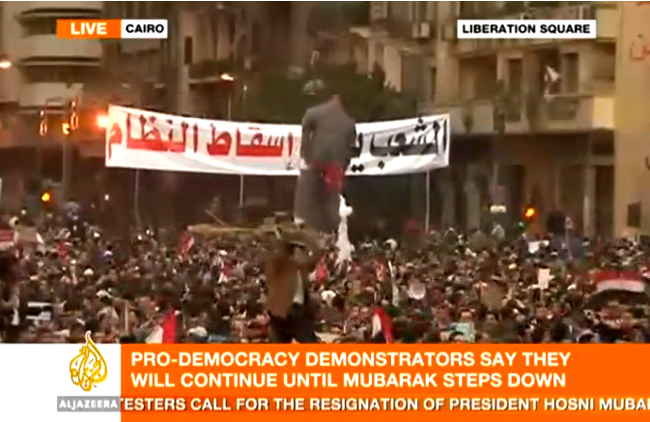 Last week in Egypt the thuggish government of Hosni Mubarak shut down Al-Jazeera, the Qatar-based Arab satellite news channel, and detained six of its employees. It's what you expect in a police state, even one enforced by your tax dollars (as Egypt's has been since 1979). But al-Jazeera has been banned in the United States since its English-language network went on the air in 2006.  The government doesn't have to ban it. Companies here do what police states do elsewhere. Al-Jazeera is by far the most-watched news channel in the Middle East and its English channel is among the most-watched worldwide. The Middle East dominates American foreign policy. American soldiers and workers die there almost every day, we've spent well over a trillion dollars fighting wars there, and counting. Understanding the Middle East, especially from Middle Easterners' perspective, should be a priority.
---
As Heard on the Radio

[media id=154 width=250 height=100]
CNN and the other networks do a competent job, but taking star anchors who all look and sound alike and parachuting them into what amounts to their latest stand-up routine from a hurricane zone is more about flash than substance. We need authentic local reporting, not the synthetic sensibilities of Anderson Cooper.
Yet you can't find al-Jazeera English on any mainstream cable or satellite provider. Companies like DirecTV, Dish Network and Comcast claim they don't have space on their spectrums to accommodate al-Jazeera. That's bunk. If there's space enough for endless and redundant shopping channels, cooking channels, Christian sermonizing channels, soap channels, Oprah, lesbian, gay, golf and NASCAR channels, not to mention room for MTV's Jersey porn and even that wonderful self-parody known as Fox News, surely there's a blip left for al-Jazeera English. The claim that it wouldn't get more viewers than, say, Current, Al Gore's channel for short-attention span hipsters, is belied by the numbers. Almost half the 4 million views Al-Jazeera's live web stream drew last week came from the United States.
So here we are cheering the freedom movement in Egypt without realizing—or wanting to realize—how narrow our freedom of choice, and consequently our perspectives on the world, can be. No wonder American policy in the Middle East misfires so often. At least the White House has switched from bombing al-Jazeera, as it did in Iraq in 2003, to forcing the Egyptian government to free the station's employees, as it did last week. Thankfully, our government doesn't have the power to force a station on or off the air here. That power lies with our corporate Mubaraks.
–Pierre Tristam
Previous Reality Checks and Other Links: