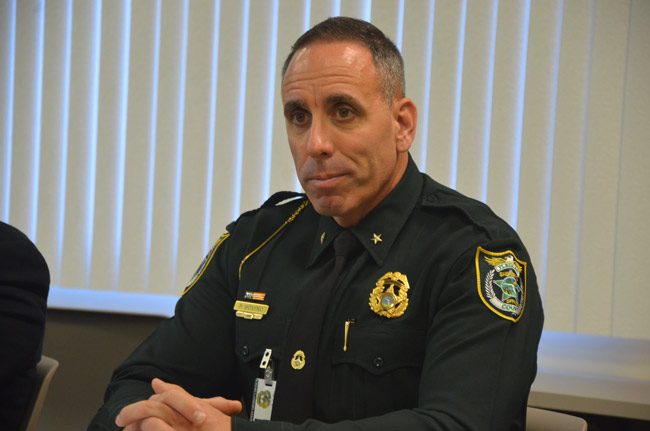 When Paul Bovino, Community Policing Division Chief at the Flagler County Sheriff's Office, graduated from the FBI National Academy in Virginia last Friday, he'd completed a 10-week course reputed for its rigors and demands–a sort of boot camp for law enforcement leaders that takes place on some 385 acres within the Marine Corps base in Quantico.
It includes what's probably the largest, most crime-infested, terrorist-ridden town in America: Hogan's Alley, a simulated town built by Hollywood set designers where the bank, according to Academy literature and lore, is robbed at least twice a week, where "mobsters, drug dealers, and international terrorists lurk around every corner," and where "new agents are taught the latest tactical techniques and are immersed in realistic, stressful scenarios where they are expected to incorporate basic tactics, investigative techniques, firearms skills, and defensive tactics in order to make the right decision."
Hogan's Alley is primarily used by FBI agents, but law enforcement personnel who go through training courses are exposed to a 1.1-mile pursuit and defensive training track just past the alley, the one indoor and eight outdoor firing ranges, the 200-yard rifle range, and many other training facilities for the 250 officers who take part in each of the four 10-week courses held at the academy every year. The officers take undergraduate or graduate courses in law, behavioral science, forensic science, terrorist mindets, leadership development and other fields.
And there's this, as the FBI's literature puts it: "Anyone who's attended the National Leadership Academy knows about the 'Yellow Brick Road,' the final (but optional) test of the fitness challenge. It consists of a 6.1-mile grueling run through a hilly, wooded trail built by the Marines. Along the way, the participants must climb over walls, run through creeks, jump through simulated windows, scale rock faces with ropes, crawl under barbed wire in muddy water, maneuver across a cargo net, and more. When (and if) the students complete this difficult test, they receive an actual yellow brick to memorialize their achievement.."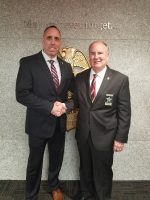 The course got its name when Marines placed yellow bricks at various spots to show trainees the way through the woods.
Twenty-three students attended the very first training academy in 1935. Bovino was part of the 271st graduating class last Friday, with Sheriff Rick Staly, a graduate of the 177th session, in attendance. less than 1 percent of law enforcement officers across the nation get an invitation to the academy.
The Sheriff's Office issued a brief release about Bovino's graduation last Friday, but we wanted to hear from Bovino directly to get a more immediate and first-person account of his experience. Bovino is among the more charismatic and intimidating members of the Sheriff's Office, a cop's cop with outsize stage presence and a love of the job that radiates in most things he says and does: he has a touch of Col. Nathan Jessup in "A Few Good Men," thankfully without Jack Nicholson's looser screws. We asked him what was the most rigorous part of the experience, how it made him a different law enforcement officer, and how he felt about the experience overall. He answered candidly and in detail.
"It was definitely a challenging experience and had an emotional twist from start to finish," Bovino said. "As with any assignment that takes you away from your family and normal routine for ten weeks, it started with a reluctance to leave and the immediate desire to just come back home. As the days and weeks went on and we experienced all of the academia, guest speakers, and governmental tours coupled with the bond that my group started to form, it became more enjoyable and by the end of 10 weeks it was oddly very hard to leave.
"I attended graduate level classes which required the completion of forums, group projects and capstone style papers. This was time consuming and we spent many nights and some weekends sitting at our computers doing research and school work. The academics along with my section's physical fitness program were definitely the most rigorous parts of the program. Our physical fitness instructor took his job pretty seriously and we were the victims of his intense exercise programs multiple times a week. Every Wednesday we participated in 'OZ'-themed physical challenges from the 'Tin Man Trot' to the 'Winged Monkey Assault,' ultimately leading up to the completion of the famed Yellow Brick Road."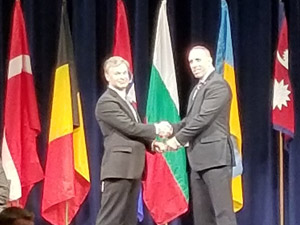 On Takeaways: "One of the major takeaways for me is the responsibility I have to the citizens of Flagler County. I believe a lot of people attend courses and major programs like the FBINA and they look at them as only resume builders for themselves. While it is a great program to have on my resume and may even open doors for me down the road, I owe it to the agency and the citizens to bring back some of the things that I learned there and to implement new programs to continue to improve our current product.
"When you sit down with other law enforcement officers from around the nation and in this case the world, you always come to the same conclusion: everyone is dealing with the same issues and when we collaborate we can make valuable improvements. The entire program is based on information sharing and collaboration between federal, state and local agencies. I think that agencies all the way up to the FBI realize the importance of working together in a world where we face so many unique challenges and threats. I certainly appreciate that the Sheriff is supportive in the development of his employees by allowing us to have these opportunities, ensuring that agency supervisors and managers are properly trained for future assignments.
"Overall, it was a great experience and the Sheriff and I plan on sitting down and talking about the topics that I focused on along with what other agencies are currently doing. I studied several tenets such as cyber threats and investigation, Intelligence Led Policing, managing media and community partnerships and plan on enhancing some projects that we've already begun implementing while also pitching some new ideas."
Bovino apologized, unnecessarily, for his lengthy responses–and shared a picture of a yellow brick: no need to ask if he'd made it through the 6.1-mile challenge.