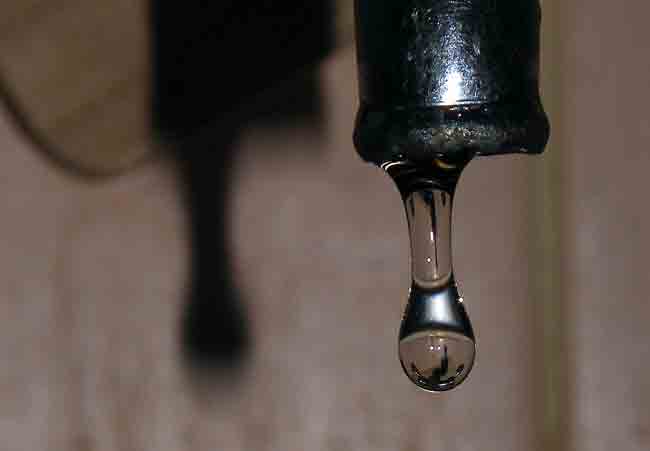 Despite–and in front of–an overflow crowd of residents on Tuesday, most concerned about rising costs, the Palm Coast City Council approved a scaled back plan to increase water and sewer rates 16 percent over the next three years, including 8 percent starting this April, another 4 percent in October, and an additional 4 percent in October 2014.
Monthly bills for a residence using 4,000 gallons of water a month would rise from $54.64 to $64.26 a month – a 17.6 percent increase by the end of the two-year plan, adding $115 a year to residents' bills. In future years there would be annual increases for inflation.
Residents jammed the City Council chambers for the 9 a.m. meeting, although many left during the lengthy staff presentation which lasted about two-and-a-half hours. A majority of the crowd showed displeasure about rate increases with comments and applause, but some said the increases were the right thing to do.
Most of the City Council members agreed on the need, voting 4 to 1 to approve the scaled back plan that eliminates $24 million in capital improvements, mainly for a new wastewater treatment plant. Council member Bill McGuire was the lone dissenter. The rates that were approved will fund $54 million in needed repairs, maintenance and projects to comply with regulatory agencies. A $78 million plan was originally considered. The previous plan would have increased rates 22 percent in three years.
In hopes of avoiding a rate increase, some citizens asked the City Council to delay action. "I would encourage council to delay raising rates until you have opportunity to digest all this information," Diane Lang said. No delay was necessary, said Councilman James DeLorenzo.
"This is our sixth time we have met about this, several times with public comment," DeLorenzo said. The council debated the matter in three previous workshops, when the public is not given a chance to participate, and at three meetings (including today's) where the public could address the council. "I believe we need to make these improvements. If we continue to wait, that's just going to put further pressure on ratepayers." He said the city should put off the new wastewater treatment plant, proposed to meet new but as-yet unrealized growth, to wait and see if growth actually comes. New construction, should it happen, would help pay for future expansion, easing the burden on current ratepayers. The city's existing wastewater plant is operating at 70 percent capacity, more then enough to meet existing needs.
Lack of growth was one factor sparking the rate increase proposals. Flagler County was one of the fastest growing counties in the country before the recession, with water utility accounts growing 11 percent a year. Now, water utility accounts are growing less than one percent a year. The city has more than 42,000 water accounts and more than 35,000 sewer accounts. As fewer water utility accounts were added, current ratepayers have been saddled with all the expenses, and the city's debt burden, now topping $200 million. Bond holders have forced Palm Coast's hand, demanding that the city have a mechanism in place to ensure that debts are paid. Palm Coast's bond rating has already been downgraded by two of the nation's three major rating agencies, adding pressure (and costs) on the city to raise rates, existing customers being the only sure source of new revenue.
Normal maintenance and repairs also fueled the rate increase, as did the need to comply with federal clean water standards, such as the $10 million project to eliminate discharge of treated wastewater into rivers and waterways, but instead to re-use that wastewater. In addition to eliminating discharges into the environment, re-using water will reduce the city's need to pump fresh water from underground sources.
Mark Galvin, the city's financial adviser, said a new rate structure was needed to avoid yet another bond rating downgrade, which could increase the cost of the city's debt service for two water bonds by more than $500,000 a year. "I would hope if you have the rates proposed, that should make the rating agencies comfortable," Galvin said. Mayor Jon Netts added, "We're asking people to invest in our water utility, they want reasonable assurances that they'll get their money back." But nothing, not even the new rate increases, guarantees that the bond rating agencies won't downgrade the city's rating again.
But the city is readying to borrow much of the $54 million for the utility. By revising the rate structure, the city might also be able to use $6.2 million in reserves for the utility project, reducing the amount that has to be borrowed, without reducing the city's bond rating, Galvin said. He also noted that this is the time to issue bonds because interest rates are at historic lows.
In casting the only vote against increasing the water rates, McGuire said the city should cuts its overall budget and pay for the utility project with property tax dollars. "I'm not sure we've exhausted the ability of staff to take out more costs," he said to applause from residents sitting in the back row of the room. But the staff presentation showed that property tax income only accounts for about 11 percent of city revenue, at least when conflated with the utility's budget. Property taxes pay for police, fire, street and park maintenance, with a small portion for capital improvements. Mayor Netts opposed using tax dollars to fund the water utility, which he said should operate based on rates paid by those who receive the service.
"The prudent decision at this time is to support continued excellence of our water utility system," Councilman Bill Ferguson said. Ferguson said about $60 a month wasn't too much to pay for clean water and toilets that flush. Mayor Netts added, "At this point it would be irresponsible not to have this rate increase."
Some comments from residents showed criticism of the rate increase, sometimes mixed with misconception of how local government works, but other residents came forward to support the scaled back option.
Greg Hanson was one of several residents who criticized more than $5 million loaned from the water utility fund for expansion of Old Kings Road. "Is it possible that money will be repaid?" he said. Dennis McDonald, reprising a speech he'd made to the council two weeks ago, accused City Manager Jim Landon of mismanagement and also targeted the mayor. "You've made a mess out of our beautiful community and it's time to clean it up," McDonald said. "Recall is in play, gentleman."
Landon responded that the $5 million was earning 5 percent interest on the money loaned for the road while the city has begun assessing property owners to get the principal repaid.
Staff presentations noted that the city property tax has not been increased in the past couple years, but one woman said her taxes had gone up. However, staffers pointed out that tax bills also include taxes from other agencies such as the county and schools, in addition to city taxes. School taxes have gone down significantly in the last two years. The city's tax rate has, in fact, gone up, and for some residents, the rate increase outstripped property devaluations, resulting in a net tax increase on property bills. But the majority of residents would not have seen such an increase, especially in light of the steeper declines in school taxes. The county tax rate has gone up in each of the last two years, too.
"This morning, you proved to me that you are nowhere ready to make a decision by the nature of your questions," resident Vincent Liguori said. The City Council members appeared to know the answers to the questions they asked, but asked the questions intentionally to inform and hopefully sway residents. Some were swayed.
Louis McCarthy urged the city to send out more information to residents, to help people understand why the rate increases were needed. "The decision is yours," he said. You know what the facts are. They don't."
Another resident, Alan Peterson, who served on both the Palm Coast City Commission and, until November, on the County Commission, said this is the time to refinance. "I'm convinced that we need the bond issue," he said. "There are new regulations. We're going to have to meet them." He also agreed with the lower rate increases, putting off a new wastewater treatment plant to wait for more new construction and new water customers. "Those who benefit from growth will pay for growth, rather than having existing residents pay for growth that may not be needed," Peterson said.