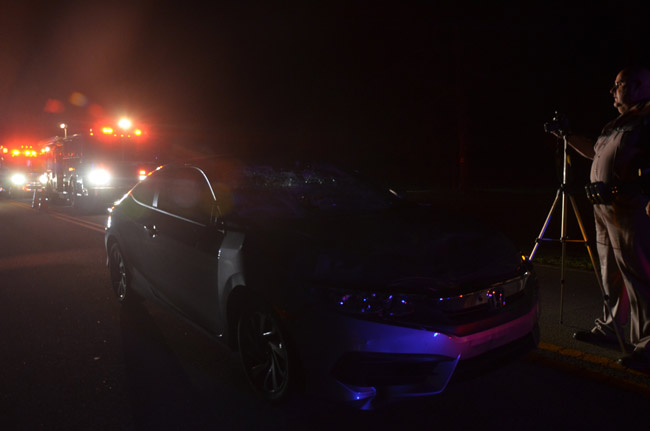 It was heartening to see Matanzas High School students not only present their research findings about street lights and sidewalks to the Palm Coast City Council Tuesday, but to demand that the city act on their work. The city may finally be listening. It's about time. It hasn't listened for 10 years. And no, it had nothing to do with the recession. The money was there. The city chose to spend it on luxuries instead of necessities. It shouldn't have taken the death of Matanzas student Michelle Taylor last month, the latest of many, to finally get the city's attention.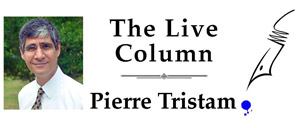 Palm Coast has been ignoring the need for street lights and sidewalks because they're not sexy like medians spiffed up like the gardens of Versailles, or a city hall to satisfy government vanity, or a golf course to pander to a microscopic minority or, for that matter, opulent nature trails. Any city should rightfully be proud of those, but not before lining busier streets with sidewalks and lights, which aren't amenities but mandatory minimum services even for third world cities. And I've been to a few.
Instead Palm Coast government spends an obscene amount of time patting itself on the back, parading its "awards," marketing its "brand" as if it were a corporation selling sneakers or uppers rather than a city responsible exclusively for services and citizens. The city's branding logo, "Find your Florida," at least concedes that the way isn't clear, and that the burden is on you to find it.
In many ways the city is well run. It'd better be, at the prices we're paying. But in critical ways, it's not been run at all. It's been pretty clear what makes management salivate and what makes it shrug. So it's been with sidewalks and streetlights, a black hole Palm Coast inherited from ITT and out of which it has done little to emerge. As the sheriff told me this week, "I'm on patrol at night, and it's really dark."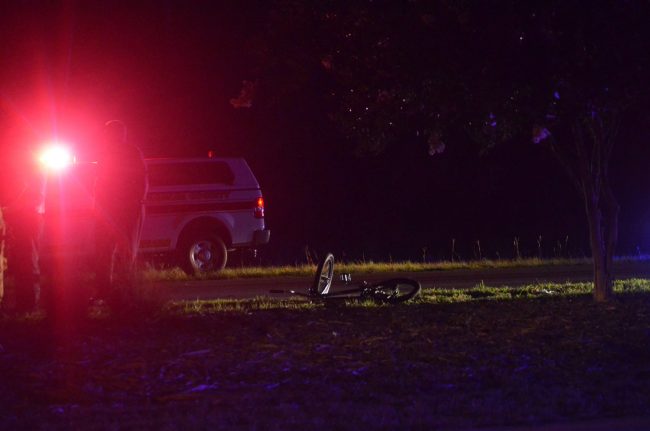 Michelle Taylor was killed last month. Kelvin Smith, 16, was killed last New Year's Eve while biking on darkened Old Kings Road. Kirt Smith, 15, was killed while riding his bike on darkened Seminole Woods Boulevard in 2011. Yes, the driver was drunk. But the city was just as bombed for not having a sidewalk there. It has remedied that negligence only recently, but too late for Josefina Reid, 54, who was killed while jogging on Seminole Boulevard a few months after Kirt's death. And there was Francoise Pécqueur, who'd been a friend of mine, killed as she walked her dog on Columbia Lane the same year. She was almost 77. And those are just the ones I can remember. Don't expect our self-congratulating city to put up a memorial to them.
And don't buy the no-money bunk. The city has about eight sources of money for capital improvements. Not all of it is usable for street infrastructure. But plenty of it is, including property tax revenue. The city could have used revenue from the local-option sales tax. It could have used revenue from federal block grants (it was Obama stimulus dollars, not the city's foresight, that finally built Belle Terre's sidewalks). It could have devoted a fraction of revenue from property taxes, or even raised property taxes a fraction and more than have doubled the 3,000-some lights along city streets in a matter of a few years. Systematically going the LED route (instead of the inexcusable on-demand approach the city has in place right now) would have saved substantially on the $120-a-year it costs to keep a light on, helping pay for the additional lights.
Instead, the city did nothing.
Well, not nothing, exactly. By choice, the city in the past eight years spent $10 million to build a city hall, boasting all along that it never needed to raise taxes for it, that the money was in the bank, that it was entirely affordable. And it was. But that cost alone could have lit up Palm Coast. The city knew it. It didn't care. The city council and City Manager Jim Landon wanted their little city hall the way insecure middle-age men want their red Miata The city has spent close to $8 million on its golf course and counting, a golf course that was failing when it acquired it, is failing still, and will continue to fail as the city masquerades as its own golf management company in the next few years.
The city has spent untold millions on medians and marbled Palm Coast signs no matter how redundant (that insecurity at the helm again), and on landscaping and nature trails, though nothing illustrates the city's back-assed approach like trails that need cars to get to: building sidewalks first, enabling walkers and bikers to get to the trails without burning gas, would have not only made more sense. It would have addressed need before gloss. So much for the city's hollow boasts of being a green city.
And just as we're finally getting rid of red-light cameras, the city is spending a projected $1 million on a ridiculous "traffic signal optimization" project that includes high-definition video cameras at intersections. (And no, the system won't synchronize traffic lights, because that would make too much sense). On top of that, the city is about to spend nearly $8 million on a new community center.
All of this lavish spending is discretionary, a choice, in a city that still claims with a straight face that it couldn't build sidewalks and install street lights because it was short of money. Some of that spending may be needed as amenities. But none of it was needed before the essentials of sidewalks and streetlights were taken care of. No one held a gun to the city's head to build these luxuries before necessities. It's pedestrians who walk with a gun to their head, Russian-roulette style, with the city cynically chambering the ammo as it sings another jingle to itself. Find your Florida? Michelle, Kelvin, Kirt, Josefina and Francoise sure did.
Good thing high school students have a more honorable moral compass and sense of priorities than our city leaders, assuming our current batch follows the students' lead and put an end to the last 10 years' miserable inaction. "I can't go back and undo the decisions of councils past but I can certainly advocate and take a strong position going forward, and this will be a priority," Mayor Milissa Holland told me Friday. "You're going to see a very different discussion from this council moving forward, and it's being taken very seriously."
Let's hope the number of new lights and miles of sidewalk in the coming year outnumber the roadside memorials.

Pierre Tristam is FlaglerLive's editor. Reach him by email here or follow him @PierreTristam. A version of this piece aired on WNZF.