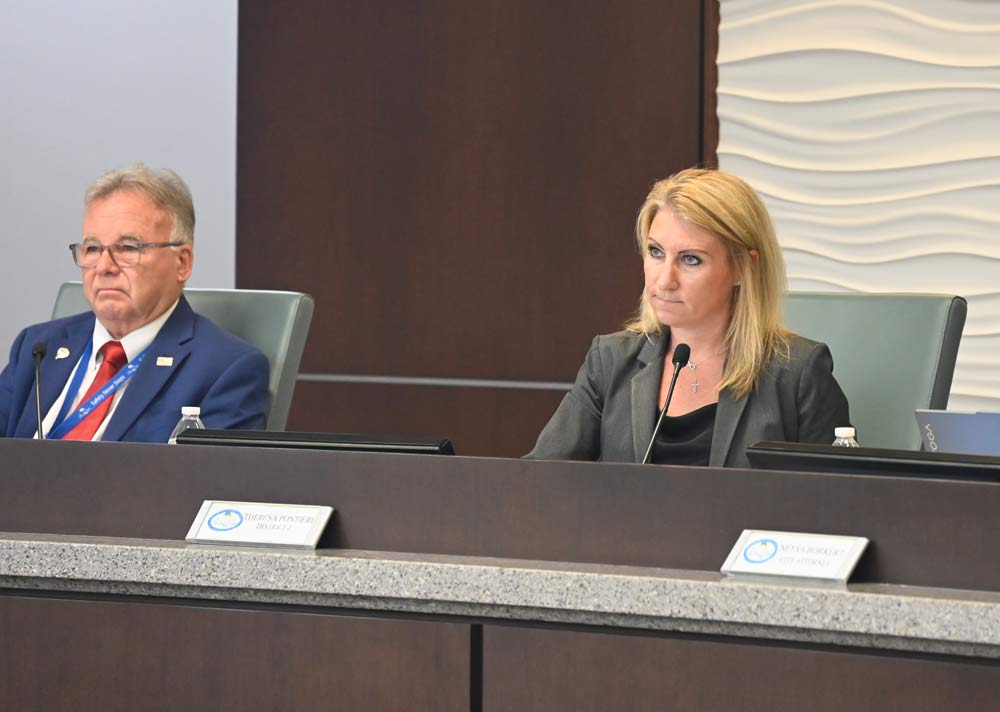 Last Updated: 6:53 p.m.
The Palm Coast City Council is set to abandon the unpopular franchise fee it proposed adding to electric bills only last week. City Council member Theresa Pontieri said today she will withdraw the motion that she'd made on July 18. The reason, according to the city manager: Florida Power and Light won't accept the city's terms.
Pontieri had made the motion that won a 3-2 vote to add the franchise fee to FPL. The motion was conditional. The rate, which could be set anywhere between 0.5 and 6 percent, was to be guided by a referendum at the next election in 2024. Meanwhile, the rate would be set at 0.5 percent, resulting in a negligible addition to power bills.




The referendum was to be non-binding. It was intended to give the public a voice in influencing the rate-setting. But it was not clear whether such a referendum could in any way be part of an agreement between the city and FPL.
"We have been coordinating with FP&L on the franchise fee and being able to further refined the point I think requested by city council on a referendum," City Manager Denise Bevan told the coun cil at the end of a workshop today, "and from FP&L, that is not feasible for them." Bevan did not give details. "Basically it came down to having the item come to the voters," Bevan said. "That was a concern that they did not want to see as an outcome." They being FPL.
"So essentially what you're saying city manager is that FPL would not agree to allow the rate to be a referendum," Pontieri said.
"Well said," Bevan said.




It was a surprising turn of events. In essence–at least by the city's interpretation–FPL could veto the city's plans.
Palm Coast Mayor David Alfin this evening was leaving the door open for an option to revive some form of new revenue stream, possibly the franchise fee under a different form. "This is a most important tool for the city's tool box and future fiscal sustainability," he said.
The city attempted to initiate a franchise fee in 2012, and again in 2018, both times provoking a huge blowback from residents. The proposal did so again this time, even though all but 12 percent of local governments have either a franchise fee or a utility tax (or both), including Bunnell and Flagler Beach, and depend on those sources of revenue for general government operations.
For Palm Coast, the set back will be more serious than in 2012 or 2018. This time the elimination of a potential franchise fee follows a vote, also last week, to return the city's overall tax rate to rollback, reducing by 60 percent the projected increased revenue the administration was basing its budget on, had the council kept the tax rate flat. The city will still get some additional revenue next year thanks to a surge in new homes and commercial construction. But rollback means at least $2.8 million in projected additional revenue will be eliminated, requiring substantial budget cuts.
Mayor David Alfin had hoped to pair the rolled back tax rate with the new franchise fee. But the tactic backfired when Council member Ed Danko, who is running for a County Commission seat in 2024, used the occasion to campaign as an anti-tax absolutist: he voted against the rolled-back rate while anticipating that the approach was only intended to open the door to the new fee.




The city now finds itself at rollback, a decision it cannot reverse, and no fee, since Pontieri, the swing vote on the fee proposal, is making it clear she will not accept a fee absent a referendum, "because," she said, "I think we all said up here that if the rate could not be a referendum, that we would not vote for it to be put in place." She added: "I'm fine with withdrawing the motion based on the consensus that we would only move forward with this if it could be a referendum."
The failed fee will doubly hurt the city, considering why it had been discussed in the first place: to make up a growing deficit in the city's streets budget, which is looking at $52 million in needs over the next five years, much of it unfunded. Revenue from the franchise fee was to go exclusively to the streets fund. Now, that's gone, too.
The County Commission is looking for support from the cities to approve an additional half-penny in the sales tax, which would raise the sales tax to 7.5 percent in the county and its cities. But that proposal, though it would generate close to $5 million for Palm Coast, is also going into strong headwinds.
Today's meeting was attended only by Alfin, Pontieri and Danko. The city attorney was absent, since it was intended as a workshop focusing on proprietary funds, so were Council members Nick Klufas and Cathy Heighter. Alfin suggested to wait until the next meeting to get consensus to withdraw the motion that Pontieri had made. Alfin suggested waiting until next week's meeting when Pontieri could formally withdraw her motion. The proposal had passed on first reading only, and would have needed a majority next week to go in effect. That majority now seems out of reach.
"It's not on the table anymore," Alfin said this morning.
Danko, for his part, wanted to make sure that the item would not "come back and revisit us again."
Council members had only generally proposed cuts to make up for the lost revenue, so that discussion is ahead, unless the administration pre-empts council members with proposals of its own.