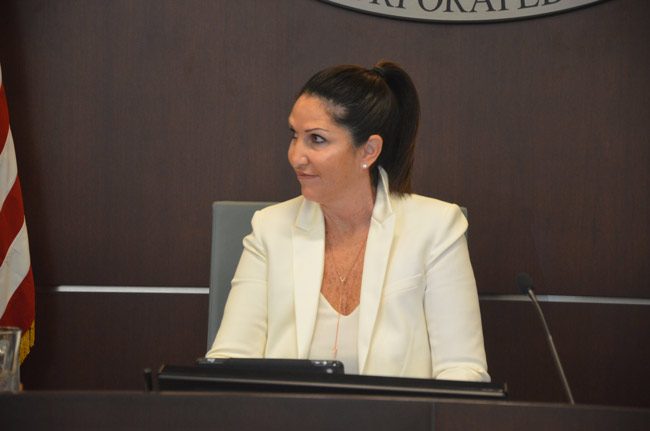 Palm Coast government–and Palm Coast taxpayers–may soon face a reckoning.
Demands for services keep rising faster than tax revenue. Tax revenue set to fall substantially in 2019, if voters approve an additional homestead exemption. A city council discussion of Palm Coast's budget on Tuesday focused on those coming contradictions, which may require substantial changes in the city's tax and fee structure.
The needs are many and varied: the city's stormwater infrastructure is decaying and requires big and costly upgrades. The city's stormwater fee can't cover the needed work.
An additional homestead exemption would initially lower general government revenue. The city will have to make up that revenue either by raising the property tax or by starting new fees, such as an electric or water public service tax of up to 10 percent, which would inevitably be passed on to rate-payers. The council nearly went that route in 2012. Crushing public opposition forced it to reverse course.
The city is also looking to rebuild private seawalls in canal zones (the city compares sea walls to private driveways), but that cost would be paid by residents there in a special taxing district.
What was dubbed as a simple budget discussion focused on the city's revenue sources Tuesday turned into a much more consequential discussion of what's ahead. The sum total of that discussion is that the current tax structure in the city is no longer tenable without changes residents and businesses will feel directly. The specifics are unclear. The principles, setting the city on a new course to be defined in coming months, aren't: the administration is working on those proposals.
Politically, such a discussion–and any resulting proposals–would have been unthinkable in an election year. But the council is in a fortunate position. Its two open seats are not being contested by their incumbents: Steven Nobile has already resigned, his appointed replacement is not running in the election, and Heidi Shipley, who occupies the other seat, has opted not to run again. That gives the council a relatively free hand to conduct its business shielded from the pressures and influence, on some of its members, of an election year. It may also explain the boldness of Tuesday's discussions, which took on previously taboo subjects with fewer concerns over fallout.
A few years ago our the city's auditor told the city that it had to diversify its revenue source. "You should not have all your eggs in one basket, and they were concerned that we rely too much on property taxes," City Manager Jim Landon said. "At that time it became a priority of city council to always look at possible other revenue sources, so this presentation here was developed around that idea. It doesn't require action on city council but it does show you options and it does show you the different types of funding that we have, it's not just property taxes."
In fact property taxes account for only 13 percent of total city revenue, but that's taking into account the city's stormwater and utility services (water and sewer), and impact fees (parks, fire, transportation, water and sewer), which account for nearly half of all revenue. But none of those sources feed into the general fund as property tax revenue does. The general fund pays for police and fire and other vital services.
---
A looming reduction in revenue may open the way to new sources of tax or fee dollars.
---
Mayor Milissa Holland, who's been taking a distinctly more assertive role on the council in the past few months, is concerned about infrastructure. "We are running a very significant deficit in our stormwater fund," she said. The stormwater fund is not actually in deficit: it ended 2017 with a fund balance of $21.7 million. Holland clarified in a text that she was referring to a disparity between what the city wants to fix and the money it has to fix it: the current budget has revenue and expenditures from the stormwater management fund matching at $8.7 million, though the stormwater utility fee generates about $7.2 million of that. Revenue is up from $5.1 million in 2015. "This is a really critical need in our community and probably is one of our major responsibilities," Holland said.
The city is considering indexing the $11.65-month payment by each household to inflation, meaning that it would automatically go up annually. The city's 50,500 stormwater customers pay the fee from their utility bill. But Holland spoke of much greater infrastructure needs across the city that will need more money than mere indexing will afford. City Manager Jim Landon said that's coming: the administration is working on that "big picture," assuring the mayor: 'You will see something here in 2018 for sure."
The stormwater fee was created in 2004 to pay for drainage management and improvement in a city where, without such infrastructure, flooding would be a recurring problem. The last stormwater fee increase dates back to 2013. It went up by 46 percent. Two years ago the city manager signaled that more revenue would be needed, but the council didn't budge.
That means more money will be needed: "We're going to have to add dollars to it because we don't have anything in there for like for dredging a freshwater canal, so what we've also done is engage our fee consultant to look at exactly that. Because you do have options."
In other words, a greater price tag to rate-payers is almost certain.
This even though property tax revenue, which had fallen by 25 percent after the Great Recession, has recovered its loss and returned to over $20 million for the first time in 10 years.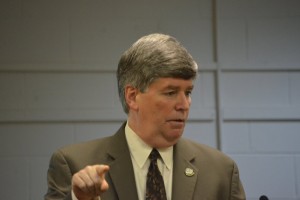 But Palm Coast, like every local government, is facing a potentially serious setback to its revenue structure come next year: voters will be asked on November's ballot whether they want to increase the homestead exemption to $75,000, from $50,000. The homestead exemption means that the sum is deducted from a property's taxable value, providing a substantial tax break. So if a house has an assessed value of $175,000, it will pay taxes on only $125,000 of that. If the additional exemption goes in, it would pay taxes on just $100,000.
The additional exemption is expected to win voters' approval. Should it pass, it'll put local governments in a bind because it will reduce tax revenue considerably. Most governments, say officials in county and city governments here, as well as Property Appraiser Jay Gardner, will simply shift the tax burden and adjust tax rates or come up with new fees to make up the difference.
The Palm Coast council talked about just such options. "The exemptions, they cut the tax values, in order to keep the same revenue, the tax rate goes up, we're going to see that come up right here in a couple of years if voters approve the exemption," Landon said.
There are caveats: Only $25,000 of the exemption applies to school taxes. And the proposed additional $25,000 exemption would apply only to homes valued at $100,000 or more, in essence providing a tax break to wealthier people, at the expense of less affluent ones–especially if governments raise their tax rates to account for the loss: people in the protected bracket will be more shielded than those at the lower end of the scale.
"But why it's a shift in tax is that the people with less than $100,000 in taxable value get no exemption benefit," Landon said. "Those that have expensive homes will see their taxes go down. So hopefully if the public educates themselves as to the real impact of this, this is not across the board to everyone." (The Flagler property appraiser links to a calculator enabling property owners to figure out what potential "saving" they may see based on their own address.)
One of the ways to pay for lost revenue is through a new public service tax–the sort of tax cities such as Ormond Beach, Daytona Beach, DeLand, Flagler Beach and Bunnell all impose on FPL, all of whom impose a 10 percent tax, and which gets passed down to customers, raising millions in new revenue. Such taxes are considered regressive since they affect lower-income residents more than wealthier ones.
Council members from time to time, and Holland particularly right now, get frustrated over residents' misconceptions about the city budget. Frequently, residents confuse one pot with another. They think the city council has authority over teacher salaries, or confuse county and city taxes, sometimes local, state and federal taxes. In the end, it's all taxpayer dollars, but city officials may pay the political price of, say, county or school taxes over which they have no authority. Holland asked that the city devote more attention to educating taxpayers about the differences, possibly in one of its monthly lunch-and-learn sessions.


Palm Coast's Budget Overview (2018)
<![if !IE]><![endif]>