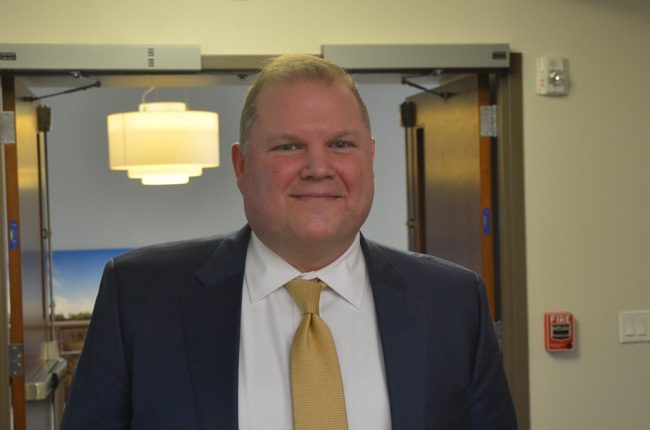 The Palm Coast City Council this morning voted 3-2 to name Matthew Morton, a former city manager in Washington State, as the city's third manager in 20 years, by-passing Interim Manager Beau Falgout and signaling a decisive shift away "from this nice little box that runs things every day the way it has been run," as Mayor Milissa Holland put it.
The splintered decision was a surprise, and was not so: a surprise, because for months Falgout had appeared to be the front-runner by a long distance. The council's short-listing only reinforced Falgout's front-runner status, and Falgout himself spoke of his last six months as a long job interview, his self-confidence visibly growing with time.
But the choice also wasn't a surprise, because for just as long, council members have spoken of their plan to decisively alter the city's direction toward more innovation and business-friendliness and away from government for government's sake. They were willing to give Falgout the chance to prove that he would be that instrument of change. He fell short. He convinced them of the convenience of staying with him, but some of the council members are not looking for convenience. They're looking for "a game-changer," in Holland's words.
At the end of a 90-minute discussion, it was Holland's arguments that won the day for Morton–and put her stamp on the council as even firing former manager Jim Landon had not: Morton is the first government executive she's worked with in six years at the county and almost three at the city that she can finally call her own.
Falgout, in his 12th year in the city administration and his sixth month as interim manager, had started as the favorite when he was among the 50-odd applicants late last year.
More than an hour into the discussion, Council member Eddie Branquinho described the choice as "excruciating." It was a somewhat exaggerated description of what is normally a difficult choice, and what, in this council's case, has been handled–with rare exceptions–with civility and remarkably rational conversation.
Council member Bob Cuff said if Falgout was appointed, he would be "the safe choice," but also a choice as good as any of the other candidates: in his review of the 55-some applications initially submitted, Cuff said "there was nobody in there that I saw as a game-changer." But he was also essentially saying that he did not see Falgout as a game-changer, either, but as someone who can run the city. Cuff's favorite comparison is to the leader who makes the trains run on time. He did not use it today, but applied similar analogies. His conclusion was that Falgout could get the job done and take the council innovative directions just as well as any of the existing finalists.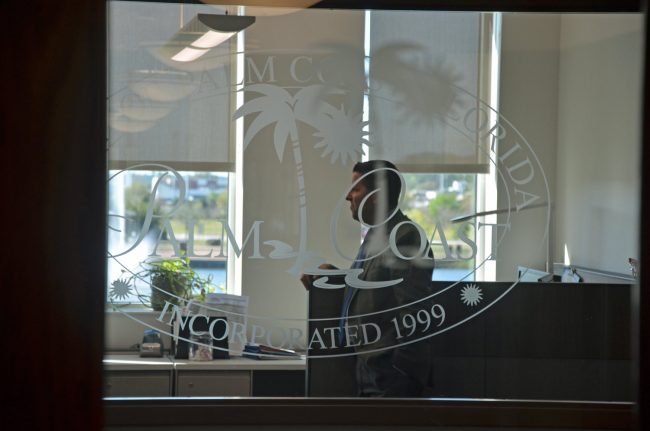 "I can't help thinking that if he'd been here 180 days, innovating, we wouldn't be farther along than we are with Beau," Cuff said. With Morton, "I hear a lot of buzz words, and that doesn't mean there isn't substance to back it up, but my background makes me suspicious. He said the city should not be looking for "somebody who's new and flashy and shiny." That, he said, "would be a mistake." He later said: "I don't see what we're getting other than that new car smell by hiring someone from out of town."
"We're taking a chance, and I'm not against taking a chance, but I don't know what it gets us," Cuff said.
Council member Eddie Branquinho picked up on Cuff's reference to the absence of game-changers to make the point: doesn't that mean the city needs just such a game-changer? But Branquinho also played into Cuff's point when Branquinho quoted one of Morton's aphorisms: "Government must be stable but never stand still."
Early in the discussion three council members spoke for Morton: Holland, Klufas and Branquinho. Cuff was not diminishing Morton's qualities, but he did not see them as supplanting Falgout's. "I'd like to hire all four of them, to be honest with you," Cuff said.
Jack Howell liked Morton's enthusiasm but not his lack of experience leading larger cities. Morton led two cities in Washington that are closer to the size of Bunnell or Flagler Beach.
One name all five council members appeared to agree on from the outset: Donald Kewley, the technology director in Ashland, Ore.–but not for city manager. The council members want him as their Fibernet director.
The council members lavished praise on all four candidates who'd made it to the finalist round, each in turn speaking of what they described as a difficult decision except for Howell, who called it "relatively easy for me," saying it was not like making life-and-death decisions in combat.
Branquinho briefed the council on his white night before speaking of his difficult choice. "We had three, four, beautiful candidates, not an easy decision," Eddie Branquinho said. "Out of the four two actually impressed me the most." It became clear that he meant Falgout and Morton.
"You talk about Force, that's what I see lacking in Beau," Klufas said. What turned out to be Klufas's litmus test was the city's search for an IT director a few weeks ago: Klufas could not understand why Falgout's search didn't turn up Kewley.
"We need to attract the best talent, and talent follows talent," Klufas said. "We need a shift in direction, but we also need to make sure that we are fully invested in our technology investments." When he thinks about why Kewley had not been searched out weeks ago, Klufas said, "I don't have an answer." He put the responsibility indirectly on Falgout: "Why didn't we find Donald Kewley?"
At one point Klufas questioned Howell's approach. Howell had declined to interview the candidates one-on-one.
"You didn't sit down with these people one-on-one," Klufas told him.
"Didn't have to," Howell told Klufas before adding a condescending slap that recalled the way Steve Nobile, a former council member, condescended to Klufas: "Didn't have to, son."
Holland described Falgout as ethical and a family man who would not lead the city astray. "There's some real strengths to Beau, and I think there's some weaknesses. The weaknesses are that he learned from one individual. He doesn't know what he doesn't know," Holland said, referring to former City Manager Jim Landon. Holland then spoke of the consequences of making the wrong choice, citing Flagler County government as an example. (Holland remains almost traumatized by the county's 3-2 vote in 2007 that selected Craig Coffey as its administrator, when she was a county commissioner and voted in the minority–a choice the county almost a dozen years later came to rue.)
Holland also spoke of Falgout as unable to cross city or county boundaries to think more globally and imaginatively. "Government-speak can be very frustrating," she said, comparing the way Falgout came off to the way Robin Hayes, the candidate and city manager from Mount Dora, came off–as essentially and exclusively a government administrator, but not more. She sees Morton as being able to cross those boundaries. Holland said the city had to take the opportunity to "put in a game-changer" that implements the council's new priorities. "It's how you implement those priorities that's going to define us," she said. She cited a few examples to illustrate Falgout's more government-centered, or conventional, approach to problem-solving. She said Falgout handles meetings well, but the process that follows tends to be "slow-moving."
"Those are the things I want to change with our approaches," Holland said. That won't happen under what she described as "former leadership," a reference to Landon.
During the public-comment period, Falgout got support from the few people in the audience (the meeting drew an audience of just five, not counting reporters and city staffers). "Let's stay with the pony that we know," one of the administration's reliable supporters said.
That was just what the majority of the council did not want to do.
After the vote, both Cuff and Howell spoke explicitly of their support for Morton. "We move forward with the new guy and I support him 100 percent," Howell said, dispensing with any hard feelings.
"Make sure you make that clear, Doug," Cuff said, speaking to Doug Thomas, the consultant who'd conducted the manager search for the council. (Thomas was Skyped in.)
Ironically, the council tasked Cuff to negotiate the contract with Morton.