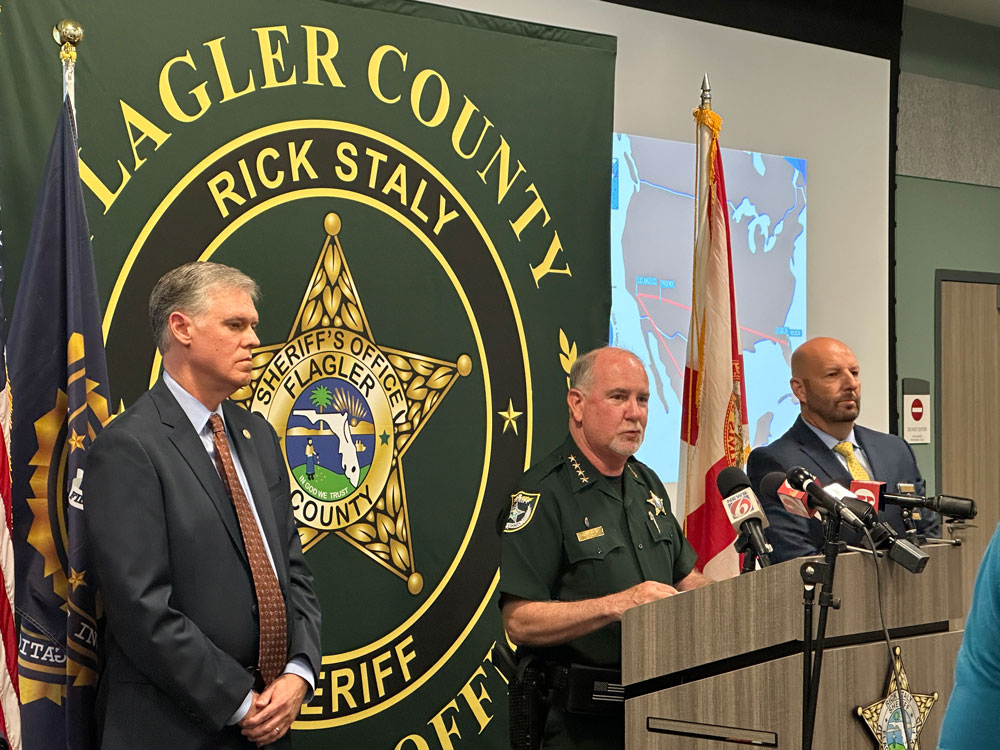 A more-than-yearlong federal and local investigation into a drug pipeline from Mexico, Los Angeles, Phoenix and Palm Coast led to the indictment on federal trafficking and conspiracy charges of nine individuals, including two from Palm Coast and three from Bunnell.
Drugs were being shipped in from Phoenix to Palm Coast on commercial trucks. "This is the largest drug trafficking investigation in the history of the Flagler County Sheriff's Office," Flagler County Sheriff Rick Staly said.




Staly, U.S. Attorney Roger Handberg–who covers 93 counties–and Sheri Onks, Special Agent in Charge at the FBI's Jacksonville Field Office, announced the indictments this afternoon at the Sheriff's Operations Center in Bunnell. Eight law enforcement agencies took part in the investigation.
The local suspects are Tyrone James Jones, 55, and Zara Adriana Mascarella, 20, of Palm Coast, Alfred Lamar Shavers, 48, Camarie Dontre Shavers, 23, and Alfred Lamar Shavers Jr., 26, all of Bunnell. Others indicted are from Phoenix and Green Cove Springs.
Saul Sandoval, 36, and Luis Miguel Hernandez, 36, of Phoenix, were the starting point of the trafficking operation in Phoenix. "Investigators estimate that this drug trafficking organization has shipped over 300 kilograms of drugs into Flagler County and Volusia County since 2021," Handberg said. Investigators have seized some 44 kilograms meth, two and a half kilograms of cocaine and a full kilogram of fentanyl. The three drugs are the leading causes of drug overdoses in Florida.




"These federal charges are serious,' the U.S. attorney said. "Of the eight defendants who've been arrested. six of them are facing up to life in federal prison. The other two defendants are facing up to 40 years ago prison."
The FBI served warrants at six locations in Flagler and Volusia counties last October. "Many of the media notice that the FBI was in town," Staly said. "We can't really hide the FBI too much" when they operate in the county, but the sheriff's office could not confirm  the agents' presence or work, since the investigation was ongoing.
"Those search warrants resulted in the seizure of nine firearms and hundreds of rounds of ammunition possessed by one of the defendants in this case, Alfred Lamar Shavers," Handberg said. Authorities seized seven firearms or firearms suppressors, and hundreds of rounds of ammunition during the investigation.
"The FBI has seen an uptick in violence throughout the United States over the past few years, including right here in Northern and Central Florida." Onks said at the afternoon press conference in Bunnell. "Much of the violence can be attributed to gangs and cartels who are moving fentanyl and other deadly deadly drugs across the border and into our communities." She described today's arrests are proof that "our efforts are making a difference here in Central Florida," giving credit to the Drug Enforcement Administration and local law enforcement agencies.
She pleaded with help from the community: "As we tackle this continuing problem, Anyone who witnesses something suspicious related to violence or drug I urge you to contact your local police department contact the FBI and work with us to keep your community safe."




Staly, who compared the case to "Breaking bad," the Netflix series, had a message for "keyboard warriors that make snide online comments about our street level drug dealing arrest, and claim that we never arrest the king operation." He said Operation Iceman, as the investigation was called, "is proof that while you might not see it, or know what we are doing, we are always working to get to the top tier of the drug trafficking organizations and today is proof of that work to the consumers."
Asked about how the arrests would affect a lowering of violence on the streets, Handberg said "we may not be able to measure it in any sort of statistical way. But I know that these cases make a difference, not only to protecting people from the drugs that are being distributed and the dangerous drugs that are being distributed but also to the extent there is any violence associated with any of these organizations."
Others involved in the investigation were the Volusia County Sheriff's Office, the Drug Enforcement Administration, the Daytona Beach Police Department, and the DeLand Police Department.