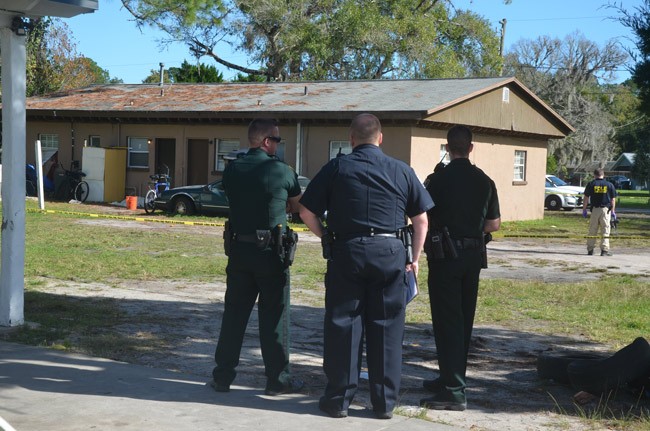 Last Updated: 4:45 p.m.
John Robert Stubbs, a 46-year-old resident of 502 East Drain Street in Bunnell, was found dead on his doorstep this morning, soaked in blood. The Bunnell Police Department is conducting an investigation into "what appears to be a homicide," City Manager Larry Williams said this morning. Stubbs was under a white sheet, next to the orange bucket he used detailing cars.
"The individual had blood on the front and rear of the t-shirt, more blood on the back of the t-shirt," Williams said. "We're waiting for FDLE crime scene to come evaluate and the medical examiner to determine the cause of death. It appears to be a homicide."
By early afternoon, investigators at the scene were confirming that it was a homicide, with the Florida Department of Law Enforcement at the scene–along with a half dozen units of the sheriff's office, including detectives, and several units of the Bunnell Police Department.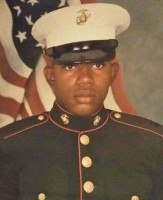 And just before 5 p.m., Williams said Stubbs was killed from "apparent gunshot wounds to the upper torso, pending autopsy." Police had no suspects or anyone in custody, only some reports of early morning sounds that resembled firecrackers.
Earlier in the day, around 1 p.m., the duplex on Drain Street had been taped off as investigators surveyed the scene. A group of some two dozen people had gathered just past the edge of the crime-scene tape on South Moore Street, and smaller numbers had gathered on East Drain, speaking in soft voices.
Stubbs was a felon with a long criminal history in Flagler County, dating back to 1989. He served four years in state prison on a cocaine conviction. Two years ago he was arrested on a cocaine possession charge after a drug deal that went bad on Railroad Street in Bunnell: he was dragged by a vehicle, after approaching the car's driver–Corey Miller, who was booked on an aggravated assault charge that day. Miller had suddenly accelerated away from Stubbs.
He's been found guilty of forgery, and in 2013, subsequent to that incident on Railroad Street, he was again guilty of cocaine possession and sentenced to a year in prison. He'd been released a few months ago. He was found dead this morning around 10 a.m. by an individual in the neighborhood.
"We're waiting to get a search warrant to search the inside the house," Williams said. "It is a house that had drug activity in the past. We're not saying that the cause of this was drug activity, but the house had past activity. We're processing the exterior of the house."
"This was not the call I wanted to get this morning," Pastor Sims Jones, a Palm Coast resident whose church is in Bunnell and who is deeply connected to the community in South Bunnell, said as he stood looking at the back porch of the house, off South Moore Street. "He gets out there, he hustles, but he's not a danger to anybody," he said of Stubbs. "He was getting ready to do my car. He does detailing. He does good detailing. Nobody had a problem with him." (Friends of Stubbs, a Marine, provided the video of his fineral, left.)
By then of course, it was clear that somebody had had a problem with Stubbs. "That's the strange thing about it, that's what's surprising to everybody," Jones said.
Stubbs's sister, Renee McKay, was nearby. "He was just a nice person, he didn't dis-respect anybody. The only thing he was into was cleaning cars," McKay said. "You're not going to find anybody say anything bad about him. It's hard to believe this."
Shemeika Rollins lives in the house immediately to the north of the duplex where Stubbs lived, with a clear view onto the backyard of the duplex and the back door to Stubbs's house, where the porch light was still burning. She was upset that she had walked by today and not realized that he was there. Her husband and her cousin found him and alerted authorities. "That's my neighbor, my friend," Rollins said of Stubbs, who called her "Baby Mama," she said. "He'd just got done washing cars," she said, certain that he'd just returned from a job with his orange bucket, and maybe had surprised someone in the house that wasn't supposed to be there. She pointed at a back window, where the curtains had been half torn out and pushed out from within. "Somebody tried to get out of that window," she said.
Bunnell's police chief, Tom Foster, is on vacation today. Cpl. Matt Mortimer of the Bunnell Police Department was in charge of the scene. "We brought in an additional officer," Williams said, as the department had been working with a minimal staff because of the Thanksgiving weekend. "We're questioning [people in] the area, people are apprehensive in giving answers but they're being cooperative," he said.
The sheriff's office is assisting. "We're assisting them from a crime scene standpoint only of scene security," Jim Troiano, the sheriff's chief spokesman, said. "I know they're going to be reaching out to other agencies for assistance."
Flagler County registered one murder this year, on Sept. 23, when Anna Pehota, 75, shot her 77-year-old husband in their hammock trailer then called police and confessed.
"This is ridiculous," Rollins said. "Little old Bunnell."