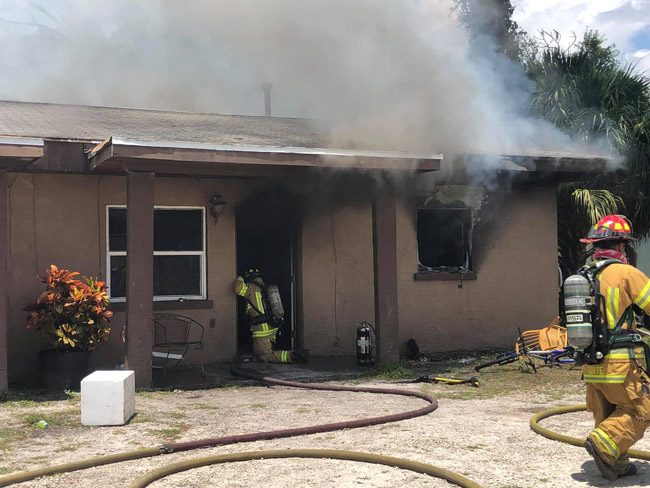 The duplex at 502 East Drain Street has had a troubled history. Less than four years ago, John Robert Stubbs, a 46-year-old former Marine, was found murdered on the front stoop. The murder has never been solved.
Two years ago, Derek Holden, 34, who lived there, was arrested on drug charges, found guilty of two second-degree felonies and placed on 18 months' probation, which wasn't to conclude until the end of this year.
Last week, the Bunnell Police Department had stepped up patrols around 502 East Drain, according to its commanders' reports.
On Tuesday, the Flagler County Sheriff's Office's special investigations unit, a SWAT team and the Bunnell Police Department raided the house, search warrant in hand. No one was home. But authorities seized $12,000 worth of narcotics and a firearm. The sheriff's office said that felony charges were pending.
Today, the duplex burned.
The fire was called in by a passerby at 1:05 p.m. Flagler County Fire Rescue and the Palm Coast Fire Department responded, as did Bunnell police.
"We arrived on scene quickly and extinguished the fire," said Flagler County Deputy Fire Chief Joe King. "It started in the front room. We were able to prevent it from reaching the next unit." A county release said both duplex units were unoccupied at the time of the fire, though residents of 500 East Drain returned afterward, and the American Red Cross was called on their behalf.
Flagler County Fire Marshal Jerry Smith is investigating the cause of the fire. King said Bunnell police was present as the firefighters worked and noted the previous day's bust. "There wasn't a lot of fire damage," King said, though smoke and water also cause damage.
Late this evening, King provided an update: based on Smith's findings, the cause of the fire is "undetermined at this time." There were a couple of what King characterized as potential red flags in the area of the fire: a candle and a mattress, at a time when there'd been no power outages and power was running normally to the building. But the fire marshal could not determine the candle's location before the fire and could not conclude whether there was a connection between the candle and the fire. Still, the candle appeared out of context, and there did not appear to be a shrine or anything like it in that room, where a candle might have been used for that purpose.
The sheriff's search warrant was the result of an investigation into suspected trafficking of synthetic cathinones by occupants of the house, whose identity the sheriff's office did not disclose. Synthetic cathinones are more commonly known on the street as "Molly," bath salts or ecstasy, and listed as a Schedule I Controlled Substance under Florida law.
During a search of the residence, Detectives discovered a trafficking amount of cathinones, a trafficking amount of Oxycodone pills, approximately two pounds of pot pre-packaged for sale, and a loaded Glock handgun. Detectives additionally located a vacuum sealer machine and over 30 used large vacuum seal bags containing Cannabis residue, believed to originally contain a large quantity of Cannabis per bag.