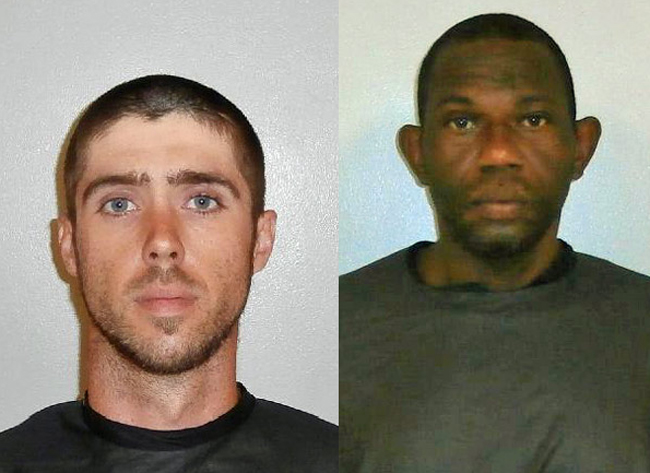 Both Corey Miller and John Stubbs have a police record. Stubbs, soon turning 44, a resident of Hymon Circle in Bunnell, served four years in state prison for trafficking cocaine. Miller, 24, a resident of Mahogany Blvd. in the Mondex, has faced charges of grand theft auto, probation violation, impersonating a police officer and battery.
Around noon Tuesday, a Flagler County Sheriff's deputy was patrolling in Bunnell, not far from Manny's Restaurant on Railroad Street, when he saw Stubbs walk toward a 2007 Chevy pick-up parked on Railroad Street. Stubbs neared the driver's side window, and a brief moment later, after the two men had been speaking, the Chevy accelerated south on Railroad, dragging Stubbs with it along the road.
The deputy pulled over Miller. By then Stubbs had fallen and was lying in the road—and "pulling a small green container attacked to a key ring out of his right front pocket," according to Stubbs's arrest report. The off-white rocks inside field-tested positive for cocaine. It appeared that Miller and Stubbs had been engaged in a drug deal that went awry. Or that they had noticed the cops nearby.
Stubbs, who was examined by Flagler County Fire Rescue paramedics and had an injury to his toe, was booked on a cocaine possession charge. He was being held on $1,000 bond.
Miller, who works at Sea Ray Boats according to his arrest report, drove the Chevy some 740 feet at speeds varying between 10 and 35 mph, according to the report, with Subbs "hanging on to the exterior driver's side door. Stubbs was wearing no shoes and his feet were hitting the pavement."
The arresting deputy positioned his cruiser 15 feet behind Miller's vehicle, after Miller stopped. But when the deputy ordered Miller out of the Chevy, Miller allegedly put the vehicle in reverse and spun the wheels, forcing the deputy to step out of the way. The Chevy struck the deputy's cruiser.
Miller was charged with aggravated assault on a police officer and willful, wanton reckless driving, and held on $2,000 bond. He had bonded out by Wednesday.