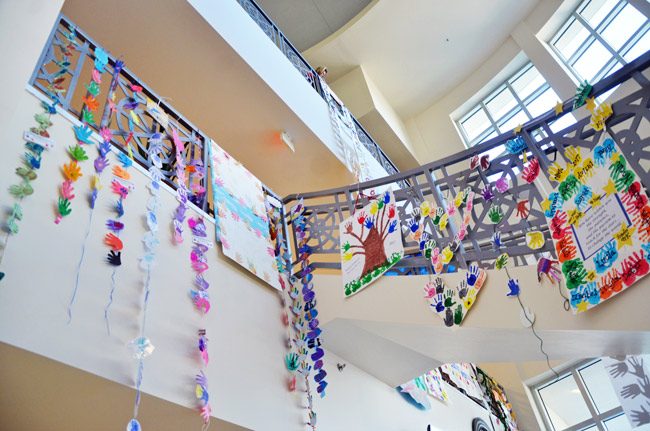 Weekend: Pleasant, mostly sunny throughout, highs in the 70s, lows in the 50s. Details here.
Drought Index is at 378.
Today's tides: at the beaches, at the Intracoastal Waterway.
Today's document from the National Archives.
The OED's Word of the Day: poindexter, n..
The Live Community Calendar
Today's jail bookings.
Today's Briefing: Quick Links

"For me, as for Alexander Pope and many others, the proper study of mankind has always been man; and until it can be shown to me that the scientific advances of this age have relieved man of some of the moral challenges and dilemmas which press themselves upon him, I must continue to pursue what others are at liberty to regard as my outdated ruminations and reactions."
–George F. Kennan, from Around the Cragged Hill: A Personal and Political Philosophy
.

Note: all government meetings noticed below are free and open to the public unless otherwise indicated. Many can be heard or seen live through each agency's website.
The Sheriff's daily incident reports and jail bookings are posted here.

Take the Flagler County School Superintendent Survey: The school district is inviting residents, including students and faculty, to fill out this survey, letting school board members know what kind of superintendent you want to replace Jacob Oliva, who is leaving in June. This survey will be live until early March. It takes about 10 minutes. It's anonymous. Fill it out here.
Friday: Farmer's Market downtown Flagler Beach, by Veterans' Park, from dawn to noon.

Free For All Friday on WNZF, 9 a.m.: Host David Ayers welcomes Florida Re. Paul Renner ad Palm Coast Mayor Milissa Holland, who are expected to discuss Renner's proposal to eliminate Enterprise Florida and Visit Florida (see background here), and Flagler Beach City Manager Larry Newsom. The show begins with a commentary by FlaglerLive Editor Pierre Tristam on protest.
Friday: Lunch 'N Lecture Series, Palm Coast City Hall in Town Center, 12:30 p.m., a free lunch and presentation with Dr. Nanavaati, a local certified cardiologist. He will discuss Peripheral Artery Disease – everything related to how it occurs and how to manage it.
Friday: A new 7-Eleven opens at 2560 Moody Boulevard in Flagler Beach.
Friday: Live From Nashville, at the Flagler Auditorium, 7:30 p.m.
Saturday: The 7th annual Hot N' Spicy Festival at the Florida Agricultural Museum. The event features amazing food, craft beers, great music, parrot shows and racing pigs. Please bring a lawn chair but leave your coolers and pets at home. Admission is $5 per person. Florida Agricultural Museum, 7900 Old Kings Road North, Palm Coast.
Saturday: Movie Nights by the Surf at Veterans Park, 5:30 p.m.: The movie will be shown at dusk, outdoors at Flagler Beach's Veterans Park, located at the corner of Moody Blvd. and Highway A1A right across the street from the beach! Admission is free! Be sure to bring your family & friends as well as a blanket. Food and drinks will be available for purchase as well as bounce house activities and more.
Saturday: The Art of Carnival at Calypso Fine Art Gallery, opening Saturday evening at 6 p.m. at Calypso, 4601 E Moody Blvd., Bunnell (In Marvin's Garden shopping center). Artist Weldon captures a celebration or festival with each painting in this Carnival Series, whether on Eastern Parkway, in Orlando, St Pete, or Miami. He creates an endless dance with feathered costumes, vivid colors, and the loud in-your-face attitude to be found jumping in the bands.
Saturday: Two performances only, at 2:30 and 7 p.m., of "Ms. Jackie's Bus," an original stage play about the challenges of adolescence–from bullying to racism to homosexuality. At the Ormond Beach Performing Arts Center, 399 North U.S. 1, Ormond Beach, Adults $15, students $12, call the box office at 386/676-3375 and click here for details about the play.
Sunday: Farmer's Market at European Village, starting at noon.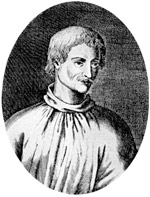 Mostly useless information: The Dominican philosopher Giordano Bruno, who may not have a Twitter hashtag but was an influential voice of the Reformation, was so ahead of his time in 16th century that he theorized that stars were like the sun, distant suns with their own solar systems, possibly rich with life. The universe, he thought, had no center, but was rather infinite. That did not please the Catholic Church, which considered Earth to be the center of the universe, the only world where God created life. Bruno had to be silenced. The Roman Inquisition, not known to have been among the most vicious, though it had its very low points, tried him for heresy, and on Feb. 17, 1600, burned him alive. It took God a very long time to make up for the murder but God finally did so with the birth, on the same day 53 years later, of Arcangello Corelli, one of the Baroque's great composers. That Italian died a less roastful death. On Feb. 17 in 1801, Thomas Jefferson, on the 36th ballot, is elected president, defeating Aaron Burr, and marking the first time the United States would peaceful transfer power from one party to another.

In Florida and in State Government:
Note: Some proceedings below can be followed live on the Florida Channel. Most legislative proceedings can be followed through the Senate or House websites.

Medicaid and welfare numbers: The Social Services Estimating Conference will consider caseloads and expenditures in the Temporary Assistance for Needy Families, or TANF, program and caseloads in the Medicaid program. (Friday, 9 a.m.)
–Compiled by the News Service of Florida and FlaglerLive

In Coming Days in Palm Coast, Flagler and the Occasional Beyond:
♦ Feb. 23: County Administrator Craig Coffey is the speaker at the Flagler Chamber's Common Ground Breakfast Series at the Hilton Garden Inn, in Palm Coast. Registration begins at 7:45 a.m., breakfast is at 8 a.m. $20 for members in advance. Email [email protected] or go here for more information. Details here and here.
♦ Feb. 27: Flagler County Stamp and Coin Club holds its monthly meeting at the VFW Post 8696 47 N. Old Kings Road. Doors open at 4:30 p.m., the meeting starts at 6. The 90 minutes before the meeting is for anyone wishing to buy, sell or trade stamps and coins. The club's meeting is from 6 to 7:30 p.m. There is a live auction of coins and stamps at the end of the meeting. The club is open for members and the general public who are interested in stamp and coin collecting and investing. Free stamp and coin evaluations at all our meetings. For more information visit the web site here.


♦ Feb. 28: Join the Flagler County Education Foundation's 14th annual Mardi Gras gala at Halifax Plantation, 3400 Clubhouse Drive, Ormond Beach, at 6 p.m. This is one of the foundation's annual fundraisers. Tickets are $100 per person. Click here to register or call today at 386/437.7526 for event details. Get a chance to talk to Joe Rizzo, the new executive director, and learn more about Flagler county schools.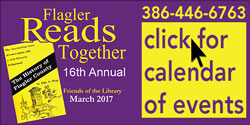 ♦ March 3: It's the kick-off of the annual Flagler Reads Together, the Friends of the Library's annual communal reading event that focuses on a single book and encourages everyone in the county to read it. This time it's as local as it gets: the book is the late Jack Clegg's "The History of Flagler County," in conjunction with Flagler County's centennial celebrations. The month-long Flagler Reads Together kicks off on March 3 at 2 p.m. at the Flagler County Public Library's main meeting room with a presentation by the Flagler County Historical Society's Sisco Deen. It's free.
♦ March 3: Fourth annual Flagler County Job Fair, from 11 a.m. to 3 p.m. at the Palm Coast Campus of Daytona State College, 3000 Palm Coast Pkwy SE, Building 3. There are more than 40 businesses registered, with more signing up daily, offering over 360 jobs. Last year over 400 job seekers attended the event, which was hosted by the Flagler County Department of Economic Opportunity, CareerSourceFV, Daytona State College and the Flagler County Chamber of Commerce. A full listing of companies is available at www.flaglercountyjobfair.com or by accessing the mobile app by searching the app store for Flagler Volusia Job Fair Plus.
♦ March 3: Flagler Beach's 10th Annual Pinewood Derby Race, as part of Flagler Beach's First Friday. Awards will be presented for the fastest and most creative designed cars in the adult and children's categories. Get your kit and then… Design it, build it, race it. Rules are here, and your registration form is here.
♦ March 4: 13th Annual Stamp and Coin Show and Chinese Auction, 10 a.m. to 3 p.m., Elk's Lodge #2709 53 N. Old Kings Road, Palm Coast. Flagler County Stamp and Coin Club, Inc. will hold its 13th Annual Stamp and Coin show This show is open to the general public and everyone interested in stamps and coins. There will be dealers to give free evaluations of your stamp collections and silver and gold coins. Come early and bring your friends. Door prizes every 30 minutes, beginning at 10:30 a.,m. and ending at 2:30 p.m. All proceeds from the Chinese Auction support the FCS&CC youth programs. Hugh variety of items to submit bids. The club is a 501(c)(3) non profit and is the only non profit stamp and coin club in Flagler County. Free parking and admission. Visit the web site for more information and contact.
♦ March 4: First of two kayaking trips organized by Flagler County's Centennial Committee, this one, the Haw Creek paddle, is scheduled for launch at 9 a.m. from Russell Landing County Park. Registrations are needed in advance and registrations for the trip close on February 20th. The registration is $15 and each person registering will get a competition style tee shirt commemorating the County's Centennial. When kayakers arrive at Bull Creek Park a special lunch will be offered for participants who opt for the $11 lunch. Registration for both trips, instructions and detailed directions can be found on the www.flaglercounty.org website or on facebook at www.facebook.com/FlaglerCountyCentennial. Interested kayakers can contact the committee at [email protected]. The second trip is planned for a 9 a.m. launch Saturday April 22 from Longs Landing City Park.
♦ March 7: Bunnell and Flagler Beach hold their municipal elections.
♦ March 10: Flagler Reads Together event (the Friends of the Library's annual communal reading event that focuses on a single book and encourages everyone in the county to read it: the late Jack Clegg's "The History of Flagler County," in conjunction with Flagler County's centennial celebrations). The March 10 event, at 2 p.m. in the Doug Cisney Room at the Flagler County Public Library on Palm Coast Parkway, is a presentation by Bob Stone addressing the Cattle industry in Florida. Folklorist and media producer Bob Stone's multi-media presentation explores and celebrates the history and culture of the nation's oldest cattle ranching state from the colonial period to the 21st century. You will see and hear all aspects of Florida cattle ranching traditions including material culture such as Cracker cow-whips and unique ranch gate designs, swamp cabbage and other foodways, cowboy church and Cracker cowboy funerals, Seminole ranching past and present, occupational skills such as roping and branding, our vibrant rodeo culture, side-splitting cowboy poetry, feisty cow-dogs, and much more.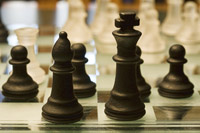 ♦ March 10-12: 2017 Florida State Scholastic Chess Championship, at the Wyndham Hotel on International Drive in Orlando. This is also the qualifier for the Denker, Barber and National Girls Tournament Champions. This year each of these 3 events are awarding a $5,000 scholarship good for any university or college in the Country to the top finisher in each event. The top finishers will also get qualifying spots in the World Youth Tournament. Online entry and more information are available at www.floridachess.org.
♦ March 22: The boy Scouts Council holds its Golden Eagle Dinner at 6 p.m. at Hammock Beach Resort, honoring Bob Cuff, now a Palm coast City council member.
♦ March 28: The Flagler Forum, the discussion group organized by Ed Fuller, hosts a panel discussion featuring Flagler County's local media, including Palm Coast Observer Editor Brian McMillan and FlaglerLive Editor Pierre Tristam, at the Hilton Garden Inn, Palm Coast, at 6:30 p.m.



Palm Coast Construction and Development Progress Reports
The following is an update of ongoing permitting, construction and development projects in Palm Coast, through Jan. 13 (the city administration's full week in review is here):
Click to access developments-feb-3-2017.pdf

Road and Interstate Construction:

Alessandro Marcello's Oboe Concerto
Previous Codas: