Today: Cooler, sunny. Highs in the mid 60s. Northwest winds 5 to 10 mph. Tonight: Clear. Lows in the mid 40s. Northwest winds 5 mph. Details here.
Drought Index is at 378.
Today's tides: at the beaches, at the Intracoastal Waterway.
Today's document from the National Archives.
The OED's Word of the Day: antithalian, adj..
The Live Community Calendar
Today's jail bookings.
Today's Briefing: Quick Links

"It is time for all who care about this nation to worry when the nation's most powerful office is used to intimidate the institutions of law that have maintained American stability and prosperity since the founding of the Republic. Trump's attack on the 'so-called' Judge Robart and his 'ridiculous' order exposes just how fragile our democracy is. The President's own nominee for the Supreme Court, Judge Neil Gorsuch, has called Trump's attacks on courts 'disheartening' and 'demoralizing.' We must be vigilant to preserve what makes America precious: the thirst for freedom and fairness, the demands of responsibility and cooperation, the solidarity that somehow makes e pluribus unum. Law is an essential medium of these virtues. If we are to keep the rule of law, it must not be a partisan question; it must not be the concern simply of lawyers. We must all defend it, passionately and whole-heartedly. Without the rule of law, we may have a 'so-called' president who has in fact become a tyrant. Fundamentally, this moment is not about Trump. It is about all of us."
–Martha Minow, dean and professor of law at Harvard Law School, and Robert Post, dean and professor of law at Yale Law School, from "Standing up for 'so-called' law," Boston Globe, Feb. 10, 2017.

Note: all government meetings noticed below are free and open to the public unless otherwise indicated. Many can be heard or seen live through each agency's website.
Daily incident reports and jail bookings are posted here.
The Inspired Mic, Palm Coast's most daring and unpredictable open mic event, is scheduled for its monthly edition at The New Europa, European Village. 101 Palm Harbor Parkway, Unit 101, Palm Coast. Doors open at 6 p.m. and presenters begin at 6:30 p.m. Tickets are $10.50 advance, available at theinspiredmicus.com, or $15 at the door. Tickets include one drink (beer, wine, soda, tea, water). The Inspired Mic is a production of Jim Farrell. This installment of the Inspired Mic is especially relevant to those who want to lend support to Europa owner Ambroz Ferrena, whose house burned down on Feb. 12.
Business After Hours, sponsored by the Flagler Chamber, combined with a grand opening at CenterState Bank, 175 Cypress Point Parkway, Palm Coast, 5:30 p.m. This event is designed to bring together members of the business community in a fun filled atmosphere, to encourage networking and interaction, while enjoying delectable food and drink. Contact: Tiffany Edwards, 386-206-0955.
Mostly useless information: We don't hear much about George F. Kennan anymore. But his influence has not diminished: the West owes "containment" to Kennan, who penned a seminal, essay-length telegram to the Truman administration, when he was a State Department diplomat, outlining how the Soviet Union should be contained, and essentially setting forth the policy soon adopted by Truman and subsequent presidents. He was also influential in the development of the Marshal Plan. He was born on this date in 1904. He died when he was 101, in March 2005, in Princeton.

In Florida and in State Government:
Note: Some proceedings below can be followed live on the Florida Channel. Most legislative proceedings can be followed through the Senate or House websites.

Foster children's driver's licenses: The House Children, Families & Seniors Subcommittee will consider a proposal (HB 217), filed by Rep. Ben Albritton, R-Wauchula, and Rep. Jennifer Sullivan, R-Mount Dora, that would make permanent a pilot program that helps foster children get driver's licenses and auto insurance. (9 a.m.)
Open-records exemptions: The House Civil Justice & Claims Subcommittee will take up a bill (HB 239), filed by Rep. Larry Lee, D-Port St. Lucie, that would create a public-records exemption for some petitions for injunctions that are dismissed. (9 a.m.)
Mail-in ballots: The House Oversight, Transparency & Administration Subcommittee will consider a proposal (HB 105), filed by Minority Leader Janet Cruz, D-Tampa, that deals with situations in which vote-by-mail ballots are rejected because signatures do not match the signatures on file with supervisors of elections. In such cases, the bill would allow voters to submit affidavits before the election to resolve the discrepancies. (9 a.m.)
Education budget: The Senate Pre-K-12 Education Appropriations Subcommittee will hold a budget workshop. (9 a.m.)
The State Board of Education will meet in Alachua County. (9 a.m., Alachua County School Board, 620 East University Ave., Gainesville.)
The Florida Supreme Court is expected to release its weekly opinions. (11 a.m.)
–Compiled by the News Service of Florida and FlaglerLive

In Coming Days in Palm Coast, Flagler and the Occasional Beyond:
♦ Feb. 17: Movie Nights by the Surf at Veterans Park, 5:30 p.m.: The movie will be shown at dusk, outdoors at Flagler Beach's Veterans Park, located at the corner of Moody Blvd. and Highway A1A right across the street from the beach! Admission is free! Be sure to bring your family & friends as well as a blanket. Food and drinks will be available for purchase as well as bounce house activities and more.
♦ Feb. 18: Two performances only, at 2:30 and 7 p.m., of "Ms. Jackie's Bus," an ordiginal stage play about the challenges of adolescence–from bullying to racism to homosexuality. At the Ormond Beach Performing Arts Center, 399 North U.S. 1, Ormond Beach, Adults $15, students $12, call the box office at 386/676-3375 and click here for details about the play.
♦ Feb. 23: County Administrator Craig Coffey is the speaker at the Flagler Chamber's Common Ground Breakfast Series at the Hilton Garden Inn, in Palm Coast. Registration begins at 7:45 a.m., breakfast is at 8 a.m. $20 for members in advance. Email [email protected] or go here for more information. Details here and here.


♦ Feb. 28: Join the Flagler County Education Foundation's 14th annual Mardi Gras gala at Halifax Plantation, 3400 Clubhouse Drive, Ormond Beach, at 6 p.m. This is one of the foundation's annual fundraisers. Tickets are $100 per person. Click here to register or call today at 386/437.7526 for event details. Get a chance to talk to Joe Rizzo, the new executive director, and learn more about Flagler county schools.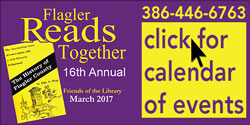 ♦ March 3: It's the kick-off of the annual Flagler Reads Together, the Friends of the Library's annual communal reading event that focuses on a single book and encourages everyone in the county to read it. This time it's as local as it gets: the book is the late Jack Clegg's "The History of Flagler County," in conjunction with Flagler County's centennial celebrations. The month-long Flagler Reads Together kicks off on March 3 at 2 p.m. at the Flagler County Public Library's main meeting room with a presentation by the Flagler County Historical Society's Sisco Deen. It's free.
♦ March 3: Fourth annual Flagler County Job Fair, from 11 a.m. to 3 p.m. at the Palm Coast Campus of Daytona State College, 3000 Palm Coast Pkwy SE, Building 3. There are more than 40 businesses registered, with more signing up daily, offering over 360 jobs. Last year over 400 job seekers attended the event, which was hosted by the Flagler County Department of Economic Opportunity, CareerSourceFV, Daytona State College and the Flagler County Chamber of Commerce. A full listing of companies is available at www.flaglercountyjobfair.com or by accessing the mobile app by searching the app store for Flagler Volusia Job Fair Plus.
♦ March 3: Flagler Beach's 10th Annual Pinewood Derby Race, as part of Flagler Beach's First Friday. Awards will be presented for the fastest and most creative designed cars in the adult and children's categories. Get your kit and then… Design it, build it, race it. Rules are here, and your registration form is here.
♦ March 4: First of two kayaking trips organized by Flagler County's Centennial Committee, this one, the Haw Creek paddle, is scheduled for launch at 9 a.m. from Russell Landing County Park. Registrations are needed in advance and registrations for the trip close on February 20th. The registration is $15 and each person registering will get a competition style tee shirt commemorating the County's Centennial. When kayakers arrive at Bull Creek Park a special lunch will be offered for participants who opt for the $11 lunch. Registration for both trips, instructions and detailed directions can be found on the www.flaglercounty.org website or on facebook at www.facebook.com/FlaglerCountyCentennial. Interested kayakers can contact the committee at [email protected]. The second trip is planned for a 9 a.m. launch Saturday April 22 from Longs Landing City Park.
♦ March 7: Bunnell and Flagler Beach hold their municipal elections.
♦ March 10: Flagler Reads Together event (the Friends of the Library's annual communal reading event that focuses on a single book and encourages everyone in the county to read it: the late Jack Clegg's "The History of Flagler County," in conjunction with Flagler County's centennial celebrations). The March 10 event, at 2 p.m. in the Doug Cisney Room at the Flagler County Public Library on Palm Coast Parkway, is a presentation by Bob Stone addressing the Cattle industry in Florida. Folklorist and media producer Bob Stone's multi-media presentation explores and celebrates the history and culture of the nation's oldest cattle ranching state from the colonial period to the 21st century. You will see and hear all aspects of Florida cattle ranching traditions including material culture such as Cracker cow-whips and unique ranch gate designs, swamp cabbage and other foodways, cowboy church and Cracker cowboy funerals, Seminole ranching past and present, occupational skills such as roping and branding, our vibrant rodeo culture, side-splitting cowboy poetry, feisty cow-dogs, and much more.
♦ March 22: The boy Scouts Council holds its Golden Eagle Dinner at 6 p.m. at Hammock Beach Resort, honoring Bob Cuff, now a Palm coast City council member.
♦ March 28: The Flagler Forum, the discussion group organized by Ed Fuller, hosts a panel discussion featuring Flagler County's local media, including Palm Coast Observer Editor Brian McMillan and FlaglerLive Editor Pierre Tristam, at the Hilton Garden Inn, Palm Coast, at 6:30 p.m.



Palm Coast Construction and Development Progress Reports
The following is an update of ongoing permitting, construction and development projects in Palm Coast, through Jan. 13 (the city administration's full week in review is here):
Click to access developments-feb-3-2017.pdf

Road and Interstate Construction:

Isaac Albéniz, Suite Iberia, Félix Ardanaz, piano
Previous Codas: