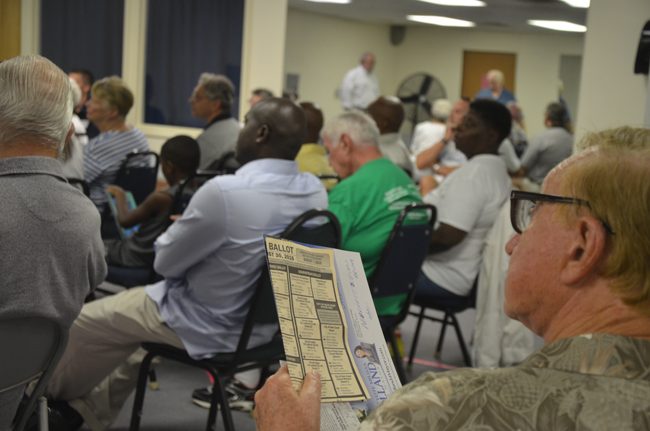 Today: Partly cloudy. Chance of showers and thunderstorms in the morning…then showers and thunderstorms likely in the afternoon. Highs around 90. South winds 5 to 10 mph. Chance of rain 70 percent. Heat index readings 98 to 102. Tonight: Mostly cloudy with a 50 percent chance of showers and thunderstorms. Lows in the mid 70s. Southwest winds 5 to 10 mph. Details here.
Today's fire danger is moderate. Flagler County's Drought Index is at 534.
Today's tides: at the beaches, at the Intracoastal Waterway.
Today's document from the National Archives.
The OED's Word of the Day: roaration, n..
The Live Community Calendar
Today's jail bookings.
Today's Briefing: Quick Links


"I see a tendency, and I don't mean to get personal with [Palm Coast City Manager Jim Landon] when he's not here to speak on his own behalf, to come off as condescending, and I don't know if aloof is the right word. I guess the best way, and I don't necessarily mean this as a criticism, years ago I heard another lawyer say about one of our colleagues, you know that guy is almost as good a lawyer as he thinks he is. That's kind of where I am on the city manager and his interactions with the general public."
–Bob Cuff, a candidate for Palm Coast City Council, speaking at a town hall the evening of Aug. 3.
Note: all government meetings noticed below are free and open to the public unless otherwise indicated. Many can be heard or seen live through each agency's website.
Common Ground Breakfast: What role does "Responsible Development" play in economic growth and development? A panel of experts representing the Flagler County Chapter of the Volusia County Association for Responsible Development (FCARD/VCARD) will share their insights during this breakfast meeting, 7:45 a.m. at the Hilton Garden Inn, 55 Town Center Blvd, Palm Coast, $20 in advance, $30 at the door. Contact Gretchen Smith to reserve a seat: [email protected].
The Palm Coast Planning and Land Development Regulation Board holds a special meeting at 5:30 p.m. at City Hall in Town Center to consider recommending changings to the tree protection, landscaping, buffer and irrigation chapter of the Land Development Code.
Matanzas High School-Bethune Cookman University Orientation for dual enrollment classes, at the Matanzas Media Center, 5 p.m.

Updated jail bookings and day and night shift incident summary reports are available here.
Football: Is it really worth it? The Observer's Jeff Dawsey writes: "High stakes, high rewards: Nothing better describes America's favorite sport, which is currently taking a severe hit. As high school football players' families prepare for another action-packed season, during the season dozens of families will have to improvise for life-altering injuries — including deaths."
New academy to train Flagler's future firefighters: "A pair of key agreements approved by the Flagler County School Board paved the way Tuesday night for a new Fire Leadership Academy at Flagler Palm Coast High School," the News-Journal's Shaun Ryan reports. "The academy will offer students a pathway toward careers in firefighting, emergency medical technologies, nursing or another medical field."
Belle Terre Swim Club Advisory Group Violates School Policy as It Plods Into Political Forums: The Belle Terre Swim and Racquet Club, created to help save the school board-owned facility, organized three political forums at the club without board permission, used a membership list to send out invitations in violation of board policy, and is not being charged the usual rate for use of facilities.
Man Thought to Be Breaking Into Van Detained By 8 Construction Workers Before Cops Arrive: Jacob Atkinson, 24, of Palm Coast, had no shoes or shirt on, smelled strongly of alcohol, and had a bloody nose, according to a sheriff's office release. He gave deputies conflicting statements about why he was in the parking lot at half past midnight and how he got there. A sheriff's office investigation shows that Atkinson had been at Scruffy's Bar earlier Tuesday night and was kicked out of the bar about six times.
5 Names Emerge as Maneuvering for Governor's Appointment for Meeker's Commission Seat Intensifies: The current likely crop of applicants is as follows: Realtor David Alfin, Ed Fuller, a close friend and campaign manager to Commissioner Nate McLaughlin, Howard Holley, the businessman who lost to Meeker as an independent in 2014, Palm Coast Mayor Jon Netts, who had previously hinted at some interest in a county commission seat and whose term on the council ends in November because of term limits, and Patrick Kelly, the former chairman of the Flagler County Chamber of Commerce and a business-community favorite.

In Florida and in State Government:
Note: Some proceedings below can be followed live on the Florida Channel.

The Florida Historical Commission meets. (9 a.m., R.A. Gray Building, 500 South Bronough St., Tallahassee.)
The Self-Insurance Estimating Conference will discuss the health-insurance program for state employees. (9:30 a.m., 117 Knott Building, the Capitol.)
–Compiled by the News Service of Florida and FlaglerLive

In Coming Days in Palm Coast, Flagler and the Occasional Beyond:
♦ Aug. 5: Sen. Travis Hutson and Rep. Paul Renner present a ceremonial $535,892 check to the Flagler County School Board at 9 a.m., representing the restoration of state funding for the Flagler County Adults with Disabilities Program. At 1 Corporate Dr, Palm Coast. At 10:30 a.m., the legislative duo will present a ceremonial $300,000 check to the Flagler County Commission, funding for Malacompa drainage improvements, at Bing's Landing, 5862 N. Oceanshore Blvd. The public is invited to attend both events.
♦ Aug. 8: The News-Journal hosts an election forum featuring the candidates for Flagler County sheriff, at the Buddy Taylor Middle School cafeteria, 6 p.m.
♦ Aug. 10: School resumes for all students in the Flagler County School District, two weeks earlier than last year, but with a new calendar that enables students to complete their coursework ahead of high-stakes exams, that ends quarters more logically with holidays, and that restores a full week's holiday around Thanksgiving, Nov. 21-25. See details here.
♦ Aug. 11: Flagler Votes Hob Nob, the Flagler County Chamber of Commerce's pre-election event for voters to meet candidates, from 6 to 8 p.m., at the Flagler County Association of Realtors' building, 4101 E Moody Blvd in Bunnell. Participating candidates must pay $150 a table for their space, but it's otherwise free to attend. As part of their free admission, attendees will enjoy light snacks, great conversation and a ticket to vote in an electronic "straw poll," the results of which will be revealed at the end of the evening. Beer, wine and water will be available for nominal cash donations.
♦ Aug. 19: The latest pre-trial hearing in the case of Florida v. Kimberle Weeks, continued from July 22, is scheduled for 3 p.m. before Circuit Judge Margaret Hudson in Courtroom 402 at the Flagler County Courthouse. Weeks now faces nine third-degree felony counts, down from 12, stemming from allegations that she illegally recorded various individuals in her capacity as supervisor of elections and in her private life. Weeks resigned that post in January 2015.


♦ Sept. 7: The Flagler Youth Orchestra holds its open house for all new or prospective students who'd like to join the county's largest (and free) music program. The open house is at the Indian Trails Middle School cafeteria at 5:30 p.m. Any Flagler student, including homes chooled students, in grades 3-12, are eligible to enroll (must be 8 years old by Sept. 1, 2016.) Students may elect to play violin, viola, cello or doublebass. One-hour classes are held at Indian Trails Middle School Mondays and Wednesdays, from 3 to 6 p.m., with students enrolled in the hour block appropriate to their skill level and schedule. The first class for first-time students is Sept. 19. (Auditions for returning students start on Aug. 22, the first class for returning students is Aug. 31.)
♦ Sept. 10: African Art: Ancient Egypt to the Contemporary World, a pair of presentations by Bertrand Green, former chairman of African American studies at Lehman College, City University of New York. The first session is from 10 a.m. to noon, the second session from 2 to 4 p.m., at the Hilton Garden Inn, Palm Coast. $20 for PCAF members, $25 for general admission. Call 386/225-4394 or email [email protected] to reserve your seat.

All pregnant Florida women can now be tested for Zika at no cost https://t.co/XMjv1AnJLr

— Tampa Bay Times (@TB_Times) August 3, 2016
What is the underlying motivation behind virtually everything Trump does? https://t.co/ReTU0UALBX

— Scientific American (@sciam) August 3, 2016
The Supreme Court Just Blocked This Trans Kid From the Bathroom of His Choice https://t.co/fySpprGqPR

— Mother Jones (@MotherJones) August 3, 2016
Meet the first private company to get the OK from the U.S. to go to the moon https://t.co/dHR6QoPUMq pic.twitter.com/CYrJFz1nBf

— CNN International (@cnni) August 3, 2016
You think Jonathan Franzen is overrated and out of touch? He's OK with that. https://t.co/5uZBMe58OQ

— Arts & Letters Daily (@aldaily) August 3, 2016

Fact-Checking the Knaves:


Palm Coast Construction and Development Progress Reports
The following is an update of ongoing permitting, construction and development projects in Palm Coast, through July 15 (the city administration's full week in review is here):
Click to access week-in-review-july1.pdf

Road and Interstate Construction:

The Last Bookstore
Previous Codas: