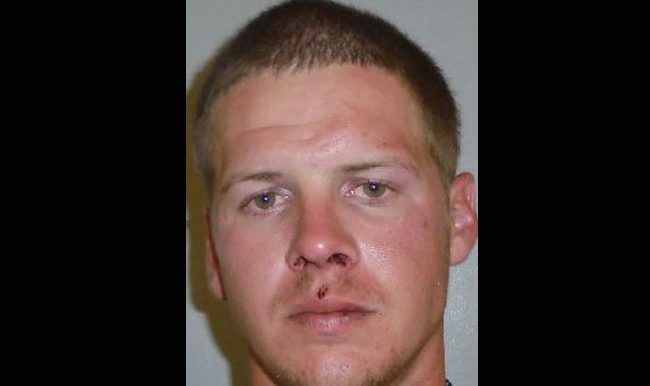 Early this morning (Aug. 3), deputies were called to a report of a burglary in progress in the parking lot at the Publix of Belle Terre Parkway and Palm Coast Parkway. They found a group of construction workers subduing a suspect until law enforcement officers arrived.
Jacob Atkinson, 24, of Palm Coast, had no shoes or shirt on, smelled strongly of alcohol, and had a bloody nose, according to a sheriff's office release. He gave deputies conflicting statements about why he was in the parking lot at half past midnight and how he got there–first that his girlfriend dropped him off there, then that he walked there, all the while repeating that he did not mean any harm, and that all he could remember was finding himself being held down by other men in the parking lot. A sheriff's office investigation shows that Atkinson had been at Scruffy's Bar earlier Tuesday night and was kicked out of the bar about six times.
"Management of Scruffy's stated that after kicking him out of their establishment, he returned and acted as if he was never kicked out. They stated that it appeared as if he was so intoxicated that he did not remember being kicked out," a deputy reported. "It was also determined that [Atkinson] received the injury I observed to his nose, while playing pool at the
bar earlier and not while being restrained by the witnesses to the incident."
The report states that Atkinson told a deputy that "several subjects had it out for him and stated that he did not mean any harm. It appeared that [Atkinson] did not know what was going on and appeared to be heavily intoxicated."
Two witnesses told deputies they observed Atkinson attempting to break into an electricians' work van belonging to Bright Future Electric of Ocoee. They said they saw Atkinson trying to push down on the driver's and passenger side windows and door handles, and attempt to open the side and rear doors to get in. That's when about eight construction workers held him down before deputies arrived.
Atkinson said "he works for an auto windshield repair company and has a similar van," the report says. He acknowledged the van in question was not his, but said he might have confused it for his own van. He had driven to Scruffy's bar. His vehicle was still in that parking lot.
Atkinson was charged with attempted burglary of an auto, boat or conveyance and loitering or prowling and transported to the Flagler County jail. He has been released on $3,500 bail. He has no prior arrest or court record in Flagler County.
Just last month, the sheriff's office–after a man left his home and fired his gun at two teens playing Pokemon Go on his street–strongly stressed in public statements that members of the public should not intervene in police matters, but rather call police and let deputies handle the issue. A specific directive was to, "If at all possible, be an excellent witness for law enforcement by providing valuable information on what is occurring."
The sheriff spoke differently today.
"While we don't suggest people take matters into their own hands, especially using force, this was a good example of people being alert to their surroundings and notifying law enforcement that a suspect was trying to break into a vehicle," Sheriff Jim Manfre was quoted as saying in the release. "We need the community to help us help you."