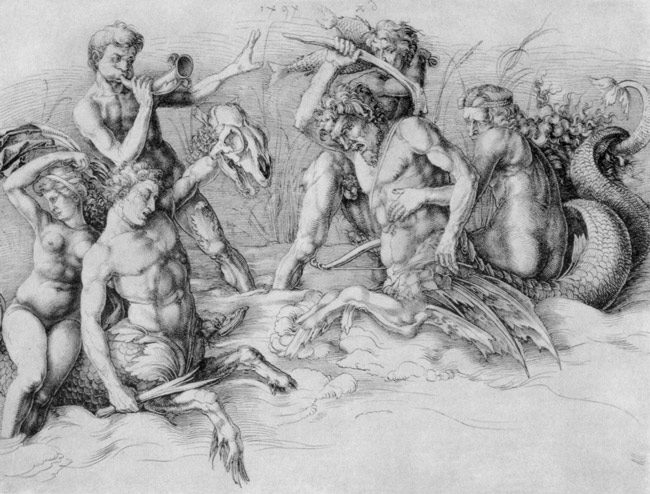 Weekend: Unsettled most of the weekend with clouds and chances of thunderstorms, muggy, highs in the mid 80s, lows around 70. Details here.
Today's fire danger is moderate. Flagler County's Drought Index is at 157.
Today's tides: at the beaches, at the Intracoastal Waterway.
Today's document from the National Archives.
The OED's Word of the Day: makiwara, n..
The Live Community Calendar
Today's jail bookings.
Today's Briefing: Quick Links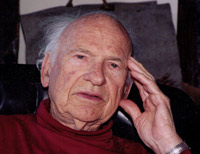 "In the hands of [racist Darwinian missionary Josiah] Strong [Theodore] Roosevelt, and other expansionists, Manifest Destiny became practically indistinguishable, as a concept, from the imperialism being practiced by the nations of Europe. The contrast with the dominant ideas of a century earlier was striking. In the early days of the American republic, with France setting all Europe aflame with revolution, men like Thomas Paine and Thomas Jefferson could well hope that democracy was destined to spread throughout the world. Theirs was a belief in the power of ideas-particularly in the idea of liberty. Theodore Roosevelt, President in an era when Europeans were using force to subjugate much of the globe, was wedded instead to the idea of power."
–James MacGregor Burns, in "The Workshop of Democracy" (Knopf, 1989).
Note: all government meetings noticed below are free and open to the public unless otherwise indicated. Many can be heard or seen live through each agency's website.
Friday: Food Revolution Day at the Rymfire Elementary cafeteria.
Saturday: The University Women of Flagler present $17,000 in scholarships to be the best and brightest of the local women and girls from Flagler Palm Coast High School and Matanzas High School. Hilton Garden Inn, Palm Coast, 11 a.m.
Saturday: Grand opening of the Calypso Fine Art Gallery, co-owned by former Flagler County Artist of the Year Weldon Ryan and his wife Richlin Burnett-Ryan, both whose works will be featured. 6 to 8 p.m., 4601 East Moody Blvd., Marvin's Garden Business Center.
Saturday: "Transparency," a new show opens at Salvo Art Project featuring Krystyna Spisak-Madejczyk. 6 p.m. at Salvo Art Project located behind Naturescapes, 313 Old Brick Rd. The show will be accompanied by a Jazz Mix created by Andrew Trotter and a live Performance by Caroline Drive at 8. Wine and hors d'oeuvres will be served. $10 entry at the door.
Saturday, Sunday: Choral Arts Society Spring Concert: a wonderful concert of music from the Broadway stage with many of your favorites. There is no admission charge, but tax-free donations are accepted to assist in providing scholarships to local college-bound students. St Thomas Epsicopal Church, 5400 Belle Terre Parkway, Palm Coast, 7 p.m. Saturday, 3 p.m. Sunday.
Sunday: Washington Oaks Photo Adventures, Join Instructors Ed Siarkowicz and Lisa Fisher for this one of a kind photography course showcasing the best Washington Oaks Gardens State Park as to offer. Utilizing DSLR and/or Smartphone with Android or iPhone operating system, both novice and professional students will be lead through a variety of settings to enhance their photographic skill. The cost is $150 per student which includes park entry. Registration is required due to limited spaces. Call 386-446-6783 to register or for further information. Washington Oaks Gardens State Park, 6400 North Oceanside Blvd., Palm Coast.
Sunday: Dance-for-Hope Supporting Hope for Help Foundation: Dance-for-Hope is a dance fitness fundraising event with professional dance instructors Michaela King and Dalia Irwin of "BAILE EXPLOSIVO," who will lead participants in dance styles such as Salsa, Bachata and other routines using their own choreography, while having fun and raising money for the Hope to Help Foundation. The H2H Foundation, which was started by Dr. Karen Toppi, is a non-profit organization serving women in Flagler County diagnosed with Breast and Gynecological cancer. Their mission is to improve and sustain the health and well-being of a woman with cancer by providing emotional support, education, and partnering her physician's medical treatment with holistic services. No Dance Experience Needed. Wear your workout clothes and let them bring out the Dancer in You. This event is open to everyone. Tickets are $15 online here.

Updated jail bookings and day and night shift incident summary reports are available here.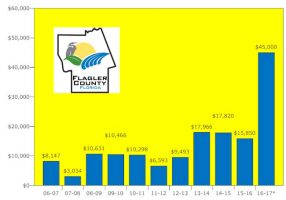 Against 1 Objection, Flagler Commissioners Want to Increase Their Travel Budget 184%: For the past 10 years, the combined travel and conference budget for the five Flagler County commissioners has averaged $11,000 a year. In the current year, the travel budget was set at $15,850. The proposed budget for next year? $45,000—a staggering 184 percent increase.
At Sheriff's Ceremony for Fallen Officers, a Call For Self-Reflection About Tradition of Service: Speaking to an audience of about 50 of the occasion as always bittersweet, sheriff's detective Jon Dopp spoke of a heavy heart for the fallen and for their families.
Pressured to Defy Obama Order on Transgender Bathrooms, Scott and Bondi Stay Mum So Far: Social conservatives, angered by the federal government's "guidance" that school districts should allow transgender students to use restrooms and other facilities of their choice, are pressuring Gov. Rick Scott and Attorney General Pam Bondi to push back against the initiative.
In Victory for Flagler Beach, Dreaded and Un-Scenic A1A Signs Will Not Spear the City: The signs, fruit of a $230,000 grant that never got its proper public hearings in the county or the city, have been going up elsewhere along A1A in Flagler County this week. But after an intense campaign by city commissioners that reflected almost unanimous public outrage against the signs, and the personal intervention of the state Department of Transportation's secretary, the A1A Scenic and Historical Byway group putting up the signs was barred from planting them in Beverly Beach and Flagler Beach.
Live Briefs:

In Florida and in State Government:
Note: Some proceedings below can be followed live on the Florida Channel.

Friday: The Florida Board of Education takes up a series of issues, including performance-funding reports for five state colleges and charter-school appeals from Broward and Palm Beach counties. (9 a.m., DoubleTree by Hilton, 5780 Major Blvd., Orlando.)
Friday: The Florida Department of Economic Opportunity is scheduled to release April unemployment numbers. (10 a.m.)
Friday: The Florida Commission on Access to Civil Justice meets in Duval County. Supreme Court Chief Justice Jorge Labarga formed the commission to find ways to increase access to the civil-court system for low- and moderate-income Floridians. (1 p.m., Marriott Jacksonville, 4670 Salisbury Road, Jacksonville.)
Saturday: Julian Castro, secretary of the U.S. Department of Housing and Urban Development, is slated to speak at the Florida Democratic Party's "Swing State Blue Gala." (7 p.m., Rosen Centre Hotel, 9840 International Dr., Orlando.)
–Compiled by the News Service of Florida and FlaglerLive

In Coming Days in Palm Coast and Flagler:
♦ May 26: Flagler County Commissioner Nate McLaughlin hosts a town hall meeting at 5:30 p.m. at the Hidden Trails Community Center, 6108 Mahogany Blvd. Bunnell.
♦ May 28-29: Flagler Palm Coast High School Class of 1996's 20-Year Reunion. The event combines a fundraising event for the Josh Crews Writing Project through the Education Foundation and two events, one for the graduates and a family picnic. A dinner for alumni and guests at Oceanside Country Club is planned for Saturday and a family picnic is planned for Sunday at Herschel King Park. Graduates are asked to provide gift certificates, goods and products or a donation to be part of a silent auction towards the Writing Project and to register for the celebrations. For more information go to www.fpc1996.com or call Magda at 386-986-9300 or Carl Laundrie III at 386/237-4845.
♦ May 30: Flagler County hosts a Memorial Day Ceremony at 10 a.m., in front of the Government Services Building at 1769 East Moody Blvd., Bunnell. The ceremony features Army Major Thomas K. Hall, the Senior Army Instructor and Rifle Team Coach at Matanzas High School. Major Hall served as the Secretary of the General Staff for the Assistant Commandant of the US Army Command and General Staff College. He was a Battery Commander in the 1st Battalion 77th Field Artillery which was in direct support of the 194th Armor Brigade.
♦ June 1: Flagler County Emergency Management makes a presentation at the inaugural "Hurricane Preparedness Breakfast" being hosted by Flagler Volunteer Services. The breakfast will be held from 8:30 to 10:30 a.m. June 1 at the Hilton Garden Inn.
♦ June 2: The Flagler County Young Republicans Club host a forum featuring the six Republican candidates running for sheriff in the Aug. 30 primary. The forum is at the Hilton garden Inn, 55 Town Center Blvd., Palm Coast, at 6 p.m. It features Don Fleming, John Lamb, Jerry O'Gara, Rick Staly, Mark Whisenant and Christopher Yates.


♦ June 4: Flagler County's Democratic Executive Committee holds a potluck picnic at Hershel King Park at 1000 Grady Prather Jr. Cove in Palm Coast starting at noon, with honorary guest James Canfield, first mayor of Palm Coast. Plenty of children's activities, a dunk tank, ice cream truck, and a chance to meet Democratic candidates. Free admission includes hot dogs, baked beans and coleslaw.
♦ June 7: A 1:30 p.m. hearing is scheduled in the case of Anna Pehota, accused of second-degree murder in the shooting death of her husband on Sept. 23, 2015, in the Hammock. Her trial was scheduled for April 18, but her attorney, Ray Warren, was granted a delay so he could explore Pehota's memory issues, which could play a deciding role in the handling of her case. The results of that inquiry are to be the subject of this hearing.
♦ June 8: The Public Safety Coordinating Council meets at 8:45 a.m. at the Emergency Operations Center in the Government Services complex, behind the Government Services Building.
♦ June 14: Dr. Bill Mefford, Faith Outreach Specialist for Americans United for Separation of Church and State, leads a discussion entitled "Religion and Partisan Politics Don't Mix," hosted by the All Flagler Democratic Club at 7 p.m. at the African American Cultural Society, 4422 US 1 North, Palm Coast. Call 386-447-7030 for best directions. This program is free, open to the public, all are welcome, no advance arrangements are necessary.
♦ June 16: The fourth annual commemoration of the largest mass arrest of Rabbis in U.S. History, an event that took place in St. Augustine on June 18, 1964, will be held on Thursday, June 16, at 7 p.m. in the Gamache-Koger Theater in the Ringhaver Student Center at 48 Sevilla Street in St. Augustine on the campus of Flagler College. The 90-minute event will include the reading of the letter written by the Rabbis in the Flagler County Jail and a video of the forum held with the surviving rabbis who gathered in St. Augustine in June, 2014. This event is free, all are welcome, no advance arrangements are necessary. Call (904) 819-6365 for best directions.
♦ July 20: The Flagler League of Cities, a gathering of the county's mayors, meets at noon at Flagler Beach City Hall.

Watch: The Daily Show's Trevor Noah points out the total absurdity of anti-transgender hysteria https://t.co/n5bOmy4Jb3

— Vox (@voxdotcom) May 20, 2016
Agreement that could lead to U.S. troops in Libya could be reached "any day"https://t.co/1IsrvXXtrz

— Washington Post (@washingtonpost) May 20, 2016
This chemical reaction revolutionized farming. It's also destroying the planet. https://t.co/Z5MQeZZTky pic.twitter.com/qhdJhHclC6

— Mother Jones (@MotherJones) May 20, 2016
Time runs short for GOP bill meant to address mass shootings: https://t.co/3WEN4ymq8g pic.twitter.com/wTFftMSk15

— The Hill (@thehill) May 20, 2016
The Smithsonian asked Muslim American children to read Japanese internment-camp letters https://t.co/5zngPo0God pic.twitter.com/H9kskbpfhe

— Los Angeles Times (@latimes) May 20, 2016
The Palestinians are not a "partner" for peace? A cheap attempt at shaming – Roy Isacowitz https://t.co/1q27AGstnU pic.twitter.com/k7WI6peORX

— Haaretz.com (@haaretzcom) May 20, 2016

Fact-Checking the Knaves:


Palm Coast Construction and Development Progress Reports
The following is an update of ongoing permitting, construction and development projects in Palm Coast, through May 11:
Click to access week-in-review-may131.pdf

Florida Agricultural Museum Summer Camps: Become a junior farmer at the Florida Agricultural Museum this summer! Junior farmers will learn about farm life, forestry, and Florida history. Participate in arts & crafts, farm animal care, Florida fauna/flora education, fun and games. Sessions are all 10 a.m. to 4 p.m., $175 per session and are as follows:
1st) June 7-9
2nd) June 14-16
3rd) June 21-23
4th) June 28-30
5th) July 5-7
6th) July 12-14

Road and Interstate Construction:
Old Kings Road construction pattern altered May 23: The traffic pattern at the intersection of Old Kings Road and Forest Grove Drive will be altered Monday (May 23) to accommodate ongoing construction there. "Traffic will be directed on to the new road alignment, and motorists will be prohibited from traveling directly from Old Kings Road to Forest Grove Drive," said Flagler County Engineer Faith Alkhatib. "This is necessary to allow the existing intersection to be reworked to the final configuration." There will be temporary, intermittent lane closures before 7 a.m., from 8:30 to 1:30 p.m. and possibly after 3 p.m. if the work has not been completed. These closures are scheduled to prevent the interference in school transportation traffic. A formal ribbon cutting ceremony will be scheduled for June.

Schostakovich's Best Waltz, for Guitars
Previous Codas: