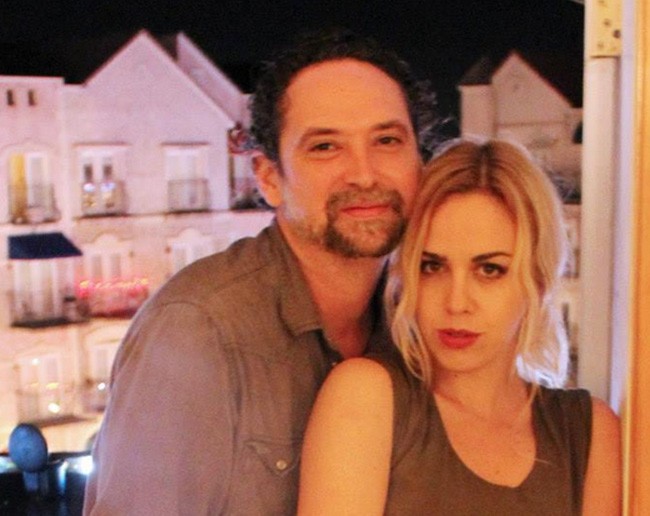 Today's weather: partly cloudy, High 83, low 71. Details here.
Today's fire danger is Low. Flagler County's Drought Index is at 500
The weather in Timbuktu, Mali: high 110, low 79. Details.
The OED's Word of the Day: unpublish, v..
The Live Community Calendar
Today's jail bookings.
Today's Briefing: Quick Links

Note: all government meetings noticed below are free and open to the public unless otherwise indicated.
The Flagler County Parks and Recreation Board is scheduled to meet at 10 a.m. in the first floor conference room of the Government Services Building in Bunnell. It has no posted agenda. Call 313-4001 to inquire.
Friends of A1A Scenic Byway meet at 2 p.m. at the Coastal Policy Center in Marineland. Paul Fletcher is making a presentation on Ponte Vedra Beach Development, Danielle Anderson, who chairs the group, will sump up the ​Environmental Education Fair. The agenda is here.
Bunnell Elementary School Kindergarten Graduation, in the school cafeteria, Building 11, 6 p.m.
Ribbon-cutting at Huntington Village 55-and-over community: The Flagler Chamber is hosting a ribbon cutting at the 327 home community, 6 Huntington Place, Ormond Beach, 4 p.m.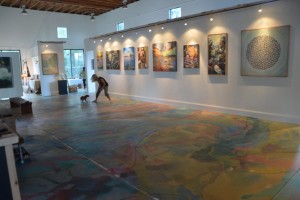 JJ Graham at Salvo Art Project Proposes to Co-Owner Petra Iston During Gallery Opening: It appears that JJ Graham, the perpetually ruffled and besmoked owner of Flagler County's most unpredictable art galley, refuses to lose his touch for showmanship. He combined a bespectacled art opening Saturday (it's called "3 Lunettes," French for eye-wear) with a fund-raiser for the victims of the Nepal earthquake, then shook the earth beneath his lover's feet by dropping a knee and proposing to her: co-owner Petra Iston, who's provided the gallery's most renewable energy of late, accepted. The News-Journal's Danielle Anderson buried the lead in her report on "3 Lunettes" Tuesday as she described art before love. The show, incidentally, features the work of Iston, Graham, and resident artist Harry Messersmith. You can see pictures at the exhibition here. Salvo is located at 313 Old Brick Road, on the grounds of Nature Scapes. Open Monday through Friday, 12-5 p.m. and on weekends by appointment.
The Palm Coast City Council talked raises for itself during a workshop Tuesday, but the idea got less than an enthusiastic response from a council concerned with its image, and a lame-duck mayor who may see no reason to tarnish his last months with a vote that will only favor the wallets of his successor. Council member Steven Nobile put forth the idea, but more as a messenger for Ralph Lightfoot, the local Democratic Party chairman.
David Snelgrove, the double-murderer of Glyn Fowler, 84, and his wife, Vivian, 79, of Palm Coast's B-Section, was back in Flagler court Tuesday, 15 years after the murders, arguing that he shouldn't be on death row because his attorney didn't represent him well at trial, namely because his low IQ should have been reason to save him from execution. He's not likely to win the argument, though his capital conviction would have never carried in any other state, including Alabama: in both instances, a small majority of jurors voted to convict him to death. In all other states, unanimity is required for such a sentence. Even in Alabama, a supermajority of 10 jurors out of 12 is required.
Flagler School District's Mentor Program Marks 10th Year: The program for at-risk black youths, started by Jim Guines 10 years ago, marked its 10th anniversary with a celebration of mentors and mentees last week at First Baptist Church of Palm Coast, with Embry-Riddle Dean of Students Jason Glenn as keynote speaker. "This was, by far, the most outstanding of all the award ceremonies to this day," John Winston, who's kept the program going for 10 years, told the Palm Coast Observer. "I see more awareness in the children. They're starting to realize that all we've been telling them is starting to come to fruition. I had to bury a 25-year-old last week. He drifted away from us. It broke my heart. To lose a young person really destroys you, so we're going to keep pushing, and if we can save one, we're going to save one." The Observer notes: "While there are great things to celebrate about the program, an ongoing issue is the lack of middle-age mentors for the kids. Winston believes those with jobs and kids are hesitant to give up more time to other kids, so they are compelled to recruit retirees."
A week before the special session begins in Tallahassee, the Florida Senate proposed a compromise to end the budget impasse over health funding for the poor. But swiftly, Gov. Rick Scott and the Florida House rejected the proposal, as they continue to refuse to have anything to do with Obamacare funding–even if it would broaden access to health care to more than 1 million Floridians who currently go without.

Judge J. David Walsh is in juvenile hearings, pre-trials and dispositions all day, in Courtroom 401. Juvenile cases are generally not open to the public. Judges Melissa Moore-Stens and Michael Orfinger are in various hearings throughout the day in Courtrooms 401 and 301.
A foreclosure sale is scheduled for 11 a.m. in the civil department lobby at the courthouse.

Note: Most proceedings below can be followed live on the Florida Channel.

The Enterprise Florida Board of Directors will hold committee meetings and an orientation session for new members. (First committee meeting starts at 10 a.m., Grand Hyatt Tampa Bay, 2900 Bayport Dr., Tampa.)
–Compiled by the News Service of Florida

The Nebraska Legislature may vote today to override the governor's veto and abolish the death penalty.
Rick Santorum is expected to do it again today: he's joining the race for the 2016 presidency.
More heavy rain is expected in Texas as rescue crews continue searching for 13 missing people.

Daytona State College just won a 2nd Top-10 ranking for its online bachelor's degrees – this time for military veterans, coming in at No. 2 in the U.S. in 2015, ranked by U.S. News & World Report. DSC just graduated 292 vets on May 18 – the largest number to date. This year DSC enrolled nearly 1,400 veterans across its five campuses in Volusia and Flagler counties. DSC Interim President Tom LoBasso says, "Our faculty and staff are honored to serve our veterans, whether online or in person, and help them complete their programs." In January this year, Daytona State also earned the No. 2 rating in the U.S. News overall best online bachelor's program rankings. It was the third straight year the college placed in the top 10 with its fully online Bachelor of Applied Science in Supervision and Management, Bachelor of Science in Engineering Technology, and Bachelor of Science in Information Technology. Adding to the DSC appeal, the college in 2014 joined an elite list of Military Friendly Schools designated by the veteran-owned company Victory Media, which recognizes colleges, universities and trade schools that are doing the most to embrace America's service members and veterans as students. Watch:
Students at Belle Terre Elementary School and Flagler County teacher of year, Edward Wolff, will showcase their Growing Energy garden to classmates, parents, school and city officials on Friday, May 29, from 10 to 11:30 a.m.. The Growing Energy garden allows students to explore electrical, solar and wind energy concepts and apply them to their everyday lives. Students will demonstrate how the energy garden works including the new installation of solar panels, a weather station, water recovery station and wind turbine. Edward Wolff was awarded an FPL teacher grant for the third year in a row, which has helped fund and expand his students Growing Energy garden. The goal of the FPL grants is to increase students' interest in STEM careers.
Flagler County holds west side meeting about CR 302 improvements, town hall meeting: Flagler County engineering staff and a representative of Halifax Paving will attend Commissioner Nate McLaughlin's town hall meeting on Thursday, May 28 in Daytona North. "We are very pleased that County Road 302 will be repaved soon," McLaughlin said. "We've been working to get this project done for three and a half years." The meeting will be held from 5:30 to 6:30 p.m. at the Hidden Trails Park located at 6108 Mahogany Blvd. County Road 302 will be closed between State Road 100 and County Road 302 from June 8 through Aug. 17. A detour will take motorists further west on State Road 100 to its direct connection to County Road 305. The $2 million project is being 100 percent funded by the Florida Department of Transportation. "Our staff does a great job finding grant money to get these projects completed for the benefit of the community," Couty Administrator Craig Coffey said. "We are able to get a lot of big projects done without a financial impact to our residents." Flagler County School Board member Andy Dance and Flagler County Sheriff's Office Chief Deputy Jeffrey Hoffman will also be in attendance to answer questions and address concerns. The meeting is open to all residents of Flagler County.

Palm Coast Construction and Development Progress Reports: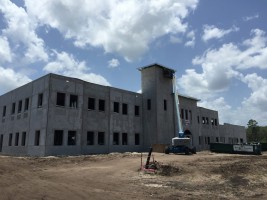 The following is an update of ongoing construction and development projects in Palm Coast, through May 20:
Island Walk Shopping Center (Former Palm Harbor Shopping Center), 80 percent done: A 3rd Grease Interceptor has been installed behind the new buildings on the west end of the project. Three sewer wyes have been installed to serve the Grease Interceptors.
Palm Coast Parkway Six-Laning is 76 percent done: Widening on the north side of the parkway continues. Landscape irrigation work continues. Fence installation on north side of bridge is complete. Fire hydrant at Florida Park Drive has been relocated. Hydrants installed at Palm Coast
Parkway on water main heading North and East. Contractor continues with dig locates in areas of tie in points for the new 12″ and 16″ water mains.
Royal Palms Parkway Improvements, 96 percent done: Finished remainder of paving. Grading for sod at roadway edge. Sodding at Rickenbacker and seeding on south side of Royal Palms.
Holland Park, 18 percent done: Demolition of remainder of park roadway.
Palm Coast City Hall at Town Center, 47 percent done: Installation of drywall of interior walls has begun. Mechanical duct work installation and electrical conduit rough-in and fire sprinkler piping continues. Installation of exterior windows and exterior wall trim has begun. See ongoing images of construction here.
Shops at Pine Lakes Convenience Store, 65 percent done: The package Pump Station has been set and plumbing continues. Contractor has installed the Force main into the existing manhole on Wynnfield Drive. The road lane closure for the manhole core to install the force main was completed
and the road has been repaired.

FIFA Corruption Scandal: "The world governing body of football, Fifa, was plunged into an unprecedented crisis on the eve of its congress in Zurich after Swiss authorities arrested a string of officials in a dawn raid and opened criminal proceedings over the awarding of the 2018 and 2022 World Cups. More than a dozen plainclothed officers descended on the five-star Baur au Lac hotel on Wednesday, where officials had gathered for Fifa's annual meeting. The arrests were made on behalf of US authorities, after an FBI investigation that has been ongoing for at least three years. The US Department of Justice said authorities had charged 14 officials, nine of whom are current or former Fifa executives. Those arrested in Zurich face extradition to the US. Hours later, Swiss federal prosecutors said they had opened criminal proceedings in connection with the award of the 2018 World Cup to Russia and the 2022 tournament to Qatar. The decisions have been shrouded in claims of bribery and corruption ever since the vote in December 2010." From the Guardian.
Abduction, Torture and Summary Killings of Palestinians by Hamas Forces During the 2014 Gaza/Israel Conflict: Hamas forces carried out a brutal campaign of abductions, torture and unlawful killings against Palestinians accused of "collaborating" with Israel and others during Israel's military offensive against Gaza in July and August 2014, according to a new report by Amnesty International. 'Strangling Necks': Abduction, Torture and Summary Killings of Palestinians by Hamas Forces During the 2014 Gaza/Israel Conflict highlights a series of abuses, such as the extrajudicial execution of at least 23 Palestinians and the arrest and torture of dozens of others, including members and supporters of Hamas's political rivals, Fatah. "It is absolutely appalling that, while Israeli forces were inflicting massive death and destruction upon the people in Gaza, Hamas forces took the opportunity to ruthlessly settle scores, carrying out a series of unlawful killings and other grave abuses," said Philip Luther, director of the Middle East and North Africa Program at Amnesty International. "In the chaos of the conflict, the de facto Hamas administration granted its security forces free rein to carry out horrific abuses including against people in its custody. These spine-chilling actions, some of which amount to war crimes, were designed to exact revenge and spread fear across the Gaza Strip." Many of these unlawful killings were publicly billed as attacks against people assisting Israel during the July and August 2014 conflict as part of an operation, codenamed "Strangling Necks," to target "collaborators." However, in reality, at least 16 of those executed had been in Hamas custody since before the conflict broke out. Many had been awaiting the outcome of their trials when they were taken away from prison and summarily executed. Hamas forces also abducted, tortured or attacked members and supporters of Fatah, their main rival political organization within Gaza, including former members of the Palestinian Authority security forces. Not a single person has been held accountable for the crimes committed by Hamas forces against Palestinians during the 2014 conflict, indicating that these crimes were either ordered or condoned by the authorities. From Amnesty International.
Marco Rubio the hawk turned dovish on Syria in 2013: "At the heart of Marco Rubio's presidential campaign rollout has been the message that, on foreign policy, he is the toughest hawk in the Republican primary field. He calls for more Pentagon spending, vows to hunt and kill terrorists, and trashes President Obama for setting red lines he doesn't observe. But at one of the most hawkish moments of Obama's presidency, Rubio was a dove. In September 2013, as Obama prepared to enforce his most famous red line and strike Syria's regime for using chemical weapons, Rubio opposed giving Obama the authority to do so. Rubio has said that Obama didn't have a clear plan for Syria. But his position disappointed some fellow conservatives who expected him to be an ally on the vote. Democrats say it proved that the Florida senator puts politics ahead of his principles. The episode is also significant in light of Rubio's current rhetoric: Rubio often complains that Obama — who ultimately decided not to strike Syria after reaching a deal to remove its chemical arsenal — has damaged America's credibility abroad through indecisiveness. During an appearance on CBS' "Face the Nation" last September, Rubio criticized Obama for "setting red lines that weren't enforced" and causing "reputational damage" to the U.S., and in a recent speech to the Council on Foreign Relations, Rubio pledged to use American "strength" to promote democracy and human rights." From Politico.
Robert DeNiro's Commencement Speech to NYU's Tish School of the Arts: "You've Made It. And, You're Fucked." From Vanity Fair: "While some parents were undoubtedly clutching their pearls at the profanity, the majority of the audience (and even the professors standing behind the original Raging Bull) roared their approval of the blunt comment. De Niro wasn't trying to be harsh, just painfully honest in his address to the crowd of aspiring actors, dancers, writers, directors, photographers, and filmmakers. He pointed out that the nursing graduates "all have jobs," the business graduates "are covered," and the law students they're employed, "And if they're not who cares? They're lawyers," said De Niro, with perfect comedic timing." More from the speech: When it comes to the arts, passion should always trump commonsense. You weren't just following dreams, you were reaching for your destiny. You're a dancer, a singer, a choreographer, musician, a filmmaker, a writer, a photographer, a director, a producer, an actor, an artist. Yeah, you're fucked. The good news is that's not a bad place to start. Now that you've made your choice or rather succumbed to it, your path is clear, not easy but clear. You have to keep working. It's that simple. You got through Tisch, that's a big deal. Or put it another way: You got through Tisch, big deal. Well, it's a start. On this day of triumphantly graduating, a new door is opening for you: a door to a lifetime of rejection. It's inevitable. It's what graduates call the real world. You'll experience it auditioning for a part or a place in a company. It'll happen to you when you're looking for backers for a project. You'll feel it when doors close on you while you're trying to get attention for something you've written or when you're looking for a directing or choreography job. How do I cope with it? I hear that Valium and Vicodin work. Eh, I don't know. You can't be too relaxed and do what we do, and you don't want to block the pain too much. Without the pain, what will we talk about? Though I would make an exception for having a couple of drinks if hypothetically you had to speak to a thousand graduates and their families at a commencement ceremony. Excuse me. [He jokingly ducks under lectern.]" From Qartz. Watch the whole speech:

Road and Interstate Construction: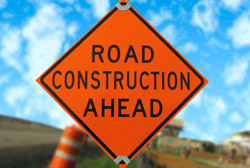 Palm Coast: Palm Coast Parkway between Cypress Point Parkway and Florida Park Drive. IMPACTS: Lane shifts and closures will occur and this may cause traffic congestion on this already busy roadway. Most construction work will occur between 9 p.m. and 7 a.m. though weather and unforeseen issues may adjust the schedules. This project will be complete by December 2015."
Sections Royal Palms Parkway will be closed for construction between Belle Terre and just past Rymfire Drive. The lane closures will occur Wednesday, May 27th through Friday, May 29th between 9am and 3pm. Both lanes will be open each evening.
Matanzas Parkway Bridge at I-95 Matanazas Parkway at the I-95 bridge will close on June 5 at 7 p.m. for the I-95 interchange project and will remain closed until Aug. 9. Detour will be via Old Kings Road. Details here.
Volusia: I-4 Widening from SR 44 to east of I-95, Monday and Friday, 7:00 a.m. – 5:00 p.m., Eastbound/Westbound shoulder closing. Sunday through Thursday, Eastbound and Westbound lane closures as needed from 8 p.m. to 6 a.m. Thursday, 9:00 p.m. – 5:30 a.m. EB road closure between Canal St./SR 44 and I-95 with detour at US 92 exit ramp.Motorists should be aware of traffic shifts near Canal St./SR 44.
Traffic will be detoured at State Road (SR) 44/Canal Street, for reconstruction work May 12-14: The Florida Department of Transportation (FDOT) is providing project support to Florida East Coast Railway (FEC) to replace the current crossing surface. Motorists will encounter detours beginning at 6 a.m. Tuesday, May 12, and ending at 6 a.m. Thursday, May 14. The SR 44/Canal Street detours are: Eastbound SR 44/Canal Street: North on North Myrtle Avenue, East on Washington Street, South on US 1/North Dixie Parkway. Westbound SR 44/Canal Street: North on US 1/North Dixie Parkway, West on Washington Street, South on North Myrtle Avenue, West on SR 44/Canal Street. For the most up-to-date information on road and lane closures, go to www.cflroads.com and click on 'Lane Closures.'
The public is invited to learn more about the I-4 Ultimate project during a public information open house, and how the project is transforming Altamonte Springs, Longwood and Maitland, as well as the entire 21-mile corridor. The open house is scheduled Thursday, May 28, from 5 p.m. to 8 p.m. at the RDV Sportsplex – Magic Gym, located at 8701 Maitland Summit Boulevard.
County Road 304 Project Map and Description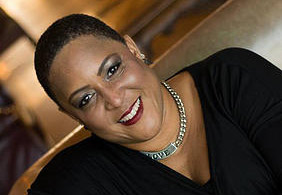 Palm Coast Arts Foundation Concert and Fund-Raiser, May 29, 7 p.m. at the Grand Club at Pine Lakes Golf Club: Vocalist Amy Alysia is a performer who works tirelessly to claim her place as one of the premier vocalists in central Florida. Always known for her soulful, heartfelt ballads, impressive vocal range & unique approach to a song leaves her audience wanting more. Amy entertains her audience with Smooth & Jazz Standards, R&B & Soul and isn't afraid to diversify her song selections. Tickets are $15 for arts foundation members, $20 for non-members. To buy, call 386/263-2991 or visit the foundation's website here.

Free Breakfast and Lunch for All Flagler County Children Through Seamless Summer Freeding:  The Flagler County Schools, Food & Nutrition Services Department is please to announce that free breakfast and lunch meals will be made available at no charge to all children in the community who are 18 years of age and under. Free meals will be available at the following sites from June 8th – August 14th and closed on July 3rd. Closed site means it's just for children who are attending camp through the school location. An open site means anyone can come in and have a meal. Menus available online at FlaglerSchools.Nutrislice.com.
Bunnell Elementary – Closed Site: 800 East Howe Street Bunnell, Breakfast from 8:30 a.m. to 9:30 a.m., Lunch from  11 a.m. to 12:30 p.m. 
Imagine School – Open Site:  775 Town Center Blvd Palm Coast,  Breakfast from 9 to 9:30 a.m., lunch 12:30 p.m. 
Versie Lee Mitchell Community Center – Open Site: 405 E Drain Street,  Bunnell, Breakfast, 8:45 a.m. to 9:15 a.m., Lunch, 12:30 p.m.
Wadsworth Elementary School – Open Site: 4550 Belle Terre Parkway Palm Coast, Breakfast, 8 a.m to 9:45 a.m. , Lunch, 11 a.m. to 12:30 p.m.
Reverse Church – Open Site: 4601 East Moody Blvd. Bunnell, Breakfast, 8:30 to 9:30 a.m., Lunch, 11:30 a.m. to 12:30 p.m.
For more information call or email Amy Holstein, Food Service S Specialist for Flagler County Schools, 386-437-7526 x1305 or by email, [email protected]
"The Art of Selling", a business seminar, will be offered by the Palm Coast Business Assistance Center from 6-8 p.m. Wednesday, June 17. Registration is now under way. The seminar will be held at City of Palm Coast offices, 160 Cypress Point Pkwy., Suite B106. A $10 early-bird, reduced registration fee is available now through May 31. From June 1 to 17, the registration cost is $15. For enrollment information, contact the Palm Coast BAC at 386-986-2499 or log onto www.PalmCoastBAC.com. Seminar Topics will include: The 7 steps of the sales process, how to improve the odds of making quota, preparation approach and discovery, and so on. The seminar will be taught by Ray Peter, Area Manager of the Florida Small Business Development Center. The Palm Coast BAC is a partnership between the City and the SBDC hosted by the University of Central Florida.


Blood donations are urgently needed. Patients in our local hospitals are in need of blood transfusions, and the need for blood does not take a holiday. That's why OneBlood is asking people to donate immediately.
Big Red Bus schedule in Flagler-Palm Coast:
Friday May 29th Zaxby's, 180 Cypress Edge Drive, Palm Coast
Saturday May 30th Walmart Supercenter, 174 Cypress Point Parkway, Palm Coast
Sunday May 31st Lowe's, 315 Cypress Edge Drive, Palm Coast

Cultural Coda: