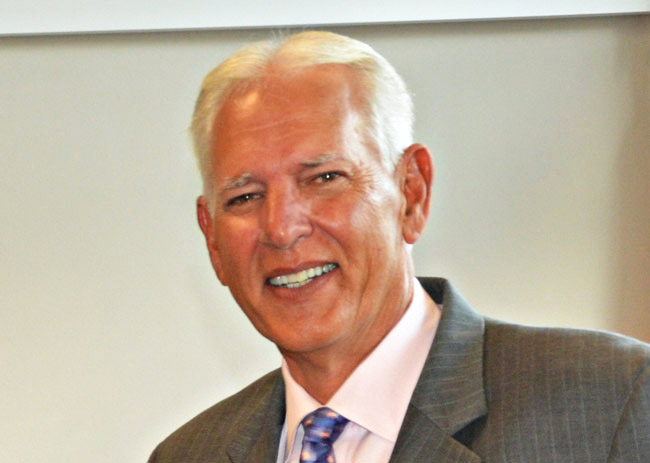 John Pollinger is a Republican candidate for Flagler County Sheriff, running in the Aug. 14 primary election. He was a police chief in Middletown, N.J., for eight years. He retired to Palm Coast in 2008. This is his first run for political office.
Three Republicans, including incumbent Don Fleming, and two Democrats, are in the running. The winner of each primary will face off in the general election on Nov. 6.
In these races, only registered Republicans may vote in the Republican primary, and only Democrats may vote in the Democratic primary. Independent voters may not cast a ballot in either.
The sheriff was paid $120,253 in 2011, a salary set by state law but paid out of local dollars.
FlaglerLive submitted 15 identical questions to the five candidates, who replied in writing, with the understanding that some follow-up questions may be asked, and that all exchanges would be on the record. Follow-up questions, when necessary, appear in italics, and may be awaiting answers.

The Questions in Summary: Quick Links

Place and Date of Birth: East Orange, N.J., March 22, 1952.
Current job: Board of Supervisors, Grand Haven (Part-time).
Political Affiliation: Republican.
Website: johnpollinger.com
1. It's a very busy field. What makes you the best qualified candidate for Flagler County Sheriff?
I have over thirty years of experience serving in nearly every capacity in law enforcement from police explorer (cadet) to volunteer auxiliary officer and civilian emergency call taker. From patrol officer, sergeant, lieutenant, assistant to the chief and nearly eight years as chief of police for a law enforcement agency comprised of more than one hundred sworn law enforcement officers in a community of 70,000 residents. I am a veteran of the United States Army, having served as a uniformed military policeman and military police investigator.

2. What specifically makes your case for unseating Sheriff Fleming? He's been in office eight years. If you're challenging him, you must think he's not doing the job as well as you could, or that he's failed along lines you wouldn't. Please be specific with regards to both.
While I feel Don Fleming is a person who believes in his community and I have no personal animus, I also believe there is a sense that as a sheriff, he has lost the confidence of many citizens of Flagler County as well as confidence in his leadership from the men and women of the Flagler County Sheriff's Office. It is just one of the reasons I earned the overwhelming endorsement from both the Coastal Flagler Police Benevolent Association and the Coastal Florida Public Employees Association. As a former first responder to emergencies throughout my career, I continue to disagree with his policy not to send deputies on 911 emergency calls. I am further disappointed that after his review, he has decided to defend and keep this policy if re-elected. I also believe many citizens feel there is little or no contact with duty deputies on a regular basis. Citizens feel disconnected with their own sheriff's office. As sheriff, I will put a greater emphasis on community relations as well as crime prevention.
School Resource Officers, Crime Prevention Officers as well as adult youth advisors (PAL and Explorers) who are crossed-trained in those areas should fall within a single command. I would place the Citizens Observer Patrol within Community relations and encourage our Law Enforcement Explorers who "age out" of the Explorers to join the COP program. Training and utilizing COP volunteers in boat operations will restore our presence on the Intracoastal as well as our extensive canals and lakes on the west side. The United States Coast Guard has their Coast Guard Auxiliary. During my career I found the use of trained volunteers in marine patrol provided needed visibility as well as a greater sense of pride for those who do. I also plan on restoring the position within the agency for an Agricultural Crimes Unit. The west side of Flagler County is rich in history as well as size, with over 50,000 acres of farmland. One deputy assigned to crime prevention as well as community relations is inadequate. Sheriff Fleming has had his accomplishments in furthering the training of the men and women of the agency. Yet training has to get back to basics in a classroom setting, not at a computer terminal in a police car.
Technology is wonderful in the hands of law enforcement, yet I disagree with online reporting of crimes by citizens, which creates further barriers and less contact. I am a firm believer deputies should answer calls and listen to what their residents have to say. I have found more often than not, people will open up to a police officer/deputy in person about other concerns in their neighborhood that they might not otherwise report on a computer or by telephone. I believe a fresh approach with my own ideas directed more to prevention and encouraging ideas from within will go a long way in bringing back enthusiasm and confidence from within the sheriff's office as well as Flagler County.
You have listed a series of initiatives that, in almost every case, would require more, not less, personnel. How would you pay for it all at a time when existing deputies will be clamoring for raises (after four years without)? Entrepreneurial initiatives in hemp aside, what sort of agricultural crimes has Flagler County been experiencing, that would require the creation of a unit devoted to just such crimes? And who eliminate online crime reporting altogether, as opposed to making it an option?

Initiatives are priorities. Not everything will be accomplished in one fell swoop. It's impossible (and not practical) to restructure any agency in the first few months without evaluating each decision before hand. The county has not grown much, if any, during the past four years yet from what I have learned. Promotions and newly created positions have been happening on a regular basis during the past 10 months. A fixed table of organization with less emphasis on supervisors reporting to supervisors will be needed. Reversing promotions already made is not an option and it isn't something that's fair to the men and women who have already achieved a particular rank. But I am unwilling to simply go along with the positions that may have been created to make the promotions appear valid. As one example, having a Major re-assigned to courthouse security over a small amount of other supervisors and deputies is not in keeping with an acceptable table of organization. If corporals, sergeants and lieutenants have to perform functions previously assigned to those in lower ranks, to accomplish those goals, it is a decision I will make after assessing the overall daily assignments of each and every person in the agency. In the end, each and every sworn member of the agency is a law enforcement officer. With regard to the online reporting, you are correct, it could remain an option if I am sufficiently convinced of the need. But we learn far more about the community we live in by interacting with our citizens in person rather than a computer screen.

3. What is the most dangerous thing or temptation about a sheriff's power, and how do you intend to control it?
The belief that any power exists at all. A sheriff has only the authority under the law to carry out his or her duties and delegate that authority to those under his or her command. The moment you believe anyone has any real or imagined power it will tend to be abused. It is a position entrusted to you by the citizens you serve.

4. What is your greatest weakness in so far as the scope of your leadership is concerned? How has it shown itself? What have you done to address it?
Inability in the past to come to the realization people may not agree with you no matter how persuasive your position might seem to you.
How has it shown itself? There were two instances, highly publicized, and an issue raised in this campaign. While I obeyed the orders of the Attorney General and supported by newspaper editorials, police associations, as well as citizens in my community, on issue became a distraction for my position, my agency and my community. The second issue involved self-dispatching on September 11th by members of my agency. I am trained instructor in Incident Command. Simply ask any first responder, police, fire, EMS or Emergency Management, they will tell you volunteers who dispatch themselves make a chaotic situation even more chaotic. I was correct in my concern of health issues as well for anyone volunteering as a separate issue and my concerns over the years have proven to be correct.
What have I done to address it? Understanding we can disagree at times without being disagreeable and accepting that your decisions as a leader may not be agreeable to a few.

5. As sheriff, what would be your top three priorities for the agency?
A careful and deliberate restructure in the agency to become more aligned with the mission of community relations and crime prevention coupled with enforcement for those who would do our citizens harm.
I will create a fixed table of organization that allows for each and every member of the agency to apply for and receive fair consideration when a vacancy occurs.
Building faith that for deputies and other employees of the agency, hard work, loyalty to the agency, the oath they took to serve and the determined effort to make a positive difference in this county will be acknowledged. Deputies and civilian staff will be considered for future assignments or promotions based on these simple principles.

6. In your view, what are the three most pressing problems with regards to public safety in the county? Please be specific: for example, if you cite such things as drugs or gangs, please cite documented numbers that show why this is a more pressing problem today than previously.
The number one drug in the United States continues to be alcohol, according to the United States Department of Justice. Opium-based drugs however are the number one source of substance abuse in Flagler County. According to Chet Bell, CEO of Stewart-Marchman-Act Behavioral Health Care Center, younger people are seeking treatment for opium addiction and the average age is around twenty-five. As of February of this year due to funding cuts, there is no detox unit left in Flagler County. We have to admit that arrest, prosecution and incarceration of our young people is not going to end drug use.
According to Katrina Townsend, director of Student Services For Flagler County Schools, drug education is only provided at the sixth grade level. This has to change. As sheriff, I will advocate for getting drug education introduced at an earlier age. According to Dr. Frank Farmer, the former Florida Surgeon General, addicts in Florida need between $150 to $200 dollars a day just to maintain their addictions. This money is coming out of the pocket of every taxpayer in the form of burglaries; larcenies armed robberies as well as the cost to our legal system. "Pharm Parties'" (slang for Pharmaceutical Parties) by our young people in Flagler County where teenagers bring pills from their parents medicine cabinet are yet another problem. Aerosol can inhalants, bath salts as well as synthetic drugs presents yet another challenge. Young impressionable people in a group making one bad choice will ultimately lead to a life changed and not necessarily just their own. No one wakes up one morning and announces their life goal is to become a drug addict or an alcoholic.
I was at one time a strong believer that focusing our efforts simply on arresting everyone who violated our drug laws would change everything. The "Drug War" declared by President Nixon nearly four decades ago is a failure and The United States is still the largest consumer of illicit drugs in the world. While enforcement of our laws must still a part of our overall efforts, it cannot be the main effort. Educating our parents of the threat exposed to their children while providing positive direction, and a greater involvement in community sponsored youth activities, should be the goal. I would also encourage more forums on this topic to better educate our adult citizens, as was conducted on March 8 of this year. Sadly, it was not well attended for a county of this size.
The secondary part of the same question is a continued enforcement in neighborhoods and homes used for the distribution of illegal drugs. They degrade the neighborhoods and property values at the expense of others in addition to their unlawful activities. Be prepared to have the spotlight turned on for those who do. Narcotic teams will be further trained in code enforcement, motor vehicle enforcement and community relations. Community relations by staff as well as the sheriff must be an integral part of the effort to ensure residents who live in affected areas understand the scope and intent of the program. Everyone deserves to live in a safe neighborhood despite public officials calling sections of the county undesirable. The continued whispers or public statements about the P section or R section of Palm Coast are a disgrace. If they know it those sections are undesirable or are bad neighborhoods, why haven't more resources been directed to address the matter? It's not just a law enforcement problem. It's a community problem. Building faith and trust will enable residents of crime prone neighborhoods to better cooperate with the Flagler County Sheriff's Office. I intend as sheriff to build upon the relationships I have already begun during this campaign.
The second problem is the actual or perceived threat from gang activity. While investigations must continue into any organized criminal enterprise, the main focus must be education and intervention at an early age with the youth of Flagler County. According to a study conducted by the United States Department of Justice, gang interest tends to begin at the age of 10-12 years of age. Gang membership comes from a diverse racial/ethnic background and the finding suggests it is a result of failures in the family, school or simply anti-social behaviors. It is clearly more than a law enforcement issue. As sheriff, I intend to arrange meetings with our school officials to encourage a better understanding of the role of school resource officers.
In addition, Sheriff Fleming has created a Crime Suppression Team comprised of four deputies. For the past year he has stated repeatedly the team has made 70 or 75 felony arrests depending on the public presentation. I'm not sure why the numbers have not changed in each presentation. I am not sure if he is not getting updated information or those numbers are truly accurate. If you break down those arrest numbers last year, divided by four officers, it is not an impressive result, and not the most effective way of deploying a specialized unit. As sheriff, I will leave felony arrests where they belong; to detectives. I will use the Crime Suppression Team to develop information on juvenile problem areas including drug offenses and underage drinking.
A unit I created as a sergeant in the late 1980s was later dubbed "the sneaker patrol" by the media. We made a lot of arrests for minor offenses such as criminal mischief, underage drinking and possession of small amounts of narcotics. I believe that one young person on his or her own is not necessarily going to get into trouble. Put five young people together, add alcohol or drugs into the equation and it's a recipe for disaster. Place them in a motor vehicle and the chances for a serious or fatal car crash becomes ends with a knock on the door in the middle of the night by a deputy that their son or daughter has been seriously injured or killed in a crash. The "sneaker patrol" reduced criminal mischief and larcenies by reducing the chances of the behavior in the first place. As your sheriff, I would much rather have a teenager be held accountable for mistakes early in life rather than dealing with them as adults later, in life changing criminal charges.
The next problem will address as your sheriff is serious and fatal car crashes. Last year there were 27 fatal crashes in Flagler County, violent ends to individual lives. Crashes (and they are not accidents) result in higher insurance costs, traffic management issues that delay people in their daily routine as well as diverge deputies from their regular assignments when needed. It's time for the establishment of a regular countywide traffic unit in Flagler County. As a former commander of a countywide Serious Crash Response Team, I have witnessed too many deaths and made too many notifications of family members about the death of their loved ones. Regularly publicized DWI checkpoints, Special Enforcement Details in high crash areas (using the Crime Suppression Team at times to maximize effectiveness), my previously successful "Letters to Home" program and nationally recognized "Rude Awakening" program will be coupled within the four "E"s of traffic management, Education, Enforcement, Emergency Response and Engineering.
This is an ambitious manifesto, but it raises questions: regarding drugs, you referred to paying more attention to educating youths and parents, and shining a spotlight on drug growers and pushers, but you were silent about users, until you got to juvenile users of alcohol and drugs. Are you suggesting that, with a failed drug war, you would go after adult users less? If not, how would you marshal your resources to tackle such an ambitious agenda? School resource officers were cut back because of lack of money. Where would money come from to restore them?
Persons using illegal drugs or found in possession of drugs are violating the law and the law must be enforced. But a sheriff has to be more than just a symbol of law enforcement. He or she can be and should be a spokesperson along with other elected officials as well as our state attorney and judiciary to educate the public as to the cost of arrest, court appearances, incarceration, arrest, court appearances an incarceration must be factored into any county budget. Each time a user commits a crime just to maintain their addiction, there is a financial cost as well as an emotional cost to each victim of a crime. It impacts social services and foster care as well. Having more forums such as the one which was held during the school year at the schools and educating the public and the parents of our children doesn't pose a significant cost to the county. It is an ambitious agenda and maybe too ambitious. But there is no reason not to try.
The question is asked again when you propose creating a traffic unit. That's in addition to your proposals in an earlier question. How could you possibly finance–and make good–on such an array of promises? And why should we not read into such promises the usual election-time rhetoric that doesn't outlast November's chill?

I don't make promises. Those are my goals and some are strategic. The traffic unit I had in my agency did not sit idle while not specifically assigned to traffic issues. It is not the amount of deputies, it's how effectively they are deployed. They responded to routine calls as well. Units assigned to specialized functions in my agency answered other calls as did every member of my agency including myself.
You refer to the "whispers or public statements about the P section or R section. Where are those whispers originating, exactly? Is the Sheriff's Office part of those whispers?

The first time I heard statements about the P & R sections of Palm Coast was from the sheriff himself at a meeting of the Flagler-Palm Coast Civic Association. He was a guest speaker. I now hear it from many real estate agents in the county who bristle about how extensive the label has become. While the sheriff may not have been the first or only person who uttered negative comments about a section in town, it was an utterance none-the-less and surprising to me.

7. Assess, from your vantage point, the state of race relations between law enforcement and the public, and how you think minorities are treated (as opposed to the way minorities ought to be treated), generally, by police in Flagler County.
The barriers we create in our minds are the labels we tend to use. For many, it becomes engrained in how we treat one another. As a cultural diversity instructor early in my career I believe it is an important part of any officer's law enforcement training to understand from a cultural as well as an ethnic standpoint the various influences and events in our lives which makes each of us unique. Many missed opportunities occur if we simply judge people before we know anything about their character. It's called prejudice and it has no place in our sheriff's department or our community. Since I am not yet a member of the Flagler County Sheriff's Office, I cannot comment or make an informed opinion directly as to the treatment of any segment of the population here in Flagler County. But perception or reality, as your sheriff, my own beliefs as outlined above will set the tone for each and every member of the agency.
You're not a member of the sheriff's office yet, but you are making a claim to the county's highest law enforcement office. Is it not fair to assume that despite your brief years here, you have studied the county well enough and been engaged with residents broadly enough to make a necessarily informed opinion about the treatment of minorities?
It's not fair to assume anything. It's not what a law enforcement officer should do. As I have said earlier, I do not believe in prejudice. The word itself comes from pre-judging people. And I will not pre-judge a situation or form an opinion until and only if I have a solid belief it exists based upon the totality of the circumstances. Perception versus reality is only accomplished if someone carefully listens. I will not make assumptions of fact until that time.

8. Do you support the restoration of dashboard video cameras in sheriff's cruisers?
Throughout most of our (law enforcement) existence, when an officer filed a report or testified as a witness in a court of law, the officer was believed simply on his or her position as a law enforcement officer. I'm concerned when companies that previously pushed dashboard cameras in patrol cars are now doing the same with "body cams." Video has created an atmosphere in our society that nothing is to be believed unless there is a video to document what has happened. This is happening not only in law enforcement but other public venues as well. It is no different from the public's perception when it comes to television shows such as CSI, which depicts crimes being solved within a matter of an hour, including commercials. Yet I am still open to the idea if it clearly creates a greater measure of safety and confidence for our deputies and a greater confidence in our Flagler County Sheriff's Office by the citizens they serve.
Should a cop be believed just because he or she is a cop? Is a cop's word more trustworthy than a civilian's–or a suspect's?
Not what I said at all. But a police officer or deputy sheriff has or should have been screened, selected and trained based upon the belief they will possess the highest ethical standards. Sometimes as with any profession they fail and when they do, they are or should be held to a much higher standard of punishment. A judge or a jury will ultimately determine the credibility of an officer's testimony in court. But I still raise the same concerns about "it didn't happen unless it's on video."
9. Explain your stance on civilian review boards in general, whether you would institute one at the sheriff's office, and why—or why not.
I never had a civilian review board as chief of police simply because the public never demanded it. I believe review boards comprised of citizens become a necessity when the public no longer feels confident in their agency or sheriff to carry out thorough, fair and deliberate investigations concerning allegations of police misconduct. It is my intention to ensure allegations of misconduct in the Flagler County Sheriff's Office are investigated impartially and thoroughly so there is no reason for such a board to exist in Flagler County.

10. Florida became the focus of national attention after the shooting death of Trevon Martin. His death has resulted in renewed discussion of Florida's stand-your-ground law. Do you support the stand-your-ground legislation? If not, what would you do to support its repeal?
There is extreme passion on both sides of this issue and the particular issue is yet to be addressed in the courts so I will reply in general terms only. When any law takes trained law enforcement investigators and prosecutors nearly forty-five days to determine if probable cause to exist if a crime has been committed, it's up to our state legislators to carefully review this issue.

11. Sheriff's offices experience an election cycle every four years where a new candidate will appear who promises to do the job better. Often a candidate's decision to seek office is the result of conversations with agency employees and their unions. This can often result in a quid pro quo relationship developing between some employees and their unions. Explain your current relationship or opinion of local law enforcement unions. And should you be elected (or re-elected), how will you handle these types of relationships?
I have made it perfectly clear with each and every deputy or non-sworn member of the agency that there is no promise of reward in return for their support–or risk of reprisal for those who do not support me. As sheriff, the cycle of payback and reward will come to end when I take office. I am a product of union benefits and I recognize the need for unions to lobby on behalf of their members. Yet my main obligation is to the agency as well as to the taxpaying citizens, while understanding the views of labor. There will be times we disagree on what is best for all concerned. But once a contract is in place by both parties, it is binding on both parties. The contract is the contract.

12. Describe how you would have handled the Francoise Péqueur matter differently than Fleming and his agency did, from the ground-level response of officers to the sheriff's fielding calls from the husband of the woman who killed Pécqueur (a school board member friend of the sheriff). In your case Sheriff Fleming, explain how, having gone through the matter, you might have done things differently.
As stated earlier, the policy of not sending deputies to 911 medical emergencies is a policy I would reverse. It was my policy as chief of police and will be my policy as sheriff to send deputies on 911 emergency calls. Deputies should be certified in CPR, as well as basic and advanced first aid to provide the immediate assistance to those in need until advanced first aid is able to respond. It is then the duty of a deputy to determine from their training the identity of the victim, the identities of any witnesses or persons at the scene and most importantly, to determine whether a crime is the cause of that medical emergency. Had deputies been on the scene and identified individuals that night, they could have easily determined the identity of the driver and what (if any) the effects of alcohol or other medication factored in the crash. That question will forever remain unanswered. Had my policy been in place on this highly publicized call, the questions surrounding the sheriff's actions or inactions afterward would not be an issue for him now. Furthermore, law enforcement officers at every level need to avoid a conflict of interest or even the appearance of a conflict of interest.

13. Deputy Roster was found by an internal investigation to have stolen at least $8,000 by falsifying time sheets, yet he was only demoted, without losing his pay rank, and kept on the force, while in two other deputies' cases involving smaller thefts, they were fired. What message does that send to the rest of the deputies, and what message does that project to the community? How would you have handled the Roster matter based on the results of the investigation, and how will you ensure that deputies are held accountable? (In your case Sheriff Fleming, please explain why Roster was not fired.)
This issue I as I undertand, is still subject to further legal actions and as person who seeks the office of sheriff, I will respond in general terms only as I have not been privy to the complete investigation report or its findings.
Any complaint involving misconduct, especially allegations of criminal conduct, must first be thoroughly investigated by the state attorney and/or the Florida Department of Law Enforcement to determine if criminal charges are warranted. If an independent outside review determines there is no cause for criminal proceedings, only then should an internal investigation take place. If the allegations are sustained in any case where policy calls for termination, no matter how poorly or how well the employee may have performed in the past, that individual shall be terminated from employment.

14. Where are the weaknesses of law enforcement in Palm Coast, and how can law enforcement in Palm Coast be improved?
Palm Coast is a city unique in Flagler County or in many other areas in Florida and around the country, simply due to the size of the population (approximately 75,000) and the geographic size (about 52 square miles). Palm Coast is actually designed for a maximum population of two hundred and twenty to two hundred and fifty thousand residents, so there is ample opportunity for growth in the future. Cities of this size often choose who have their own local or city law enforcement agency. Palm Coast has chosen to contract with the sheriff's office. Since this area is the largest geographical concern for the Flagler County Sheriff's Office, I will sit down with city officials, including the city manager, and continue listening to the citizens of Palm Coast. The most common complaint I have heard to date is the lack of face-to-face contact with deputies as well as senior members of the sheriff's office. Those issues create a barrier between law enforcement and the citizens they serve. My Park, Walk and Talk program, Holiday Foot Patrol as well as a patrol based dual functioning bike patrol will help to create a better bond as well as a two-way understanding. As I have said to many residents of Flagler County, "the first time you meet me or a deputy should not be in a time of crisis." Sitting down with staff officers as well as listening to the deputies who are responsible for patrolling Palm Coast will also be a necessary part of solving actual or perceived issues within the city.

15. Do you consider policing in Bunnell and Flagler Beach what it should be, and would you be supportive of a sheriff's take-over of either?
The issue of policing in both Bunnell and Flagler Beach is an issue best left up to the governing bodies of both communities and the citizens who elected them. The average law enforcement agency in the United States is comprised of eight to ten officers. In many instances, people like their law enforcement agency to be localized. Whether or not a town or a city maintains their own law enforcement agency or sets out to seek law enforcement services from a county agency is a decision best decided by Flagler Beach and Bunnell. A sheriff has no independent authority to "take over" either agency.