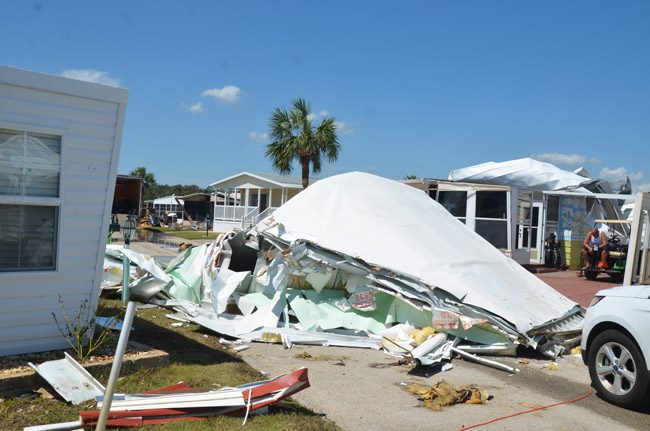 Many Hurricane Irma evacuees say they're apprehensive of packing up and leaving their homes again because forecast models failed to match the final track of the September storm.
That is worrisome for Craig Fugate, a former director of the Federal Emergency Management Agency and the Florida Division of Emergency Management, including during the state's devastating 2004 and 2005 hurricane seasons.
Fugate said Thursday that Floridians must brace for storms that will be stronger, have longer periods at top speeds and bring more rain than in the past because of the changing climate.
Fugate, who addressed reporters during a conference call hosted by the National Hurricane Survival Initiative about a new website and year-round awareness campaign titled "Get Ready, Florida!," said people are expecting a level of forecasting that "isn't there yet."
Instead, people should continue to anticipate some uncertainty in forecasting, he said.
"If we knew exactly where it was going to hit it would be a lot easier, but it isn't," Fugate said. "As we saw with Irma, a slight jog east or west of that track, we'd have been in a lot different impact. In many ways, with the exception for what happened in extreme Southwest Florida and the Florida Keys, we basically did a lot better than what we thought was going to happen."
The conference call highlighted the need for people in Florida to plan year-round for the six-month hurricane season and for people who live outside flood zones to consider flood insurance.
A survey by the initiative — whose members include the non-profit FAIR Foundation, Ocala-based Custom Windows Systems, the Florida Home-Improvement Association, Security First Insurance, the Ygrene Energy Fund, the International Hurricane Research Center at Florida International University and the Salvation Army — found one in four Floridians are now less trusting of hurricane forecasts because of Irma.
The survey also found that many Floridians entered the 2017 storm season without such things as adequate window protection, backup batteries and water supplies or failed to have evacuation plans.
---
"If you had a storm like Harvey sit over Central Florida can you imagine what 50 inches of rain would do to the Orlando area?"
---
The state Division of Emergency Management estimates 6.5 million people took to the road in attempts to avoid the powerful and deadly storm that made landfall Sept. 10 outside Key West and in Collier County before sweeping up the state. At last count, 84 deaths have been attributed to the storm.
A Mason-Dixon Polling & Research poll in mid-October found that only 57 percent of Floridians said they would follow an evacuation order in the face of a hurricane similar in strength to Irma because the drifting nature of the storm's track initially had an East Coast landing.
Fugate said changes in the earth's climate may not be increasing the number of storms, but their features are getting more intense — highlighted by the record rainfalls from Hurricane Harvey in Texas and Irma holding maximum sustained winds of 185 miles per hour for more than 24 hours.
"If you look at Harvey's rainfall, there are a lot of people now coming back and starting to look at how climate is affecting rainfall events and the enhancement on that," he said. "If you had a storm like Harvey sit over Central Florida can you imagine what 50 inches of rain would do to the Orlando area? And we're seeing this across, not just in our Atlantic basin, but across the world. We're seeing intensifications of rainfall events and intensifications of drought events."
Fugate noted that the credit-rating agency Moody's Investor Services Inc. last month announced that climate change is forecast to heighten exposure to economic loss, which will place short- and long-term credit pressure on state and local governments.
"This will be a growing negative credit factor for issuers without sufficient adaptation and mitigation strategies," Moody's said in a release.
Moody's noted that after Hurricane Katrina, besides widespread infrastructure damage, revenue declined significantly for New Orleans because a large percentage of the city's population left permanently.
Erik Salna, associate director and meteorologist at Florida International University's hurricane research center, said "more and more" research supports that climate change is causing increasingly intense hurricane rainfall.
"It is a situation, moving forward for Florida, we being the hurricane capital of the country, not only storms that could come each and every year, but more storms and more damaging storms," Salna said.
–Jim Turner, News Service of Florida